Today, one year after the initial Google Earth release into the App Store, Google's one and only Google Earth for mobile app has been updated to ver. 2.0. The new features include access to the custom maps you've created on your computer, localization in 13 new languages and improved performance and icon selection.
It seems Google love their anniversaries, so one year after the first Google Earth for iPhone was released, users can now upgrade to ver. 2.0. Don't expect anything groundbreaking, just one new feature, small improvements and more localization options.
Now you are able to view custom maps on your iPhone. To do that you need to have saved maps on your Google Earth account on your computer. Then just log in with your Maps account into the iPhone's Google Earth and you will have the same custom maps there. That way you can also use other people's custom maps.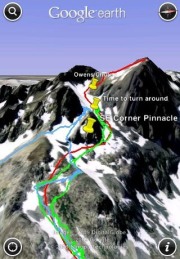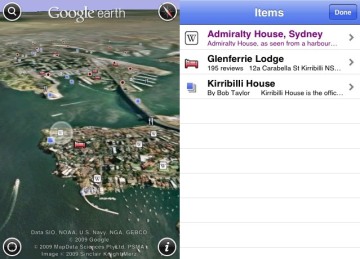 Viewing custom maps • the list with available options appears when you tap on multiple icons
The next improvements concern the touchable icons. When you touch some icon item it will start glowing, so you won't have any doubt which thing exactly you have pushed. Respectively, if you touch more than one icon a list will appear with the available options.
Finally, Google Earth is available 31 languages, which means there are 13 more coming with the 2.0. You can update your app immediately through the App Store, but bear in mind it is more than 10 MB in download size.
b
Google earth is beautiful(iphone) and Google voice is superb(Android).
?
Google make their money from advertising, Android is just a way to collect more information about people so they can sell targeted advertising at a higher price. Google just spent $750 million buying AdMob so they can target mobile platforms lik...
?
It's 11 MB. So I wonder when Google will update the Maps App with voice navigation, that should be good.
ADVERTISEMENTS