Today Google has announced that its wireless carrier, Fi, is finally adding a group plan. Google Fi launched last year and has been growing ever since. It works using the networks of Sprint, T-Mobile, and US Cellular and it automagically switches between them to give you the best possible coverage and data speeds.
There's only ever been one plan on Google Fi, keeping things simple for everybody. However, many people are used to other carriers' family (or group) plans, which allow them to save quite a bit of cash when bundling lines together in this way. So Google had to introduce something like that too.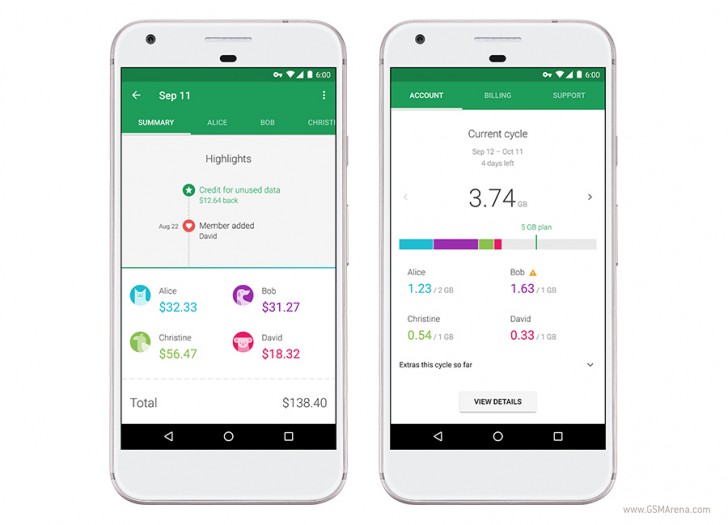 Fi's group plan works for up to six devices. After the first line, each additional one costs $15 for unlimited talk and text. And just like with individual plans, data is billed in $10/GB increments. If you use less than what you planned for, you get the unused data credited back. No contracts are required for group plans either. And obviously there's just one bill for everyone on such a plan.
Members of a group plan can see their data usage in the Project Fi app, and managers can also view stats per member. Both members and managers can set up data notifications and monthly allowances - data access can be paused for people going overboard. You also see a data usage breakdown per app on your device so you can quickly figure out what the main culprits for your use are.
The Huawei Nexus 6P and LG Nexus 5X will continue to be available to buy through the Fi website, even though they've both been discontinued in Google's hardware store. Like before, they're discounted compared to their recommended retail prices - the 6P by $100 and the 5X by $150, which means the former costs $399 and the latter $199. The group plan is available today.
?
It's not all that cheap if you're a particularly heavy user. It's cheaper than the major Telecom companies (AT&T, Verizon, Sprint etc.) if you keep it under4-6 GBs, but you can get 6 GBs on Tmobile's data only plan and simply use Google's voice s...