Google has pushed out a new update to its Hangouts messaging app that brings along support for Direct Share, a feature that the company introduced in the Android Marshmallow OS.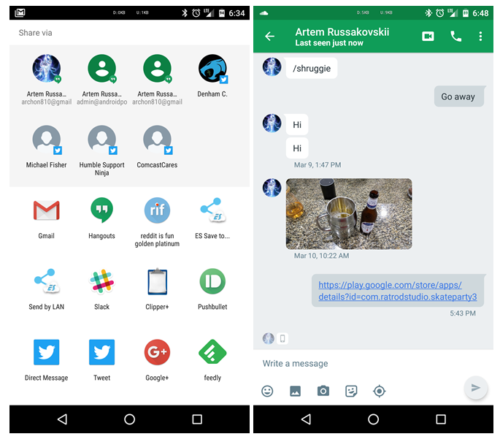 As the name suggests you can now directly share stuff - including photos, videos, or even links - with the Hangouts contacts whom you frequently interact. This is the only major change included in the update, which is currently rolling out to Hangouts for Android.
D
I don't know why Hangouts get so much hate, it's a pretty good versatile messaging service that I use every day to text and send Hangout messages with, it also has all the necessary features you need like video/voice calling. Plus it's the only app t...
B
Hi My Names Bob and I would like to say Hangout Is so cool and I love this App ... Im Kidding I honestly never used this app I never saw the point plus with so many ifriends its a waste lol
G
Contrary to every single person commenting below, myself and family /friends all use Hangouts every day. Why? Cause it's multi-platform, comes freely pre-installed on most android devices, works well & isn't owned by Mark Zuckerberg or Micro...