Google has identified a fix for Pixel 2 and 2 XL random reboots, rollout "in the coming weeks"
Update: In an ongoing discussion about the same issue over at Google's issue tracking website, a company employee revealed yesterday that the issue has been fixed in Android version 8.1, which is currently in preview.

Reports confirm that those running 8.1 DP1 had this issue, so it's highly likely that the problem has been fixed in DP2.
Original story:
Over the past few days yet another problem surfaced with regard to Google's Pixel 2 and Pixel 2 XL. Namely, some users' handsets are plagued by random reboots, which occur while on LTE. It's been happening even in Safe Mode, so it's clearly not an app-caused issue, and you may lose some data when this happens (such as the latest pictures and videos you captured before the reboot).
Hundreds of frustrated Pixel 2 and Pixel 2 XL owners reported this issue, and today Google has announced that it has identified a fix. The patch will be rolled out "in the coming weeks". We assume it will be baked into the update that's coming in the first Monday of December - that's next week, by the way.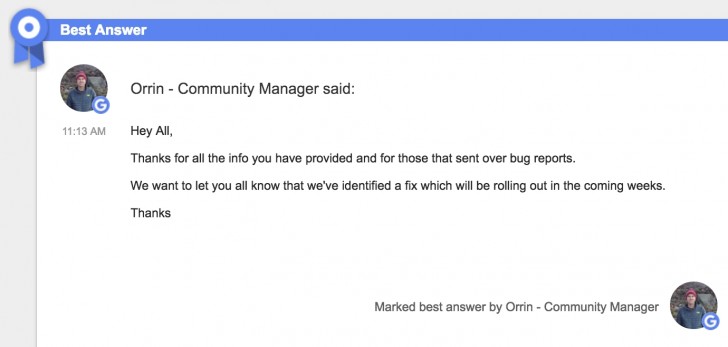 One of the affected users has seemingly identified that the random reboots only occur when the phones are in a low LTE signal area. Changing the network mode in Settings so that LTE isn't used has apparently made the reboots go away, so the problem may have had something to do with the modem, which could be causing a kernel panic when in LTE mode and connected to a cell amplifier. All of this being said, note that Google hasn't officially revealed what the underlying issue was - only that a fix is on the way.
m
the whole nexus / pixel thing both amazes and confuses me at the same time. realistically it's unfinished hardware running beta software. this is by design and google doesn't hide this fact. yet people still shell out the money for these phone...
G
I have definitely seen the issue a few times, but it only happens around the same time of day. Clearing recent apps seems to keep it from happening. Not a big deal. The Pixel 2 has been great for me. It is so fast and smooth. I love the size. I...