Google doesn't officially disclose the number of units sold and in the case of the Pixel smartphones that's particularly irksome.
However the company's Play Store gives us a pretty accurate estimate of how many Pixel and Pixel XL phones Google has sold.
See Google's Play Store gives a range number for app installs and in the case of the Pixel Launcher app that number just passed from the threshold from the 500,000 - 1,000,000 to 1,000,000-5,000,000 meaning that Google has sold around 1 million Pixel smartphones since their launch some 8 months ago.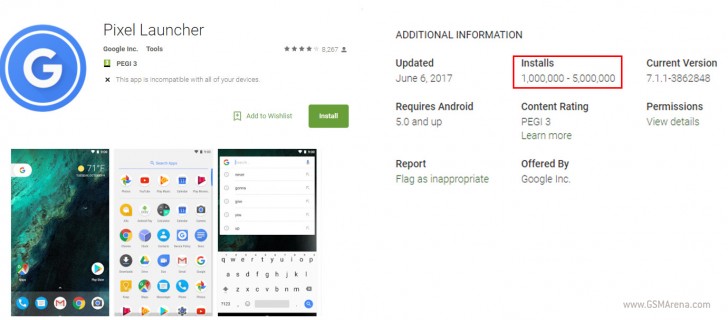 The Pixel Launcher is exclusive to the Pixel phones (it excludes even the Pixel C tablet) so the number should perfectly match the number of activated units out htere.
So there you go - Google has likely sold around 1 million of its first in-house smartphone duo. Not bad for a first attempt although not nearly enough to challenge the big boys.
Maybe interest will pick up once the Pixel 2 rolls around.
S
pixels are nice, also very expensive and very region limited, so one million is really good. i still think google should go into its ara project. people expect something challenging from google. not just same better thing.
R
For example if we download the app uninstall and again re-install then ? what will happen will the counter shows as 2 or 1 ??
D
not that good achievement, considering Pixel Launcher installed by most of non-Pixel users
ADVERTISEMENTS