Google has launched Google Go, a streamlined version of the Google Search app designed primarily for Android Go Edition devices. The app has currently released only in India and Indonesia.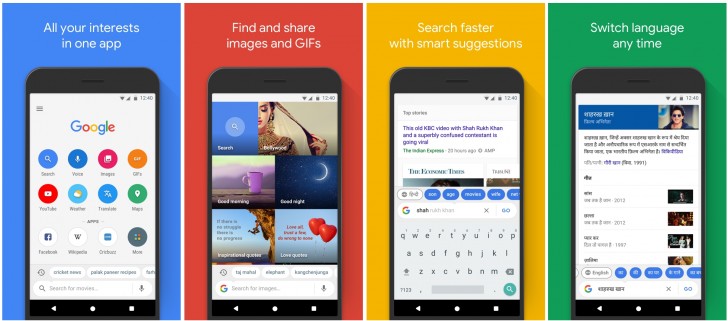 Google Go is designed to make searching simpler and easier for those on slow connections or new to the internet. Opening the app shows you options to search, do a voice search, search for images, search for GIFs, videos, translation and more.
You can also place shortcuts for your favorite services here and you can choose from a massive list. If you have an app for that service tapping its icon will just launch the app or otherwise it will take you to its website.
The app is also designed to search in two languages at once and with a one tap you can swap the search results between the two languages.
Apart from that, Google also announced for the JioPhone. Launched earlier this year, JioPhone is a basic feature phone launched by Reliance in India that's meant to bring fast 4G internet connectivity to the masses. Being a feature phone, there aren't a lot of apps on it but you can now get Google Assistant on it in English and Hindi, making it easy to do searches or use other phone functions like calling, texting, playing music and videos using just your voice.
T
No, but they're greedy. Know the difference, bud!
?
because they know india and indonasia is very big market for them
V
You can't ignore the reality son, half of the India population barely even no how to use internet or have computers at all, problem her is insane population not is development issues, when you half so much people in developing country, it makes devel...