Google Lens can now speak the text you scanned, copy it to your computer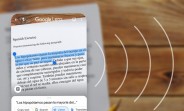 Spending extra time at home gave us a great opportunity to pick up a new language, but since we didn't, we're glad to see the new features Google added to Lens. The app can help you practice your pronunciation – just scan some text with the camera and hit "Listen". This works with single words and even full paragraphs.
Sometimes we run into things we don't understand, even if they are in plain English. Now you can select a word or concept and do a Google search with a single tap. As usual, this brings up helpful results from Wikipedia and other sites, videos too.
If you're the type to take handwritten notes, you can easily transfer them to your computer. Google Lens has been able to do handwriting recognition for a while now, but the new version lets you "copy to computer", which will transfer the text from your phone to any signed-in Chrome browser you have open.
The new features are available right now in the Google Lens app for Android. The iOS version will have to wait a bit for the Listen function, but the other two features are available now.
O
To LG Superfan: Thank you.
?
The gallery app for OnePlus and Google Photos have lens built in and it seems like the server side update has bought the function to these apps. I haven't tried the copy to computer thing but the recognition isn't too bad. Currently it reads it...
o
Sadly the Speak feature doesn't work for me, anyone knows why?
ADVERTISEMENTS