Google Maps for Mobile 5 just got previewed on stage today and as it turns out, it will bring major changes to how GMaps looks and works on mobile devices. Some of the additions are 3D view, offline mode and new multitouch gestures.
The graphics engine inside Google Maps for Mobile 5 was reworked to use vector graphics, which accounts for many of the advantages. Maps are not pre-rendered images but are rendered on the device itself, making scaling and transitions seamless. Rendering 3D buildings is also supported (for over a hundred cities).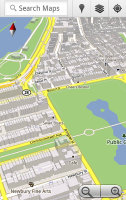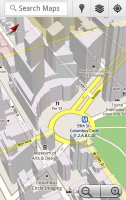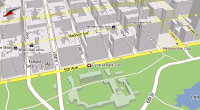 Google Maps for Mobile 5 goes 3D
Vector images are also more data efficient - they download faster and make caching easier. Speaking of the offline cache, it stores more than just the map, Google Maps Navigation will actually be able to reroute you if you stray from your course. To create a new route, you'd still need a data connection though.
The new multitouch gestures enhance the 3D mode by letting you tilt and rotate the view. For the feature to work, it'll need some additional hardware support that is not present in all multitouch-capable phones (e.g. it won't work on the Nexus One).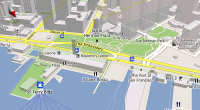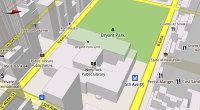 Google Maps for Mobile 5 features offline caching
The majority of Android phones should work with Google Maps for Mobile 5, though not all of them will support all the features. Here's the current list of droids that will fully support version 5 features:
Samsung I9000 Galaxy S
Motorola Droid
Motorola Droid X
Motorola Droid 2
HTC Droid Incredible
HTC Evo 4G
Nexus S
T-Mobile G2
The update to Google Maps for Mobile 5 should come soon, although no exact dates were given. Non-Android devices weren't mentioned, so it's unclear how many of these new features they will support.
a
why i think u dont have expriences than how u says that just setup ok close ur mouth no any comment ok understant
H
Whoohoo Android is owned by Google and it returns big favors
A
:P Dude, you should have thought carefully before buying, told you to buy a Galaxy S...
ADVERTISEMENTS