People app
While the Nexus 10 can't connect to a cell network for either voice or data, it still features the familiar Android 'People' app, which displays the contacts from your Google account. If you have other communication applications such as Skype installed, it will display the contacts from them as well.
Using the menu on the left, you can switch between All contacts, Groups, and Favorites.
The interface is split into two - the list of contacts on the left and individual contact details on the right. In case the contact has a Google Plus account, their updates will be posted in a third column on the right (it's visible only in landscape mode, but not in portrait).
There's a permanent scroll bar available that you can grab and drag to jump straight to contacts starting with a certain letter. There's a regular search feature, too.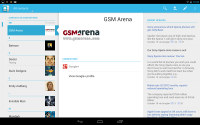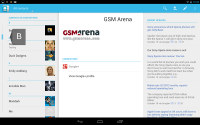 The People app • Alphabet scroll • Status updates are shown next to a contact's details
When viewing a contact, a click on any of the contact details will open up the relevant application - an email address opens up the email or Gmail app, a Google+ IM opens up the contact in the installed Google+ messenger, and even pressing on a phone number can open up a relevant application for dialing phone numbers over the web, such as Skype (if you have it installed).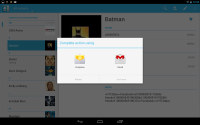 Selecting a field opens up the relevant application
While editing a contact, you can add new fields of different types to fill in more info for the contact. You can link contacts too, if you've added the same person on multiple services. Also, contact pictures have been duly updated to allow a maximum possible resolution of 720x720, which massively improves the quality of the contact images, especially on the larger display of the Nexus 10.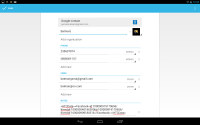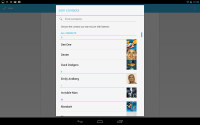 Editing a contact • Joining contacts
Your Groups are listed by service (e.g. your Gmail account), while Favorites are a listed as a grid of large contact photos, which is really thumbable.
Speakerphone loudness
We put the Nexus 10 through our traditional loudspeaker test and it earned an Average score. The two front-facing speakers provide stereo sound, which is great for watching movies, but they aren't the loudest around.
You can find out more about the test here.
| | | | | |
| --- | --- | --- | --- | --- |
| Speakerphone test | Voice, dB | Pink noise/ Music, dB | Ringing phone, dB | Overal score |
| Amazon Kindle Fire | 66.6 | 63.7 | 66.9 | Below Average |
| Apple iPhone 5 | 66.8 | 66.1 | 67.7 | Below Average |
| HTC One X | 65.1 | 66.0 | 75.8 | Average |
| Google Nexus 10 | 68.3 | 66.1 | 67.8 | Average |
| Asus Google Nexus 7 | 68.6 | 65.9 | 75.8 | Good |
| Samsung Note II N7100 | 70.0 | 66.6 | 80.5 | Good |
| Apple iPad mini | 68.2 | 65.7 | 75.7 | Good |
| Apple iPad 4 | 67.2 | 66.1 | 75.9 | Good |
| Motorola RAZR XT910 | 74.7 | 66.6 | 82.1 | Very Good |
| LG Optimus G | 74.6 | 71.3 | 82.7 | Excellent |
| Samsung Ativ S | 73.7 | 73.5 | 82.7 | Excellent |
Email and messaging
The Gmail app offers a split-screen interface similar to that of the People app. You can add multiple Gmail accounts, but there's no combined inbox.
Along the top, there're shortcuts to compose, search or refresh, along with a contextual menu. The top menu changes when you have multiple emails selected, allowing you to perform batch operations such as archive, delete, create labels, or mark as read/unread.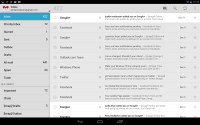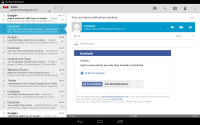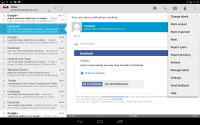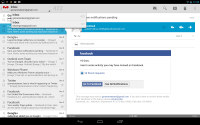 Gmail app supports multiple (Gmail) accounts
A cool feature in Gmail is that you can swipe left or right to move between messages in your inbox.
There is also a generic email app for all your other email accounts and it can handle multiple POP or IMAP inboxes. You have access to the messages in the original folders that are created online, side by side with the standard local ones such as inbox, drafts and sent items.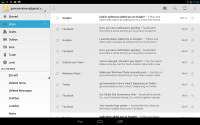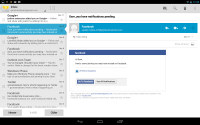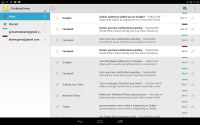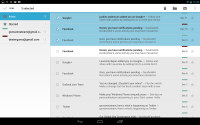 The generic email client doubles a lot of the functionality of the Gmail app but has a combined inbox
Unlike its Gmail counterpart, this app supports a combined inbox view. It color codes the inboxes so you can easily tell where each message came from. Unfortunately, there's no moving between messages with sideways swipes here.
Google Talk handles the Instant Messaging department. The GTalk network is compatible with a variety of popular clients like Pidgin, Kopete, iChat and Ovi Contacts.
Text input
Android 4.2 Jelly Bean on the Nexus 10 tablet comes with a standard looking Android keyboard. It's quite wide in landscape mode, so you might want to switch to portrait. This makes it much more manageable as you can actually reach the middle buttons with your thumbs.
Another option is to enable the so-called gesture typing and use only one hand for input. Gesture typing is similar to Swype and other third party keyboards in that you don't tap individual keys but swipe over instead.
It's very good at guessing what it is you're trying to type and a feature can be enabled that keeps a floating label above your finger with the current guess.
But you can go further and "type" hands-free too - Google has baked the voice recognition algorithms needed to run it into Android itself. Not only does this make Voice typing faster, but also eliminates the need for an internet connection.
Currently, you can download up to 15 localized language packs for offline voice typing, although we imagine that Google are working on adding more. The language packs are quite small in size (the default English (US) pack comes in at just 22 MB), so you don't need to worry about them using up your precious storage.
With Jelly Bean, the Android keyboard's nuts and bolts got updated as well. It now features smarter dictionary and learning algorithms, so the more you type, the better it can predict what you're trying to say. It resembles Swiftkey's smart dictionary system, but only time will tell if it performs as well.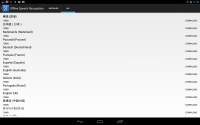 Offline Voice typing comes in several languages • installing a new language