Gallery plus image and video editing
The Default view of the gallery is Albums, a list of all folders with photos in a rectangular grid. The other views are Locations (photos are grouped based on where they were taken), Times (grouped by when they were taken), People (photos with tagged faces in them) and Tags (these are general tags you can add manually).
A handy option is the Make Available Offline feature - it lets you easily select multiple online albums and download them for offline viewing. The Gallery app supports online albums like Picasa (but not Facebook) and you can set it to sync photos only over Wi-Fi.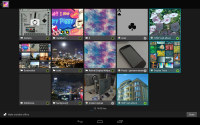 Making an album available offline is very simple
Getting inside an album displays all the photos in a rectangular grid, which is horizontally scrollable. When you try to scroll past the end, the photo thumbnails will tilt to remind you.
Viewing single images has been tweaked somewhat. You still get the convenient share button along with a menu with several options - Crop and rotate tools, a more feature-rich Editor (we'll get back to it in a minute) and a slideshow.
You can swipe left and right to move between images in an album and you can also pinch to zoom out to display a strip of three images at a time. This is an easy way to quickly browse photos but also delete some - you just swipe them up or down. When you discard an image, an undo button appears allowing you to restore it.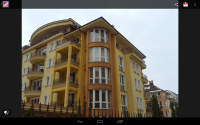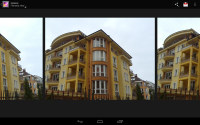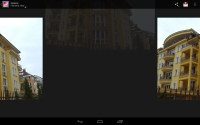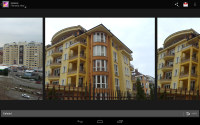 Viewing a single photo • deleting and undeleting photos
A small icon at the bottom left launches the Editor (or you can do it from the menu). The editor offers filters, frames, crop/rotate/straighten tools along with color correction effects ranging from autocolor to manual curves control. Most of these options have a slider that lets you apply the effect with the desired intensity.
The Movie Studio app is back - it handles video editing and is quite feature rich. You can add multiple videos to the timeline and set their start and end points, you can add titles and effects (including transition effects between clips) add music and there are multiple options available when you decide to export the video (resolution up to 1080p and a setting for video quality).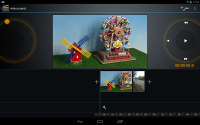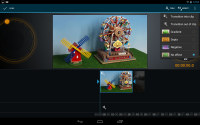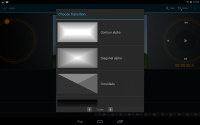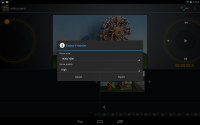 The Movie Studio app is a feature-full video editor
Video player still not a priority
If you thought that having a microHDMI port on the Nexus 10 (or its excellent widescreen display for that matter) would make the video player a priority, you'd be wrong. There's still no dedicated videos app (you have to go through the Gallery) and the only supported format is MP4.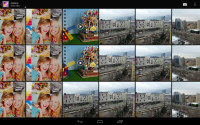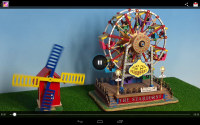 Not much of an interface for the video player
You have to consider that Google expects videos on the Nexus 10 to come from the Play Store, so they'll be appropriately encoded.
That's not a huge issue though, the Exynos 5250 chipset is quite powerful and you can always just grab a free third-party video player that supports the formats and other features you need (e.g. subtitles). After all, TV-out or not, that screen is just too good for video to go to waste.
Update: Using our usual test, we measured that the Nexus 10's battery lasts just over 8 hours when playing an SD video. We had to use MX Player to do it as our usual test video wouldn't play on the stock video player due to the poor codec support on the Nexus 10. The big, high-res screen put more strain on the battery than the 7" screen on the Nexus 7.
Video playback
Motorola RAZR MAXX (ICS)
16:35
Motorola DROID RAZR MAXX
14:17
Apple iPad mini
12:51
Samsung Galaxy Premier
12:51
Samsung Galaxy Note II N7100
11:27
Apple iPhone 5
10:12
Samsung I9300 Galaxy S III
10:01
Nokia 808 PureView
9:53
Apple iPad 4
9:49
Samsung I8530 Galaxy Beam
9:42
Samsung Rugby Smart I847
9:34
Google Nexus 7
9:29
HTC One S
9:28
Samsung I9300 Galaxy S III (JB)
9:27
Apple iPhone 4S
9:24
HTC Evo 4G LTE
9:07
Miscrosoft Surface RT
9:00
Nokia N9
8:40
Samsung Galaxy Note
8:25
Google Nexus 10
8:11
HTC One X+
8:11
Motorola RAZR i
8:11
Samsung Galaxy S II
8:00
Samsung i937 Focus S
7:55
Samsung Wave 3 S8600
7:52
Samsung Galaxy S III mini
7:46
Sony Ericsson Xperia neo V
7:45
Huawei Ascend P1
7:38
Samsung Galaxy S Blaze 4G
7:33
HTC Droid DNA
7:30
Samsung Galaxy Note LTE
7:30
LG Optimus G
7:16
Meizu MX 4-core
6:33
HTC Windows Phone 8X
6:27
HTC Desire V
6:26
HTC One X (AT&T)
6:26
Nokia Lumia 820
6:25
Samsung Galaxy Ace Duos
6:25
LG Optimus Vu
6:23
Samsung I9103 Galaxy R
6:21
Nokia Lumia 920
6:19
HTC Sensation XL
6:12
Samsung Galaxy Pocket
6:06
Samsung Captivate Glide
6:04
Sony Xperia ion LTE
6:03
Samsung Galaxy Nexus
6:02
Sony Xperia T
6:01
Motorola Atrix HD
6:01
HTC Vivid
6:00
HTC Radar
5:54
Nokia Lumia 800
5:52
HTC Titan II
5:50
BlackBerry Bold 9790
5:47
HTC One X
5:45
Sony Ericsson Xperia Pro
5:44
Sony Xperia acro S
5:38
HTC Desire X
5:38
Pantech Burst
5:38
Meizu MX
5:27
HTC Rhyme
5:23
HTC One V
5:20
Acer CloudMobile S500
5:18
Nokia Lumia 900 for AT&T
5:18
BlackBerry Curve 9380
5:09
HTC Rezound
5:03
Google Nexus 4
4:55
Samsung Galaxy S Duos
4:30
Sony Xperia P
4:30
LG Nitro HD
4:17
LG Optimus 4X HD
4:14
LG Optimus 3D Max P720
3:28
Nokia Lumia 710
3:27
Play Music for listening and shopping
The Nexus 10 comes with its own music player app and the interface is somewhat similar to the gallery - you get a grid of thumbnails, but instead of folders they represent albums here.
The dropdown menu is used to organize your music library - there's Recent (the default view), Albums, Artists, Songs, Playlists and Genres.
Most views use a grid with the album art (if any), though Recent uses a 3D view of the recent artists with a Shuffle all option included. You can tap on an item to open it or tap on the small arrow at the bottom right to open a menu with some options - queue the track/album/artist, add it to a playlist, look for more by that artist in your library or shop for more stuff by the artist, which of course takes you to the Google Play Store.
The Now playing interface features the album art with the track info and playback controls beside it. You can tap it to reveal more options - upvote/downvote the song, a scrubber and shuffle and repeat toggles. This interface makes sense on a phone, but on the Nexus 10 it seems like it doesn't make the best use of the 10.1" screen.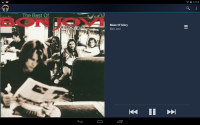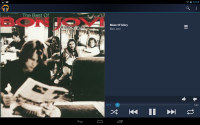 The now playing interface has simple and extended views
From the Settings key you can get into the equalizer. It can be turned on and off and features several presets along with a user defined one. If you plug in a headset, you can also play with the Bass boost and 3D effect sliders.
While the player is working, a playback control widget that features the album art and track info for the current song along with simple playback controls is added to the list of widgets on the lockscreen, pushing back the ones already there. There are playback controls in the notification area too.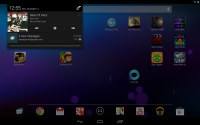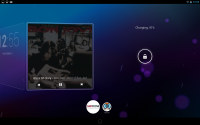 Music player controls on the lockscreen • In the notification area
Good audio quality
As most other tablets the Google Nexus 10 did very well in our audio output test. It's not quite as good as the iPad 4, but the differences are mostly in terms of volume levels
The Google Nexus 10 has nicely when connected to an active external amplifier, managed get excellent readings all over the field.
Most of the scores remain great even after you connect a pair of headphones, while the volume levels remain above average. Some intermodulation distortion creeps in, but it's almost perfectly undetectable to the naked year.
Check out the table and see for yourself.
| | | | | | | |
| --- | --- | --- | --- | --- | --- | --- |
| Test | Frequency response | Noise level | Dynamic range | THD | IMD + Noise | Stereo crosstalk |
| Google Nexus 10 | +0.03, -0.04 | -82.3 | 82.2 | 0.011 | 0.022 | -81.4 |
| Google Nexus 10 (headphones attached) | +0.09, -0.24 | -82.7 | 82.7 | 0.067 | 0.204 | -77.9 |
| Apple iPad 4 | +0.04, -0.00 | -85.7 | 85.7 | 0.0019 | 0.0017 | -85.2 |
| Apple iPad 4 (headphones attached) | +0.00, -0.07 | -85.7 | 85.6 | 0.0027 | 0.093 | -81.0 |
| Apple iPad 3 | +0.02, -0.12 | -90.9 | 90.9 | 0.0019 | 0.0095 | -92.7 |
| Apple iPad 3 (headphones attached) | +0.02, -0.12 | -90.9 | 90.9 | 0.0020 | 0.0095 | -46.4 |
| Google Nexus 7 | +0.03, -0.11 | -69.8 | 70.5 | 0.024 | 0.069 | -72.1 |
| Google Nexus 7 (headphones attached) | +1.39, -0.28 | -86.4 | 67.9 | 0.011 | 0.723 | -52.9 |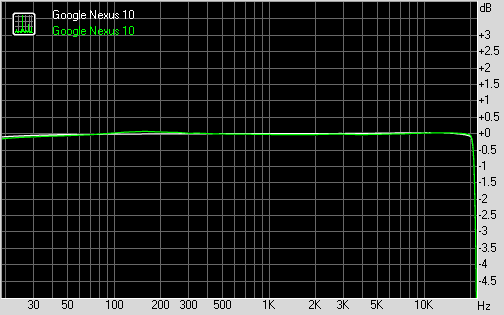 Google Nexus 10 frequency response
You can learn more about the whole testing process here.