Connectivity
The latest Android ace features a wide list of connectivity options. Starting off with the basics, the Google Nexus 4 packs a quad-band GSM/GPRS/EDGE and penta-band 3G. The latter is backed by HSPA (42Mbps downlink, 5.76Mbps uplink). LTE, sadly, isn't part of Nexus 4's connectivity list.
The Wi-Fi support covers a/b/g/n, with both 2.4GHz and 5GHz band compatibility. Wi-Fi Direct and DLNA are part of the package, of course. The Wi-Fi Direct is a technology, which enables devices to connect to each other without the need for a Wi-Fi hotspot. The beauty of it is that only one device has to be Wi-Fi Direct-ready for the magic to happen.
Using this technology two (or up to eight) devices can share files in a more advanced, fast and secure way, paving the road to an eventual Bluetooth demise.
NFC is also on board with support for Android Beam. With NFC you can share contacts, URLs, memos, messages, calendar events or even a call request to another NFC-enabled device or a tag.
The Google Nexus 4 also comes with a built-in A-GPS receiver that can rely on a digital compass and a barometer too (this helps get faster GPS locks).
For wired connections, the Nexus 4 relies on its SlimPort - a DisplayPort based interface allowing you to connect a regular microUSB as well as HDMI cables (via an adapter). Thankfully, that's not the only options, because as we mentioned earlier, the Nexus 4 supports Miracast for wirelessly mirroring its display to an HDTV.
A major disappointment is the Nexus 4's lack of USB on-the-go connectivity. Sadly, it's not a software limitation, as it was on the Galaxy Nexus, but the hardware simply doesn't support it. You can connect keyboard, mice and any other input device through Bluetooth, but over USB.
Google Chrome is in charge of web browsing
The Nexus 4 comes with Google Chrome as a default web browser out of the box, replacing the generic Android browser. The interface hasn't changed since Chrome's launch for Android and is clean and minimalist.
At the top there's an URL bar with a refresh/stop buttons next to tabs and settings buttons. You can switch between tabs with a wide swipe from either the left or right.
Opening the tabs area reveals a list of tabs which can be closed again with a left or right swipe. The animation accompanying this action is neat, too.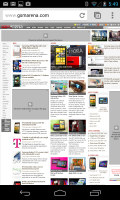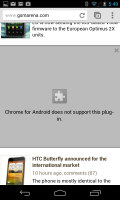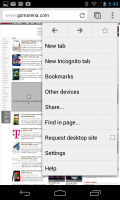 Browsing GSMArena.com with Chrome • there's no Flash support
Chrome is running on the WebKit rendering engine, so underneath the minimalist UI it's basically the same as all Android stock browsers.
Of course, one of Chrome's strengths is its ability to seamlessly sync with its desktop version, using nothing but your Google account. This allows you to open an article on your PC and finish reading it on your mobile phone. It also syncs your bookmarks and favorite sites.
Google Chrome is generous on settings as well. You can control almost every aspect of your web browsing from choosing what content you want to allow to load like JavaScript, images, cookies and pop-ups.
If you are out of Wi-Fi access, you can, for example, choose temporarily not to load images. Digging into Chrome's options, you'll also have the option to turn the auto-fill of forms and storing passwords on or off.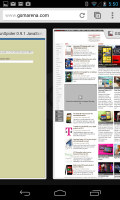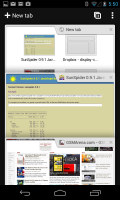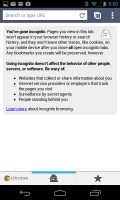 Switching between tabs • an incognito tab
Unfortunately, while Chrome excels in many areas, it falls short on the one that could be a deal-breaker for many of Android users and this is Flash. Sadly, viewing Flash content is the one thing you won't be able to do on the Nexus 4.