Display
The LG Nexus 4 features a 4.7" True HD-IPS+ LCD screen of 768 x 1280 resolution and 608 nits of brightness. There's about 8% more screen real estate than on the Samsung Galaxy Nexus, the extra surface mostly due to the display being wider.
While the pixel density is virtually the same - just under 320ppi - the display on the Nexus 4 is actually sharper due to its RGB matrix, compared to its predecessor and its PenTile Super AMOLED display. Things become clearer once we have both under a microscope.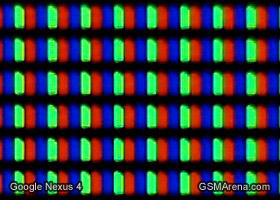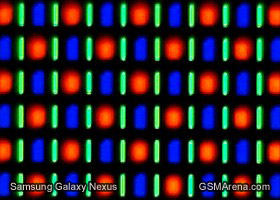 Google Nexus 4 • Samsung Galaxy Nexus
LG uses a screen technology called Zerogap touch - it's basically a laminated screen so there's no air between the screen layers (which causes glare) and it uses in-cell touch technology. The top layer is Gorilla Glass 2 for protection.
We put the LG Nexus 4 through our usual display tests and here's how it scored. You can find more about the testing procedures here.
The LCD is noticeably brighter than the Galaxy Nexus Super AMOLED screen and even the new Samsung Galaxy S III, though not quite as bright as the HTC One X. The black levels are not that deep though, especially when looking the screen at an angle.
Display test
50% brightness
100% brightness
Black, cd/m2
White, cd/m2
Contrast ratio
Black, cd/m2
White, cd/m2
Contrast ratio
Nokia Lumia 820
0
260
∞
0
422
∞
Nokia Lumia 920
-
-
-
0.48
513
1065
Nexus 4
0.22
314
1447
0.45
608
1341
LG Optimus G
0.14
197
1445
0.33
417
1438
HTC Windows Phone 8X
0.17
174
1017
0.49
501
1020
Samsung Ativ S
0
129
∞
0
302
∞
Nokia Lumia 900
0
347
∞
0
425
∞
Samsung I9300 Galaxy S III
0
174
∞
0
330
∞
Apple iPhone 5
0.13
200
1490
0.48
640
1320
Sadly, the high reflectivity of the Nexus 4 screen leads to a rather mediocre sunlight performance. The Nexus 4 screen is slightly more reflective than that of the Optimus G, possibly due to the different glass. There's only a slight improvement here over the Optimus 4X HD's display.
Contrast ratio
Nokia 808 PureView
4.698
Apple iPhone 5
3.997
Samsung I9300 Galaxy S III
3.419
Samsung Omnia W
3.301
Samsung Galaxy S
3.155
Samsung Ativ S
3.129
Nokia N9
3.069
Samsung Galaxy Note
2.970
Samsung Galaxy Premier
2.958
HTC One S
2.901
Samsung Galaxy S II
2.832
Huawei Ascend P1
2.655
Nokia Lumia 900
2.562
Apple iPhone 4S
2.269
Nokia Lumia 820
2.193
HTC One X
2.158
Nokia N8
2.144
Nokia Lumia 920
2.107
Apple iPhone 4
2.016
Sony Ericsson Xperia ray
1.955
Nexus 4
1.926
HTC Desire X
1.878
HTC Windows Phone 8X
1.873
Sony Xperia U
1.758
LG Optimus G
1.753
LG Optimus 4X HD
1.691
HTC One V
1.685
LG Optimus Vu
1.680
HTC Desire V
1.646
LG Optimus 3D
1.542
Nokia Asha 302
1.537
Nokia Lumia 610
1.432
Gigabyte GSmart G1355
1.361
Sony Xperia miro
1.324
HTC Desire C
1.300
LG Optimus L7
1.269
Meizu MX
1.221
Samsung Galaxy Pocket
1.180
Sony Xperia tipo
1.166
Samsung Galaxy mini 2
1.114
The viewing angles are good thanks to the IPS+ tech, but not without some color and contrast loss.
The software that handles the drawing to the screen is noticeably different between the Optimus G and the Nexus 4. On the Optimus, images get their saturation boosted and are sharpened. The result is more visible detail than on the Nexus. The color balance is also different and it seemed to us that it's more accurate on the Optimus G. We compared images both with the native gallery and the Chrome browser, and the results were the same (so it's not LG's custom gallery enhancing the images).
Handling
The LG Nexus 4 is about the same size as the other Android flagships and offers solid build quality. We do worry a bit that the glass on the back might crack if you drop the phone, though it should be much easier to replace than the front glass, even if the back cover isn't technically user-removable.
Drops aside, the double Gorilla Glass protection that the phone enjoys should keep scratches to a minimum (though we actually managed to get ours scratched). The feel of the material isn't up to par with some metal and polycarbonate unibodies but it's way better than the plasticky Galaxy Nexus. We're talking about a $300 phone after all and it does have a more premium feel than its price tag suggests.
The thin bezel on the left and right of the screen make the phone relatively narrow (especially when you consider it's a 15:9 screen vs. the 16:9 screens of the Galaxy Nexus, Galaxy S III and One X). The handset feels good in the hand, though we would have liked more tapered edges.