Phonebook
The Phonebook is the stock Android app, which hasn't been changed since its major redesign last year with the introduction of Ice Cream Sandwich.
It's made up of three tabs that you can switch between with sideways swipes. The middle tab is the default one, listing all of your contacts. Contacts are listed with a name and a picture to the right. They can be sorted by first or last name, and viewed as first name or last name first.
There's a permanent scroll bar available that you can grab and jump straight to contacts starting with a certain letter. There's regular search as you type too.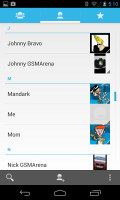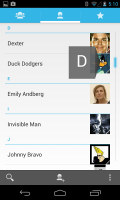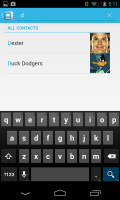 The new phonebook • Alphabet scroll • Searching for a contact
The quick contacts feature triggers on tapping a contact image to bring up a tabbed popup window. The tabs are phone and email with a list of the available numbers or addresses. These tabs can be navigated with sideways swipes as well.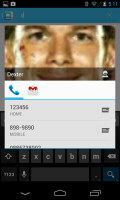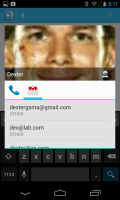 Quick contacts sport the same design as before
The single contact view displays the contact's name along with a star to favorite a contact and a Settings button that lets you edit, share or delete a contact, as well assign custom ringtones to them or set the phone to redirect calls from that contact straight to voice mail.
Under that is a list of all contact info sorted by category - phone numbers, emails, events, notes and so on.
While editing a contact, you can add new fields of different types to fill in more info for the contact. You can link contacts too, if you've added the same person on multiple services.
The contacts that the phonebook displays can be filtered by service (e.g. hide all Facebook contacts) and even group (so you can hide all contacts that don't belong in a group, for example).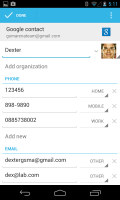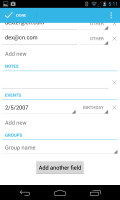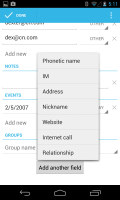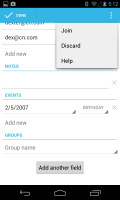 Editing a contact • Joining contacts • Adding an extra field
The other two major tabs in the phonebook are Groups and Favorites. Groups are listed by service (e.g. your Gmail account), while favorites are a listed as a grid of large contact photos, which is readily thumbable.
Telephony
In-call quality was good and reasonably loud but it tends to plummet in areas of spotty coverage. The Google Nexus 4 has a secondary microphone for active noise cancellation, so noisier environments didn't prove to be much of an issue.
The dialer features the new neon-blue on black theme, but hasn't grown any new functionality. There's still no smart dialing, which is a real shame.
The dialer is just the first tab of the phone app, the other two being the Call log and the Favorites tab (you get the same in the Phonebook). In the Call log, you can't delete individual entries, which was mildly annoying.
We also ran our traditional loudspeaker test on the Google Nexus 4. It scored a Good overall mark which means you might consider enabling vibration in noisier environments. More info on our loudspeaker test as well as other results can be found here.
Speakerphone test
Voice, dB
Pink noise/ Music, dB
Ringing phone, dB
Overal score
Nokia Lumia 920
61.6
64.8
65.8
Below Average
Samsung Galaxy Nexus
66.2
60.5
79.0
Average
Apple iPhone 5
66.8
66.1
67.7
Below Average
HTC One X+
64.6
65.8
74.6
Average
Samsung I9300 Galaxy S III
75.1
66.5
75.0
Good
Samsung Note II N7100
70.0
66.6
80.5
Good
HTC Windows Phone 8X
66.5
66.6
75.7
Good
Google Nexus 4
71.0
66.6
78.8
Good
Motorola RAZR XT910
74.7
66.6
82.1
Very Good
LG Optimus G
74.6
71.3
82.7
Excellent
Samsung Ativ S
73.7
73.5
82.7
Excellent