Fan favorites
Google Nexus 4 vs. Samsung Galaxy S III: Fan favorites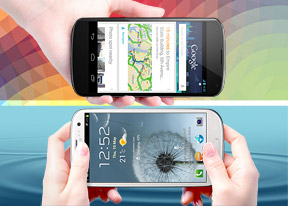 Display comparison
There are two major things to consider when you rate a phone's screen quality: how well you can see what's on the display and how good it looks.
Both the Google Nexus 4 and Samsung Galaxy S III have Gorilla Glass 2 protecting their 4.7-or-so-inch displays, but this is where similarities end.



The Nexus 4 and the Galaxy S III use different tech for their screens
The Nexus 4 has a True HD IPS Plus LCD screen with a WXGA (768 x 1280) resolution and full RGB stripe. The Galaxy S III uses a Super AMOLED screen with 720 x 1280 resolution on a PenTile matrix.
LCDs are typically brighter and the Nexus 4 does indeed put out nearly double the lumens of the Galaxy S III when both are set at 100% brightness. The strengths of AMOLEDs lie in perfect blacks, which push contrast to infinity.
The contrast of the Nexus 4 is finite but very high - 1341:1. In practice, 1000+ contrast is good enough unless you're in a very dark environment. The black levels are pretty impressive - comparable to a Nokia Lumia 920 or an Apple iPhone 5.
Display test
50% brightness
100% brightness
Black, cd/m2
White, cd/m2
Contrast ratio
Black, cd/m2
White, cd/m2
Contrast ratio
Nokia Lumia 820
0
260
∞
0
422
∞
Nokia Lumia 920
-
-
-
0.48
513
1065
Nexus 4
0.22
314
1447
0.45
608
1341
LG Optimus G
0.14
197
1445
0.33
417
1438
HTC Windows Phone 8X
0.17
174
1017
0.49
501
1020
Samsung Ativ S
0
129
∞
0
302
∞
Nokia Lumia 900
0
347
∞
0
425
∞
Samsung I9300 Galaxy S III
0
174
∞
0
330
∞
Apple iPhone 5
0.13
200
1490
0.48
640
1320
The problem that the Nexus 4 screen has is that it's quite reflective - more reflective than the screen of the LG Optimus G, which was less than perfect to begin with. So, bright light greatly reduces the perceived contrast, affecting the image quality.
The Galaxy S III on the other hand is one of the best performers we've seen in this category - its screen is not very bright, which hurts sunlight legibility, but the low reflectivity keeps things legible even in the brightest sun.
Contrast ratio
Nokia 808 PureView
4.698
Apple iPhone 5
3.997
Samsung I9300 Galaxy S III
3.419
Samsung Omnia W
3.301
Samsung Galaxy S
3.155
Samsung Ativ S
3.129
Nokia N9
3.069
Samsung Galaxy Note
2.970
Samsung Galaxy Premier
2.958
HTC One S
2.901
Samsung Galaxy S II
2.832
Huawei Ascend P1
2.655
Nokia Lumia 900
2.562
Apple iPhone 4S
2.269
Nokia Lumia 820
2.193
HTC One X
2.158
Nokia N8
2.144
Nokia Lumia 920
2.107
Apple iPhone 4
2.016
Sony Ericsson Xperia ray
1.955
Nexus 4
1.926
Nokia Asha 308
1.911
HTC Desire X
1.878
HTC Windows Phone 8X
1.873
Sony Xperia U
1.758
LG Optimus G
1.753
LG Optimus 4X HD
1.691
HTC One V
1.685
LG Optimus Vu
1.680
HTC Desire V
1.646
LG Optimus 3D
1.542
Nokia Asha 302
1.537
Nokia Lumia 610
1.432
Gigabyte GSmart G1355
1.361
Sony Xperia miro
1.324
HTC Desire C
1.300
LG Optimus L7
1.269
Meizu MX
1.221
Samsung Galaxy Pocket
1.180
Sony Xperia tipo
1.166
Samsung Galaxy mini 2
1.114
With that out of the way, let's talk image quality. We already mentioned that the Super AMOLED screen on the Galaxy S III uses a PenTile matrix, meaning it only has two subpixels per pixel, while the Nexus 4 has three subpixels in each of its pixels.
The two screens are pretty close in terms of pixel density (318 ppi for the Nexus vs. 306 for the Galaxy), but the subpixel density is a whole different story. The Nexus 4 has 56% higher subpixel density than the Galaxy S III. While at these levels PenTile isn't nearly as noticeable as it used to be, if you look closely you'll see that the Nexus 4 has the sharper screen.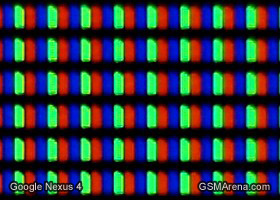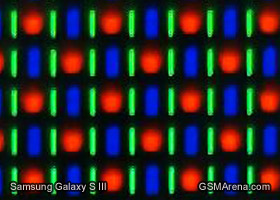 Google Nexus 4's screen under a microscope • Samsung Galaxy S III's screen
When it comes to color rendering, AMOLEDs tend to oversaturate colors and the Super AMOLED on the Galaxy S III is no exception. Samsung has provided a setting to control the color rendering, so you can tweak it to your liking.
The Google Nexus 4 doesn't have such a setting, but its colors look natural and pleasing, so we won't complain. One area where we see room for improvement is viewing angles - the IPS Plus tech keeps color shifting to a minimum (though it's still noticeable), but there's a pretty sharp decrease in contrast when you view the screen at an angle.
Another thing that came up during our Nexus 4 review is that the LG Optimus G - the base on which the Nexus is built - uses LG-sourced software tweaks to improve the image quality, which are not available to the Google phone. Images drawn to the screen are sharpened and there are adjustments to the color too, so the same image will have more visible detail on the Optimus G than on the Nexus 4.
It's not like the Nexus 4 has a bad screen, but it miffs us to know that it could have been even better with the more advanced image rendering techniques of the Optimus G.
Winner: Google Nexus 4. The screen is bright and with good contrast and is sharper than the PenTile Super AMOLED. We just wish LG shared the secret sauce that made the Optimus G screen better.
Battery life test
Simply comparing battery capacities would be largely inconclusive. Both the Google Nexus 4 and the Samsung Galaxy S III have 2100mAh juice packs, but their battery life is quite different as we found out from our tests.
A quick side note first. The S III uses a standard Li-Ion battery, while the Nexus 4 has a Li-Po battery manufactured by LG Chem. LG promises that it will last more charge cycles than a traditional battery before it starts to degrade. That's good to know, because putting a fresh battery in the Nexus is no easy task.
Voice calls are just one of the many features of a modern smartphone, but still an important one. The Google Nexus 4 posts one of the best times we've seen - just over 14 hours of talking before the battery runs dry. The Samsung Galaxy S III is not bad either with a bit over 10 hours of talk time, but the Nexus has a nearly 40% advantage.
Talk time
Motorola RAZR MAXX (ICS)
21:18
Motorola DROID RAZR MAXX
20:24
Motorola RAZR i
20:07
Samsung Galaxy Note II N7100
16:57
LG Optimus G
15:30
Google Nexus 4
14:17
HTC One X+
13:31
Huawei Ascend P1
12:30
Samsung Galaxy Note
12:14
Samsung I8530 Galaxy Beam
11:58
Samsung Galaxy Premier
11:30
HTC Droid DNA
11:07
HTC Windows Phone 8X
11:07
Samsung Wave 3 S8600
11:07
HTC Desire X
11:03
HTC One X (AT&T, LTE)
10:35
Samsung I9300 Galaxy S III
10:20
Samsung I9300 Galaxy S III (JB)
10:15
HTC One V
10:00
Meizu MX 4-core
10:00
HTC One X
9:57
HTC One S
9:42
Samsung I9103 Galaxy R
9:40
HTC Sensation XL
9:30
Nokia Lumia 810
9:05
Nokia Lumia 710
9:05
Acer CloudMobile S500
9:05
Motorola Atrix HD
9:04
HTC Vivid
9:02
Nokia Lumia 920
8:56
HTC Rhyme
8:48
Apple iPhone 5
8:42
LG Optimus 3D Max P720
8:42
Sony Ericsson Xperia neo V
8:41
Meizu MX
8:39
Samsung Galaxy S II
8:35
Samsung Galaxy S Duos
8:28
Nokia Lumia 800
8:25
Samsung Galaxy Nexus
8:23
HTC Desire V
8:20
Samsung Captivate Glide
8:20
Sony Xperia T
8:15
HTC Rezound (LTE)
8:10
Samsung Galaxy Note (LTE)
8:02
LG Optimus Vu
7:57
LG Optimus 4X HD
7:41
Apple iPhone 4S
7:41
Samsung i937 Focus S
7:25
HTC Evo 4G LTE (LTE)
7:21
Samsung Galaxy S Blaze 4G
7:14
Nokia Lumia 820
7:09
Sony Xperia acro S
7:09
Samsung Rugby Smart I847
7:09
Sony Ericsson Xperia Pro
6:57
Nokia N9
6:57
HTC Radar
6:53
Samsung Galaxy Ace Duos
6:53
BlackBerry Curve 9380
6:52
Samsung Galaxy S III mini
6:22
Samsung Galaxy Pocket
5:54
Nokia Lumia 900 for AT&T (LTE)
5:53
Sony Xperia ion LTE
5:52
Sony Xperia P
5:33
Nokia 808 PureView
5:16
LG Nitro HD (LTE)
5:16
HTC Titan II (LTE)
5:10
BlackBerry Bold 9790
5:00
Pantech Burst
4:46
In our web browsing test, the Galaxy S III managed the respectable 6 and a half hours. The Nexus 4 managed 2 hours less. Keep in mind that we do the test over Wi-Fi and an LTE connection will drain the battery even quicker.
We should note that the Nexus 4 has rather underwhelming web browser benchmarks and software optimizations might improve performance, which in turn will lighten the load on the four hungry Krait cores. The Galaxy S III may be a good reference - it gained over an hour by going from ICS to Jelly Bean.
Web browsing
Apple iPhone 5
9:56
Motorola RAZR MAXX (ICS)
9:12
Apple iPad mini
9:05
Samsung Galaxy Note II N7100
8:48
Nokia Lumia 810
8:20
HTC One X+
7:56
Samsung Galaxy S III mini
7:38
Motorola DROID RAZR MAXX
7:23
HTC Radar
7:17
Motorola RAZR i
7:06
Apple iPhone 4S
6:56
HTC One V
6:49
HTC Droid DNA
6:40
Samsung Galaxy Premier
6:40
Motorola Atrix HD
6:40
BlackBerry Curve 9380
6:40
Samsung I9300 Galaxy S III (JB)
6:27
Samsung i937 Focus S
6:15
HTC Windows Phone 8X
6:01
Sony Xperia ion LTE
5:56
Samsung Rugby Smart I847
5:53
Pantech Burst
5:51
Samsung Galaxy S Blaze 4G
5:45
HTC Desire V
5:44
HTC Evo 4G LTE
5:41
Nokia Lumia 920
5:40
Samsung Wave 3 S8600
5:34
Sony Xperia T
5:33
Samsung Captivate Glide
5:33
Samsung I8530 Galaxy Beam
5:28
Samsung Galaxy Note LTE
5:24
Samsung Galaxy S Duos
5:23
HTC Sensation XL
5:20
Meizu MX 4-core
5:19
Samsung I9300 Galaxy S III
5:17
Sony Xperia acro S
5:16
HTC Rezound
5:16
HTC Desire X
5:16
LG Optimus G
5:15
HTC Rhyme
5:08
Samsung I9103 Galaxy R
5:07
HTC One X (AT&T)
5:03
Sony Ericsson Xperia Pro
4:50
LG Optimus Vu
4:49
HTC Vivid
4:46
Samsung Galaxy Ace Duos
4:45
Meizu MX
4:35
Google Nexus 4
4:34
Nokia N9
4:33
Acer CloudMobile S500
4:32
Nokia Lumia 820
4:24
Samsung Galaxy S II
4:24
Sony Ericsson Xperia neo V
4:20
HTC One X
4:18
Nokia 808 PureView
4:14
LG Optimus 3D Max P720
4:10
Nokia Lumia 900 for AT&T
4:10
Nokia Lumia 800
4:07
HTC Titan II (LTE)
4:05
HTC One S
4:03
BlackBerry Bold 9790
4:02
LG Nitro HD
4:00
LG Optimus 4X HD
3:59
Sony Xperia P
3:59
Nokia Lumia 710
3:51
Samsung Galaxy Pocket
3:47
Samsung Galaxy Note
3:35
Huawei Ascend P1
3:23
Samsung Galaxy Nexus
3:01
Other than web browsing, watching videos is the other area where a big screen is of a big benefit. If you're on a long commute or on a plane, for example, the Galaxy S III will last for nearly 9 and a half hours before the battery hits 10% (many phones refuse to play video under that threshold). That's enough for quite the movie marathon on a long transatlantic flight (note: we do the test in offline mode).
The Nexus 4 is one of the worst performers in this category - it only took 5 hours before the battery reading showed 10%. We suspect the poor performance might be due to the relatively poor codec support - Google just doesn't consider that as a priority.
While you probably won't watch a movie on the Galaxy S III for 10 hours straight, you can watch a three hour movie and have plenty of battery left over. Doing the same on the Nexus 4 will leave you with less than 50% charge, even if you started with a fully charged battery.
Video playback
Motorola RAZR MAXX (ICS)
16:35
Motorola DROID RAZR MAXX
14:17
Apple iPad mini
12:51
Samsung Galaxy Premier
12:51
Samsung Galaxy Note II N7100
11:27
Apple iPhone 5
10:12
Samsung I9300 Galaxy S III
10:01
Nokia 808 PureView
9:53
Samsung I8530 Galaxy Beam
9:42
Samsung Rugby Smart I847
9:34
HTC One S
9:28
Samsung I9300 Galaxy S III (JB)
9:27
Apple iPhone 4S
9:24
HTC Evo 4G LTE
9:07
Nokia N9
8:40
Samsung Galaxy Note
8:25
HTC One X+
8:11
Motorola RAZR i
8:11
Samsung Galaxy S II
8:00
Samsung i937 Focus S
7:55
Samsung Wave 3 S8600
7:52
Samsung Galaxy S III mini
7:46
Sony Ericsson Xperia neo V
7:45
Huawei Ascend P1
7:38
Samsung Galaxy S Blaze 4G
7:33
HTC Droid DNA
7:30
Samsung Galaxy Note LTE
7:30
LG Optimus G
7:16
Meizu MX 4-core
6:33
HTC Windows Phone 8X
6:27
Nokia Lumia 810
6:27
HTC Desire V
6:26
HTC One X (AT&T)
6:26
Nokia Lumia 820
6:25
Samsung Galaxy Ace Duos
6:25
LG Optimus Vu
6:23
Samsung I9103 Galaxy R
6:21
Nokia Lumia 920
6:19
HTC Sensation XL
6:12
Samsung Galaxy Pocket
6:06
Samsung Captivate Glide
6:04
Sony Xperia ion LTE
6:03
Samsung Galaxy Nexus
6:02
Sony Xperia T
6:01
Motorola Atrix HD
6:01
HTC Vivid
6:00
HTC Radar
5:54
Nokia Lumia 800
5:52
HTC Titan II
5:50
BlackBerry Bold 9790
5:47
HTC One X
5:45
Sony Ericsson Xperia Pro
5:44
Sony Xperia acro S
5:38
HTC Desire X
5:38
Pantech Burst
5:38
Meizu MX
5:27
HTC Rhyme
5:23
HTC One V
5:20
Acer CloudMobile S500
5:18
Nokia Lumia 900 for AT&T
5:18
BlackBerry Curve 9380
5:09
HTC Rezound
5:03
Google Nexus 4
4:55
Samsung Galaxy S Duos
4:30
Sony Xperia P
4:30
LG Nitro HD
4:17
LG Optimus 4X HD
4:14
LG Optimus 3D Max P720
3:28
Nokia Lumia 710
3:27
When we tally the numbers and take standby efficiency into account, the Samsung Galaxy S III lasts a bit over two full days on a single charge in a usage pattern involving an hour each of calling, web browsing and watching video every day. The S III showed nearly double the standby efficiency of its competitor, too, which helped it achieve an important victory here.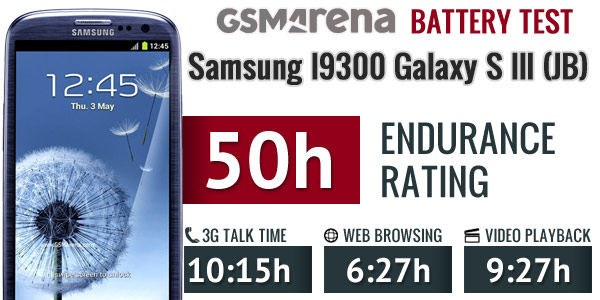 By comparison, the Google Nexus 4 lasts only 32 hours - it could get you through two work days, but you'll have to plug it in the second night. It will do great if all you do is voice calls, but with a 4.7" WXGA screen and S4 Pro chipset, you'll probably want to do some web browsing or watch HD video (we test with SD video) and that's just the kind of thing that brings the battery down quickly.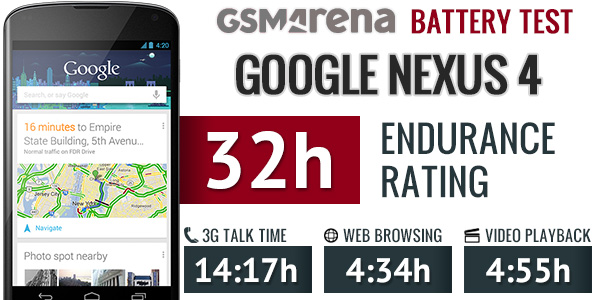 Winner: Samsung Galaxy S III. It lost the talk time test, but with its time of over 10 hours is more than enough. In the other tests it beat the Nexus 4 outright.