Fan favorites
Google Nexus 4 vs. Samsung Galaxy S III: Fan favorites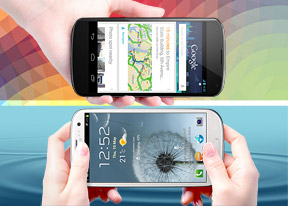 Synthetic benchmarks
The Google Nexus 4 uses a Qualcomm APQ 8064 Snapdragon S4 Pro chipset, which packs the new generation Krait CPU cores and the new generation Adreno 320 GPU. The Samsung Galaxy S III meanwhile relies on Cortex-A9 CPU cores and Mali-400.
As it turns out, the older design holds up very well against the powerful newcomer and wins several rounds, though as we've noted before, it's more because of optimization than having comparable raw power.
Let's start with the CPU performance. The Google Nexus 4 posts a slow time in Benchmark Pi - slower than both the Galaxy S III and the LG Optimus G. It wins out in Linpack, but not by a big margin - it's on the level of the Galaxy Note II, which uses the same chipset as the S III but clocked higher.
Geekbench 2 puts the Galaxy S III above the Optimus G, but the Nexus 4 came out on top.
Benchmark Pi
Lower is better
HTC One X+
280
LG Optimus G
285
Samsung Galaxy Note II
305
HTC One X (Tegra 3)
330
LG Optimus 4X HD
350
Samsung Galaxy S III
359
Meizu MX 4-core
362
Nexus 4
431
Linpack
Higher is better
LG Optimus G
608
Samsung Galaxy Note II
214.3
Nexus 4
213.5
Meizu MX 4-core
189.1
HTC One X+
177.7
Samsung Galaxy S III
175.5
HTC One X
160.9
LG Optimus 4X HD
141.5
Geekbench 2
Higher is better
Nexus 4
2100
Samsung Galaxy Note II
2000
Samsung Galaxy S III
1845
LG Optimus G
1723
HTC One X (Tegra 3)
1634
Apple iPhone 5
1601
AnTuTu and Quadrant both test overall system performance and their opinions are split - AnTuTu puts the Nexus 4 comfortably on top, while Quadrant rated the Samsung Galaxy S III higher and put the Nexus at the bottom.
AnTuTu
Higher is better
Nexus 4
15146
Samsung Galaxy Note II
13562
HTC One X+
13519
Samsung Galaxy S III
12288
Meizu MX 4-core
11820
HTC One X (Tegra 3)
11633
LG Optimus G
11226
Quadrant
Higher is better
HTC One X+
7632
LG Optimus G
7439
HTC One X
5952
Samsung Galaxy Note II
5916
Samsung Galaxy S III
5450
Meizu MX 4-core
5170
LG Optimus 4X HD
4814
Nexus 4
4567
Moving on to GPU performance, the newer architecture has a clear advantage - it offered nearly 75% higher framerate in the off-screen GLBenchmark 2.5 test (1080p resolution). It practically matched the iPhone 5, which uses some of the most powerful GPU cores around.
Oddly, the off-screen GLBenchmark 2.1 test (720p resolution) showed lower framerate for the Nexus 4 than the Galaxy S III.
GLBenchmark 2.1 Egypt (720p offscreen)
Higher is better
LG Optimus G
113
Samsung Galaxy Note II
105
Samsung Galaxy S III
99
Meizu MX 4-core
80
Nexus 4
78
HTC One X (Tegra 3)
64
LG Optimus 4X HD
61
GLBenchmark 2.5 Egypt (1080p offscreen)
Higher is better
LG Optimus G
29
Apple iPhone 5
27
Nexus 4
26
Samsung Galaxy Note II
17
Samsung Galaxy S III
15
HTC One X+
12
HTC One X
9
The Google Nexus 4 comes with Chrome out of the box, while the Samsung Galaxy S III uses the stock Android Browser with some TouchWiz tweaks.
In terms of pure JavaScript performance, Chrome on the Nexus 4 is well behind the stock browser on the Galaxy S III. The Nexus performed better in BrowserMark 2 (a JavaScript and HTML5 test), beating the S III by a nice margin, though it again lagged behind the LG Optimus G.
Vellamo, another compound web browser test, puts the S III near the top and the Nexus 4 at the bottom.
SunSpider
Lower is better
Samsung Ativ S
891
Apple iPhone 5
915
Nokia Lumia 920
910
Samsung Galaxy Note II
972
HTC One X+
1001
Motorola RAZR i XT890
1059
Samsung Galaxy S III
1192
Meizu MX 4-core
1312
LG Optimus G
1353
Nexus 4
1971
BrowserMark 2
Higher is better
LG Optimus G
2555
Nexus 4
1794
Nokia Lumia 920
1774
Nokia Lumia 820
1760
Samsung Omnia W
1632
Samsung Galaxy S III
1247
Vellamo
Higher is better
Samsung Galaxy Note II
2418
HTC One X (Tegra 3)
2078
Samsung Galaxy S III
1641
LG Optimus 4X HD
1568
LG Optimus G
1522
Meizu MX 4-core
1468
Nexus 4
1310
After all these benchmarks, we have no solid answer to the question of which phone is faster. On average, the Google Nexus 4 is faster - CPU benchmarks favor it (especially in multithreaded tasks) and the GPU victory was pretty decisive.
Results seem very dependent on the software, however. The Samsung Galaxy S III won its fair share of benchmarks. Whatever modifications Samsung have made to the browser seem to have really boosted performance and GLBenchmark 2.1 reported a higher framerate for the S III than the Nexus.
In the end, both phones are powerful enough to handle any task they're given. But the Nexus 4 has room for improvement, the Optimus G (which differs from the Nexus by software only) beat it in several key benchmarks.
Winner: Google Nexus 4. It may not have won outright, but benchmarks leaned in its favor overall and the S4 Pro chipset has potential that can be unlocked with a software update.