Fan favorites
Google Nexus 4 vs. Samsung Galaxy S III: Fan favorites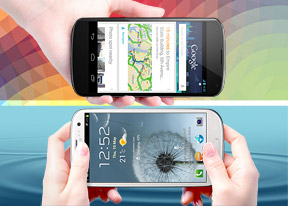 Connectivity
We usually don't specifically cover connectivity in this kind of comparison articles, but the two contenders here call for an exception.
Both phones have quad-band 2G connectivity and quad-band 3G connectivity with HSPA. The Nexus 4 supports DC-HSDPA, which doubles the download speeds if the carrier supports it.
It doesn't have LTE, at least not officially. You can enable it, but only one band is supported and (depending on your region) it might or might not be the right one. So, you shouldn't take LTE for granted when buying the Nexus 4 - most likely it won't work.
The I9300 Galaxy S III does not support LTE, though there's a dedicated I9305 version that does. It's tailored to support the networks in region where it is sold and if ultra-fast mobile data rates are your priority might just be worth the extra investment.
Local wireless connectivity is almost identical - dual-band Wi-Fi a/b/g/n, Bluetooth 4.0 and NFC are all supported. Both phones offer more advanced features too - DLNA, Android Beam (file transfer over NFC) and Miracast, a wireless TV-Out standard. Miracast requires a dongle that hooks up to the TV though newer TVs might have it built-in.
Both phones support HD TV-Out with the proper dongle.
The Samsung Galaxy S III also has USB On-The-Go support, which means you can connect various USB peripherals - mice, keyboards and USB storage. The Nexus 4 doesn't have OTG, it seems to be a hardware limitation (it worked on the Galaxy Nexus).
Both phones also do TV-out via the USB port, though they use different technologies. The Galaxy S III has an MHL-enabled USB, whereas the Nexus 4 uses a SlimPort USB.
Winner: Tie. The Galaxy S III has USB OTG, while the Nexus 4 has rudimentary LTE support. Other than that, the two phones are too similar to pick a definitive winner.
Audio quality
The two contenders are pretty evenly matched in terms of audio quality. They both have nicely clean output and equal volume levels.
When used with an active external amplifier, the Galaxy S III has a slight advantage, but you'd probably need to do lab tests to detect it. What's more important is that both are doing pretty great, with no weak points whatsoever.
Very little changes when you plug in a pair of headphones - the two smartphones still deliver great results and this time the Nexus 4 is even closer to the Galaxy S III.
Check out the numbers and see for yourselves.
| | | | | | | |
| --- | --- | --- | --- | --- | --- | --- |
| Test | Frequency response | Noise level | Dynamic range | THD | IMD + Noise | Stereo crosstalk |
| Google Nexus 4 | +0.11, -0.10 | -82.3 | 82.3 | 0.0040 | 0.019 | -82.0 |
| Google Nexus 4 (headphones attached) | +0.06, -0.36 | -81.0 | 81.1 | 0.011 | 0.091 | -62.4 |
| Samsung I9300 Galaxy S III | +0.03, -0.05 | -90.3 | 90.3 | 0.012 | 0.018 | -92.6 |
| Samsung I9300 Galaxy S III (headphones attached) | +0.11, -0.04 | -90.2 | 90.2 | 0.0092 | 0.090 | -53.1 |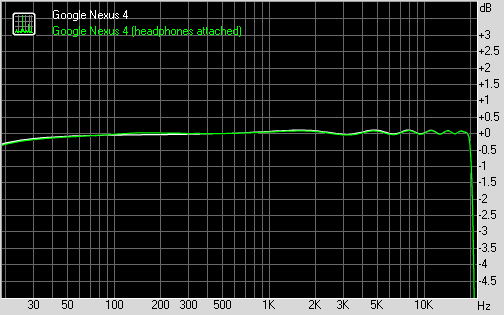 Google Nexus 4 frequency response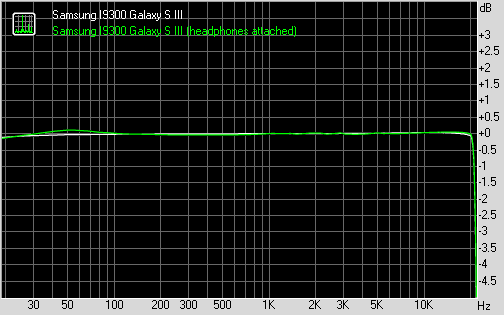 Samsung I9300 Galaxy S III frequency response
You can learn more about the whole testing process here.
Winner: Samsung Galaxy S III. Its advantage is very hard to detect with a naked ear, though, so this win doesn't count for much.
Loudspeaker
The Google Nexus 4 came with improved loudspeaker performance compared to the Galaxy Nexus and it's level with the Samsung Galaxy S III. Both received Good marks in our test, with the Nexus having a slight edge in ringtone performance, while the S III does slightly better for voice audio. You can read more about how we do the test over here.
Speakerphone test
Voice, dB
Pink noise/ Music, dB
Ringing phone, dB
Overal score
Nokia Lumia 920
61.6
64.8
65.8
Below Average
Samsung Galaxy Nexus
66.2
60.5
79.0
Average
Apple iPhone 5
66.8
66.1
67.7
Below Average
HTC One X+
64.6
65.8
74.6
Average
Samsung I9300 Galaxy S III
75.1
66.5
75.0
Good
Samsung Note II N7100
70.0
66.6
80.5
Good
HTC Windows Phone 8X
66.5
66.6
75.7
Good
Google Nexus 4
71.0
66.6
78.8
Good
Motorola RAZR XT910
74.7
66.6
82.1
Very Good
LG Optimus G
74.6
71.3
82.7
Excellent
Samsung Ativ S
73.7
73.5
82.7
Excellent
Winner: Tie. There's no tangible difference between the loudspeakers of the two phones.