If all the rumors and teasers are to be trusted, Google will be announcing the LG-made Nexus 5 this Friday. The flagship has leaked numerous times revealing all there is to know about its design, specs and even pricing.
We've already seen official pictures of the Nexus 5 and we know it will come with a 4.95" 1080p IPS display and Snapdragon 800 chipset. What we didn't know is how the Nexus 5 will be performing on benchmarks with its new Android 4.4 KitKat, previously rumored as Key Lime Pie.
Well, it seems nobody is trying to keep the gadget under wraps anymore. Someone subjected the Nexus 5 to the BaseMark X test and the results came out very promising.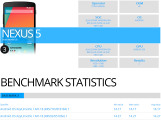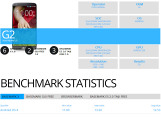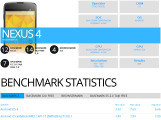 LG Nexus 5 scores compared to LG G2 and LG Nexus 4
BaseMark X is a cross-platform benchmark, which aims to test how good a device is for gaming. As it turns out the LG Nexus 5 scores 8% higher than its LG G2 sibling running on pretty much the same internals but with Android 4.2.2 in charge of operations. The Nexus 5 is also twice as fast as its Nexus 4 predecessor, but that is to be expected.
In fact, the Nexus 5 ranked as the second best gaming device in Rightware's database, only beaten by the iPhone 5s (which only has about a third of its resolution).
Anyway, it seems the new Android version and Google's own optimizations matter and the Nexus 5 may have an edge over its competitors unit they get their own Android 4.4 updates.
D
Let's face it, for £299 you can't really complain about one or two issues can you? Yes, the camera could be better, yes the battery could be larger and yes it could have a micro SD card slot, but all in all the Nexus is a truly excellent device...
a
Hello,with benchmark GFX Bench 2.7.3 only test at 1080p,iPhone 5S have GPU better and sistem 64 bit first in the world,also samsumg annunced with android in testing for launched 64 bit chip.
p
If your only complaint is the battery being 2300 then your just looking to complain.. i don't even own an android phone but if you can't plug your phone in within some point in the day or if you use it every second all day should probably be doing yo...
ADVERTISEMENTS