It was about time the Samsung Google Nexus S showed up on our side of the pond - in the UK, at least. But while we all knew the next-gen Nexus was coming today, nobody expected its price to drop to £430.
The first Gingerbread-powered smartphone, the Samsung-made Google Nexus S, has been selling since 16 December over in the USA and today it's scheduled to launch in Europe. The device should become available in the Carphone Warehouse UK any time now (currently, it's still out of stock).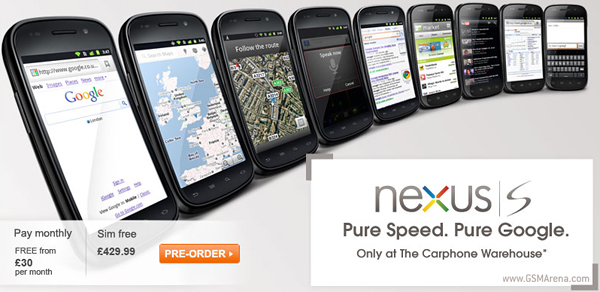 The price in the UK was first said to be £550 (around €650) but apparently we weren't the only ones that thought it was quite steep so Google decided to cut it down to £430 (nearly €510). This sounds way more reasonable (even if its way higher than the US SIM-free price of the Nexus S, $529 or €400).
So, if you feel like buying (yourself) a nice high-tech gift, hit the source link and pre-order it. It should arrive by the end of December.
Update: Apparently, the Google Nexus S will be a bit late and will appear at Carphone Warehouse and Best Buy stores across the UK on 22 December 2010 instead of the previously scheduled date of 20 December. The reason for the delay is unknown.
d
When will Nexus S be available in South East Asia (Indonesia)? And why GSMArena haven't tested it yet? Did't have this phone in your custody yet?
?
430 pounds =/= 400 Euro.
ADVERTISEMENTS