Google has filed for, and been granted, an interesting patent that could fundamentally change the way we use our phones and make them much smarter.
The patent describes a new drag and drop dynamic between apps on Android. You would be able to drag content like a photo or text, or a restaurant and drop it into a relevant app that can use that content specifically - like a photo editor, messaging app or Google Maps.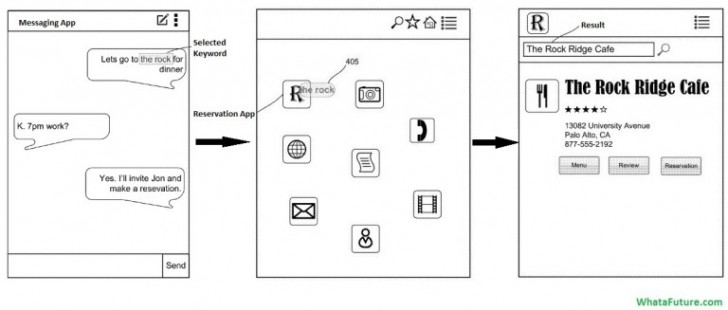 Your phone will know which app is relevant to the content you're dragging through machine learning.
So if you start dragging a restaurant's name your phone would be able to recognize it for what it is and offer to book you a table or navigate you to it through a Booking app or Google Maps.
Nowadays smartphones offer you a ready-made list of apps for sharing and will even give you photo-specific recommendations for photo content. But Google will take it to a new level by making your phone understand what you're trying to share between apps and know what apps will work for this type of content.
?
Funny... you can already do this kinda with the multiwindow feature on touchwiz( or whatever they call it now a days).
?
Next laggy touchwizz, listen Samsungs Pr rival, Touchwizz is now the best os there is till applecpies it and calls it iwizz.
?
He he, first of all here is no such thing as ..nokia...phone. Its a nobody using the nokia name as a brand barganing tool, to sell anonher average Android phone to gullible , sentimental people...its..no. ...nokia.
ADVERTISEMENTS