The Google Pixel is driven by a Qualcomm Snapdragon 821 CPU. The downside is the particular version of the 821 found in Pixel devices is down-clocked to the 820's speed, so the incremental number is a bit misleading. While it doesn't offer significant performance improvement over the Snapdragon 820, the incremental update on the CPU brings a couple of benefits like battery efficiency over the 820, as well as thermal efficiency. This phone won't run as warm as others with the Snapdragon 820.
The Snapdragon 820 made many phones run warm when performing mid-intensive multitasking like constantly switching between Twitter, Facebook, and text messaging a friend while other CPUs such as an Exynos or HiSilicon equivalent wouldn't make your palm break a sweat.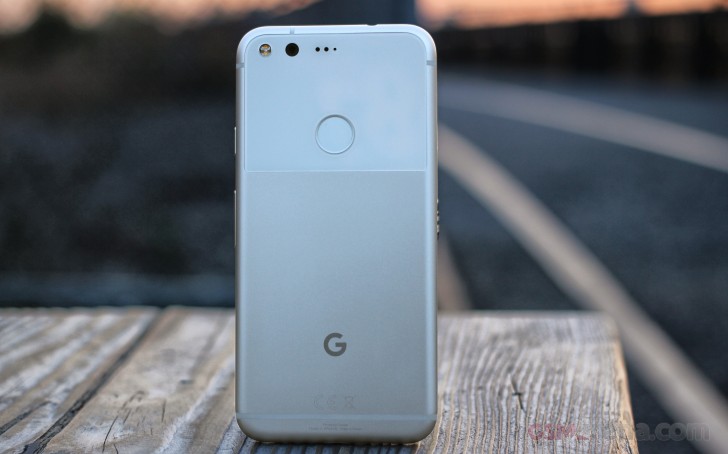 For this round of performance comparisons, we'll pit the Google Pixel with other Snapdragon 820 devices of this year like the HTC 10, Galaxy S7 (Exynos), as well as the OnePlus 3, and iPhone 7. We'll also include the Nexus 6P to see the improvement over the Snapdragon 810.
We'll also see how it fares against the Xiaomi Mi 5s, as its Snapdragon 821 CPU is not the same version as this one, and is clocked a bit faster.
GeekBench 4 (multi-core)
Higher is better
Apple iPhone 7
5654
Samsung Galaxy S7
5245
Google Pixel (5.0)
4139
OnePlus 3
4045
ZTE Axon 7
3990
Xiaomi Mi 5s
3987
HTC 10
3621
Keeping in mind that the 821 is clocked like the 820, we can see that with all cores active, the 821 scored like the 820 did. Meanwhile, this year's Exynos 8890 found in the S7 scored 27% better than the Pixel did. The iPhone 7 remains at the top thanks to the crazy-fast A10 Fusion chip.
As for the single-core test, the Pixel didn't do so hot, the Exynos powered S7 did a little better, but the iPhone 7's A10 Fusion still took the cake by a long-shot.
GeekBench 4 (single-core)
Higher is better
Apple iPhone 7
3488
Samsung Galaxy S7
1854
OnePlus 3
1719
HTC 10
1708
ZTE Axon 7
1702
Xiaomi Mi 5s
1682
Google Pixel (5.0)
1535
The Pixel has 4GB of RAM - a well-established amount that has been seen on many smartphones this year. However, RAM can't help when going against the iPhone 7's 3GB of RAM. Sure enough, the Google Pixel scored right in the middle of the pack, yielding just about the same as the OnePlus 3's score. The OnePlus 3 fared a slightly higher score thanks to its 6GB of RAM.
Basemark OS 2.0 doesn't think much of the Pixel - pure Android, the latest version in fact, without any bloatware or custom skins running on a new high-end chipset and the results are still in line with the others.
AnTuTu 6
Higher is better
Apple iPhone 7
174532
HTC 10
154031
OnePlus 3
141764
Google Pixel (5.0)
141193
Samsung Galaxy S7
132084
Xiaomi Mi 5s
131666
ZTE Axon 7
129926
Basemark OS 2.0
Higher is better
Apple iPhone 7
3416
Google Pixel (5.0)
2461
Xiaomi Mi 5s
2378
OnePlus 3
2365
ZTE Axon 7
2346
Samsung Galaxy S7
2128
HTC 10
1839
Since the GPU was denied a bump up in performance, the demanding GFX benchmarks fared quite well. Given that the Google Pixel renders at 1080p, even the Xiaomi Mi 5s couldn't catch up. You shouldn't see too many dropped frames while gaming intensively with the Google Pixel. The iPhone 7 has the entire Android OS beat on graphics performance, though.
GFX 3.0 Manhattan (1080p offscreen)
Higher is better
Apple iPhone 7
61
Google Pixel (5.0)
49
HTC 10
47
OnePlus 3
46
Xiaomi Mi 5s
39
Samsung Galaxy S7
38
ZTE Axon 7
15
GFX 3.0 Manhattan (onscreen)
Higher is better
Apple iPhone 7
60
Google Pixel (5.0)
48
OnePlus 3
45
Xiaomi Mi 5s
44
HTC 10
28
Samsung Galaxy S7
27
ZTE Axon 7
12
With Nougat, support for Vulkan is required (some phones on Marshmallow has it as well). Vulkan is the future of OpenGL and needs to have OpenGL ES 3.1 support in order to work properly. Vulkan benchmarks haven't matured just yet, but we do have a roster of OpenGL ES 3.1 tests. With that said, the Google Pixel topped over the other Android smartphones by a couple of frames.
GFX 3.1 Car scene (offscreen)
Higher is better
Google Pixel (5.0)
20
OnePlus 3
18
HTC 10
18
Xiaomi Mi 5s
16
Samsung Galaxy S7
15
ZTE Axon 7
15
GFX 3.1 Car scene (onscreen)
Higher is better
Google Pixel (5.0)
20
OnePlus 3
18
ZTE Axon 7
16
Xiaomi Mi 5s
16
HTC 10
9.9
Samsung Galaxy S7
7.9
Basemark's result reflects the higher-clocked Snapdragon 821 in the Xiaomi Mi 5s. It scored at the top with the Google Pixel ranking second amongst the other devices. The Exynos-powered Galaxy S7 scored among the other Snapdragon 820 devices of the bunch.
Basemark X
Higher is better
Xiaomi Mi 5s
36240
Google Pixel (5.0)
33023
OnePlus 3
32715
Samsung Galaxy S7
32345
ZTE Axon 7
32243
HTC 10
28882
Basemark ES 3.1 / Metal
Higher is better
Apple iPhone 7
1547
Samsung Galaxy S7
732
Google Pixel (5.0)
626
OnePlus 3
625
ZTE Axon 7
606
Xiaomi Mi 5s
588
After one level of Plants VS Zombies 2 and one race on Asphalt 8, the Google Pixel did become warm. However, the Google Pixel cooled down quickly once switching to regular tasks like sending messages and browsing Twitter.
The same can't be said for the Snapdragon 820 devices, which we know run quite warm. The HTC 10 and Snapdragon-powered Samsung Galaxy S7 are both clear examples of phones that like to "drop it like it's hot". This is not the case with the Google Pixel. In fact, this is one of the best improvements of the Snapdragon 821 over the Snapdragon 820: it runs cooler.
We were especially excited for the 821 chipset as Google made a big deal about Daydream and the GPU is the bottleneck in VR (instead of rendering to one screen, it has to render to two - one for each eye). In short, the Google Pixel is as fast as you may expect a top Android phone to be, but there really is no real advantage over the early-2016 devices.
In either case, the Google Pixel's performance does not disappoint. But you definitely will not find any significant performance improvement over devices with Snapdragon 820 CPUs. We do have to give it to Google and HTC though, as the UFS 2.0 storage is quite impressive when it comes to read speeds. By contrast, the write speeds are okay, but nothing extraordinary.