Telephony
The Google Pixel is only available as a single-SIM device. The reason being that the US is the Google Pixel's primary market, and Dual-SIM devices are not popular in the US. Besides, with Allo and Duo, Google hopes you'll be doing more talking and messaging over the internet.
For regular voice calls, the Pixel supports Wi-Fi calling and VoLTE (provided the carrier supports it), as well as the latest Ultra HD Voice. This new version of HD Voice is most resilient to spotty network coverage, and is less prone to calls dropping because of it. Also, Noise reduction is handled by two or three mics, depending on whether you are using speakerphone or not.
The dialer takes advantage of Google's extensive knowledge of nearby places and Google Maps to give you a smart phonebook - you are able to search for nearby locations by typing the name of the store, restaurant, or grocery store you are looking for. Just type "pizza" and you'll be given a list of nearby pizzerias.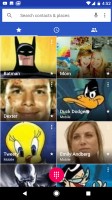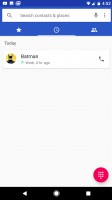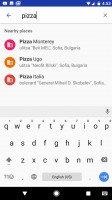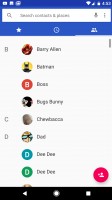 Favorite contacts • Call log • Searching for numbers of nearby businesses • all contacts
New to Nougat, Android has built-in call screening functionality. You can add numbers to be blocked from both calls and texts, and third-party apps can also refer to your blocked number list (apps like WhatsApp or Viber that use your number as an ID).
Google will attempt to ID calls from unknown numbers and if it suspects the incoming call is spam, it will let you know beforehand. This doesn't work for every incoming call, though. The number would have to be in Google's database. It does a pretty good job of detecting when, say, Bank of America is calling.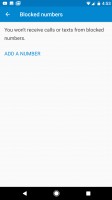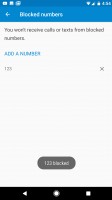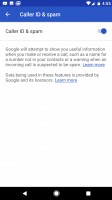 Built-in blocking feature • 123 now blocked • Caller ID and spam detection
Duo is pre-installed for video calls and is as straight forward as possible. Once you confirm your phone number, you are taken to a big Video call button and you can call people on your phonebook, but that person needs to have Allo installed and their number verified as well. While we love how simple it is, you can only video chat with one person at a time. No group "hangouts" around here.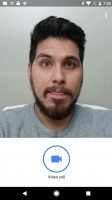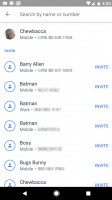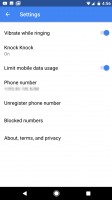 Main Duo screen • Choose a contact to call • Settings
There's ViLTE (Video over LTE) - a relatively new standard for native video calling over an LTE connection. While the format is supported at Verizon in the US and EE in the UK, you'll need the second phone to support the same format in order to take advantage of it.
Loudspeaker
The Google Pixel has a single, bottom-firing speaker. But it leans on HTC's years of experience with audio in its smartphones (BoomSound was great). It scored a result of 'Very Good' in loudness and sounds great for both music and hands-free talking. It prevailed over a few stereo-firing speaker phones, including the iPhone 7 Plus, Xperia XZ, and even the HTC 10 with its BoomSound speakers! The audio doesn't distort or clip, even when you raise the volume all the way up.
A wider bass range can be heard on the Pixel than on many other phones. The speaker chamber is obviously bigger than usual. Great job with the loudspeaker, Google and HTC. The one complaint I can find about the speaker is that it can be easy to muffle with a palm, or when holding the device in landscape mode when playing games.
| | | | | |
| --- | --- | --- | --- | --- |
| Speakerphone test | Voice, dB | Pink noise/ Music, dB | Ringing phone, dB | Overall score |
| HTC 10 (Theater mode) | 61.9 | 66.0 | 62.1 | Below Average |
| Sony Xperia XZ | 61.6 | 65.5 | 67.6 | Below Average |
| HTC 10 (Music mode) | 63.1 | 66.7 | 74.3 | Average |
| Samsung Galaxy S7 | 69.5 | 69.3 | 71.1 | Good |
| LG G5 | 68.7 | 70.9 | 73.5 | Good |
| Apple iPhone 7 | 67.6 | 73.2 | 75.7 | Good |
| Google Pixel | 74.0 | 68.3 | 78.0 | Very Good |
| ZTE Axon 7 | 66.4 | 72.2 | 84.1 | Very Good |
| Huawei Nexus 6P | 74.7 | 77.8 | 72.1 | Very Good |
Google Messenger
Messenger is the sole SMS/MMS app installed on the Google Pixel. It handles threaded conversations and manages to create a modern experience over the old communication channel - you can easily embed photos, audio, and location into your message. And there are stickers too, of course.
It's also worth noting that if you use the Google Keyboard, you'll see a GIF button that lets you search for and insert GIFs into the chat. Check the 'Text Input' section below for screenshots of that!
Google's Messenger has been updated since our Google Pixel XL review was published. You can checkout what looks different in the screenshots below.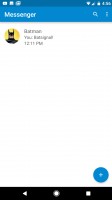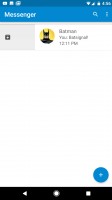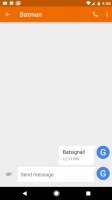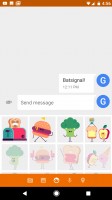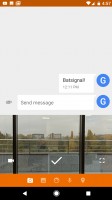 Google Messenger before the update
Now here are new screenshots with the updated Messenger UI.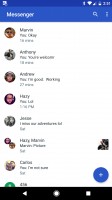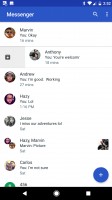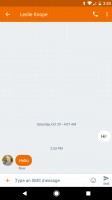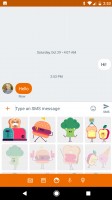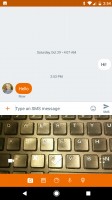 Mesenger • Swipe to archive a thread • Chatting with Leslie Knope • Stickers • Sending a photo
Starting with Nougat, Allo is the mandatory (pre-installed) instant-message app that replaces Hangouts (of course, you can still find it on the Play Store). To make it easy for users, Duo and Allo don't require signing up with a Gmail account, instead it only asks that you verify your phone number, which is performed via SMS verification.
Allo's top feature is the debut of the Google Assistant. You can ask questions, search for places nearby, set reminders and alarms, open apps, send emails and texts, and make calls. The Google Assistant is more friendly and proactive than Google Now was, offering a more level ground to compete with Siri.
Note that the same Assistant found on Allo is available on the Pixel by tapping and holding the home button. You can type or use voice to talk to the Allo Assistant. However, it won't respond out loud - only the baked-in version of Google Assistant will talk back to you. At this time, only the Google Pixel or Pixel XL will offer the Google Assistant.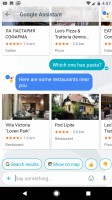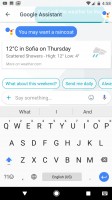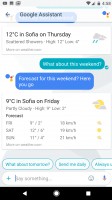 Asking the assistant: about nearby restaurants • about the weather • about the weekend's weather
Text input
The Google Keyboard is probably the only keyboard you'll need (unless you need a same-layout bilingual keyboard, I personally recommend Swiftkey for English/Spanish and it doesn't require a switch between languages). You can adjust the size and key layout and there's a built-in one-handed mode. There are even themes - many of them - so you can pick light, dark, colorful, and even just an image from your gallery. Another option allows you to toggle the border around the keys.
You can type with both gesture, and voice as well. Google's autocorrect is top notch and always learns more. The Keyboard even has a Dvorak option (along with the more traditional AZERTY, QWERTZ, etc.) so it can handle any locality.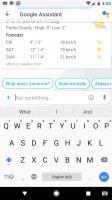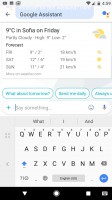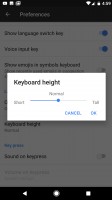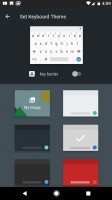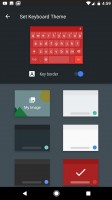 Google Keyboard • One-handed mode • Keyboard height • Keyboard themes • Red with key borders
A nifty feature baked into Google Keyboard: when using Google Keyboard while sending texts, you can find a "GIF" button in the emoji section of the keyboard. You can browse through the categories available or search for more specific ones like "dancing cat". These GIFs can be sent and viewed right in Google Messenger, but only when you use the Google Keyboard, and the GIF finder can only be used in Google's Messenger.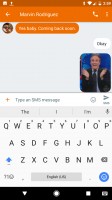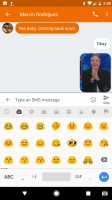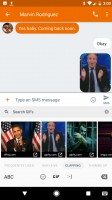 Go to Emojis • Tap the 'GIF' key • Search by category or keyword