Final words
The Google Pixel launched to some really raving reviews and overall has been positively acclaimed. What counts most is the desirability of the phone: how much do people really want it? Perhaps it might be too early to tell, but the Google Pixel is a great stepping stone for Google's Pixel brand. Google chose the perfect strategy for getting noticed: pricing the phone exactly the same as Apple's offerings.
You'll definitely want this phone if you take loads of pictures, or if you want to capture your youngsters running around. The Google Pixel is probably the best smartphone camera when it comes to low-light photography thanks to Google's HDR+ algorithm. You're also guaranteed two years of Android updates and about three and a half years of security patches.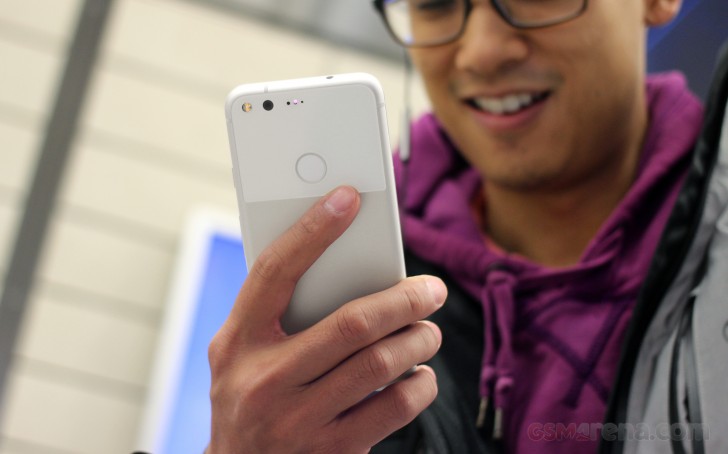 We still can't help but be a bit disappointed of the Google Pixel's price tag, given that some of us are still shaking off the Nexus mindset. Normally, in the US (the Pixel's home market) you buy the "mainstream" brands of smartphones through a carrier, either financed or leased. But the only way to do that this time around is with Verizon, as it is the only carrier in the US that will carry the phones in-store. If you go with T-Mobile, you can get a $325 credit back on a Simple Choice or T-Mobile ONE plan. You'll see a credit of $13.50 per month for 24 months. Not a bad deal if you opted to finance the Pixel through Google.
Google Pixel key test findings
Excellent build quality with some arguably bland design choices. The glass window on the back is an eyesore for some, and doesn't appear to serve any real purpose besides aesthetics. The glass is prone to micro scratches if you don't use a case.
The display looks great, but not as bright as others we've seen. Still, sunlight legibility is great. Colors, while pleasing, are more saturated than they should be. (sRGB can be used for more accurate color reproduction, but other phones of the price range talk about HDR and wide color gamut.)
The battery life is quite acceptable, but we would have loved to see a larger battery in there. Granted, with a 64h overall score, the Pixel offers endurance more or less in line with what the iPhone 7 yielded (61h).
Android's Assistant is not totally done (still can't ask it 100% of what Google Now can do i.e. track packages) but it's probably the best digital assistant right now. Google Photos is a really powerful photo gallery. Unlimited, full-res (and free) cloud storage is a a nice perk too.
The Snapdragon 821 is down-clocked to Snapdragon 820 speeds. Regardless, it's still very fast, and runs cooler than the 820 did.
Audio quality shows some distortion when headphones are plugged in and the volume is average. Excellent quality with an external amp, though. The loudspeaker scored 'Very Good'.
HDR+ single-handedly raised the Pixel's camera above the competition. You'll want to keep HDR+ Auto all the time, but for tougher scenes, turning HDR+ ON makes the right difference. The selfie camera excels thanks to HDR+ as well.
Outstanding video quality at 4K (2160p@30fps, and electronically stabilized) and a great selection of frame rates and resolutions. 1080p @ 30fps looks great, switching to 60fps is smoother, but the trade-off is less detail.
Of all the new features the Pixel phones bring along, we love the idea of seamless updates, it really takes the pain of processing the apps after each monthly update. Although a bit watered down, the split-screen feature is a nice feature, as well as Quick switch. Google's new UI (Pixel launcher) looks great, and features Google's search in a different way, while also replacing the persistent search bar that has lived on launchers for years.
Google's apps and services are among the best out there, even iOS users can take advantage of most of them, except the Assistant, which is exclusive to Pixel for now. Baking it into Allo is a great way for users from all over to check out the Assistant's new capabilities. Photo's AI features are top-notch and let you search for images or automatically edit photos. Google Play Music competes directly with Spotify and Apple Music, not to mention the Music subscription comes with ad-free YouTube Red.
While all the software mentioned above can be run on any Android phone, the hardware remains exclusive to Google (as well as the home-button-accessible Google Assistant), but Google may have priced it too high. This price is hard to take home when you consider the Pixel does not have the brightest screen, fastest CPU, best battery life, best speakers, or the best water resistance.
It does have the best camera on a smartphone though, as well as the best Android software support which can be performed remotely.
What the Google Pixel has proven for Google is that Google can deliver a polished software experience. We are glad to see that Android Nougat 7.1 no longer has the wakelocks and memory leaks that once dreaded Nexus devices of the past.
The Galaxy S7 is one of the first phones that comes to mind when finding alternatives to the Google Pixel, although it's already more than halfway through its product cycle, the Galaxy S7 offers a comparable camera experience, similar sized screen but with QHD resolution, as well as a larger 3000mAh battery, microSD card expansion, Samsung Pay, wireless charging, and proper ingress protection at IP68 (VS the Pixel's IP53).
The decision comes down to whether or not you don't mind Samsung's TouchWiz, which even today can drive us nuts. We hope it gets better with Nougat (coming soon for Samsung's current flagships).
Even Apple managed to put more features in this year's iPhone. While the standard model doesn't have the dual-camera setup found in the iPhone 7 Plus, it still features better waterproofing, wide color gamut (and brighter) display, stereo speakers, and much longer software support (i.e. the iPhone 5 got iOS 10 this year). Also, don't forget Apple's A10 Fusion chip has also smoked the competition in benchmark results.
Your decision will be based on how much you care about Apple's ecosystem services like iMessage and Facetime VS the flexibility of Android and the unlimited cloud storage on Google Photos.
Some design elements of the HTC 10 can be found in the Google Pixel. The HTC 10 is the Google Pixel's distant cousin which went out of commission a little earlier than HTC would have hoped when T-Mobile dropped it from its product roster just less than three months after going on sale at the carrier, likely due to underwhelming sales (this is why marketing is so important).
The HTC 10 was the most underrated phone of 2016. It has a great performing camera, both the front and rear cameras feature optical image stabilization, and its build quality is excellent. The HTC 10 also has expandable memory, quick charging, and a 5.2-inch QHD screen.
One other phone that comes to mind is the Sony Xperia XZ, with a 5.2 inch 1080p screen, and a Snapdragon 820 CPU to boot. The XZ was built to cover for the Xperia X which didn't do very well with the masses this year. But with excellent build quality, a great 23MP camera, and 72h endurance score, as well as PlayStation connectivity features it could win over some hardcore Sony gamers. If you are looking for a minimally skinned Android experience, however, this phone is not for you.
The LG G5 is another possible alternative. Although the battery is small, the LG G5 features a removable battery which slides out so you can install one of LG's "Friends". This is what LG called its modular accessories which offer things like dedicated camera controls, and a high-quality speaker with enhanced audio output.
The thing is, we don't think LG will support these "friends" for much longer, as the modular phone wasn't met with much acclaim and did not age well. Still, the dual camera setup is nice, one of the sensors uses an wide-angle lens.
Nexus devices used to be the norm for Google, devices contracted by OEMs to make that would run Google's unmodified software build as a reference device for app developers and phone makers alike. That meant living with any shortcomings of the phone that kept the price down. The Nexus 6P and 5X represented Google's graduating year, and this year Google launched the Pixels which now have ads running alongside the other flagship phones of the year, including the iPhone 7 (its biggest competitor).
The Google Pixel brand won't find overnight success, especially with the price for a phone that lacks features that its competitors offer as a standard. The price only gets higher if you aren't in the US. You have to admit, it will be interesting to see how Google's phone will play out over the next year, but we are even more excited for whatever Google comes up with to succeed the Pixel. What? Too soon?