Google Pixel 2 pre-orders are now live in India, price starts around $940
Google's new Pixel 2 phones are now available to pre-order in India. Flipkart currently has the phones listed on its website, with pricing starting at INR 61,000 (around $940) and going up to INR 82,000 (around $1,265) depending upon which variant you go for.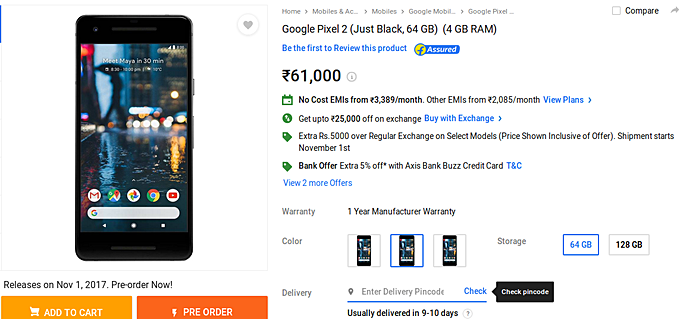 As for shipments, the standard Pixel will be released on November 1, while the XL model will start shipping November 15 onwards.
The retailer also has a bunch of offers for those pre-ordering the phones. For example, pre-orders will include a Sennheiser Headset (usually worth around $185) for virtually no extra charges. Here's the complete list of offers:

Of course, the EMI figure varies from model to model. Aside from being available online, the new gen Pixel phones will also be available through offline channels in the country.
D
bwahahahaaha.... Google giving middle finger to India.... Just like Apple...... It's high time Indians give the same back to these shi*tbag companies to knock some sense into people at those companies who decide that kind of pricing..... If samsung ...
?
Google thinks they are Apple, but only in prices. While their phone design looks cheap, the hardware quality is low, and there is only minimal quality testing done on their devices.
?
I have seen only one pixel till now! Its been 2nd gen already!