12MP camera with hardware upgrades
The Pixel 2 XL is equipped with a 12 MP sensor, just like its predecessor. However, the new camera has optical image stabilization, which was absent from the Pixel's hardware last year. The other improvement is the wider f/1.8 aperture over last year's f/2.0. On the other hand sensor size has shrunk from 1./2.3" to 1/2.6" so it's interesting to see how things balance out at the end.
Google has even added a portrait mode that does not require a second camera sensor and it even works with the front-facing cameras so you can take selfie portrait shots.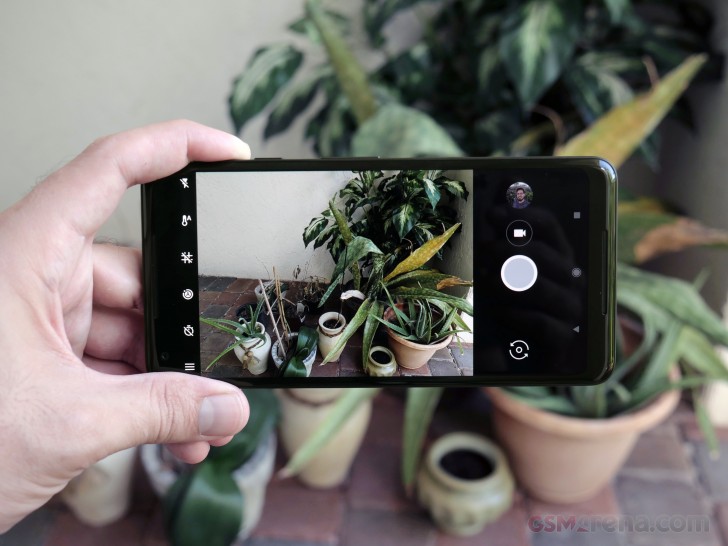 The Google Pixel 2 XL and Pixel 2 both use the same camera hardware and software algorithm. So regardless of which device you go with, you'd be getting the same image quality.
We took the Google Pixel 2 XL around town this weekend to take some photos with it and we are impressed so far. Still, Google may push an update to the cameras between the time the phone goes on sale and the time we can get our full review published, so we'll reserve our final judgement until then.
For now, we can say that all photos taken with the Pixel 2 XL are very rich in detail. Colors are accurately reproduced, though not too vibrant. HDR+ does an excellent job of preserving details that would otherwise be lost in mild shadows or blown out in highlights.
We also took some portrait shots with the Pixel 2 XL - the feature works well on most occasions. We've also included the non-portrait photo so you can see how the edges were detected. The first setup was challenging for the camera since our subject was sitting under a tree with a brighter backdrop, but the Pixel 2 XL pulled it off.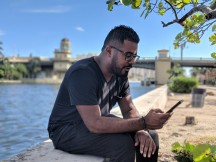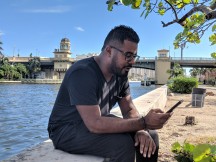 Portrait shot 1: with blur • without blur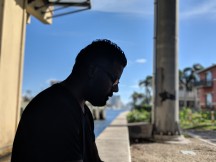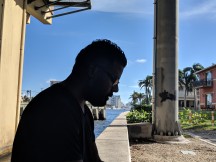 Portrait shot 2: with blur • without blur
Here's a sample of the selfie portrait, as well as the full selfie shot. Just like the main camera, using portrait shot will crop the frame in a bit. We do have to wonder what's going on behind the scenes there.
There's plenty of detail in the front-facing camera. Perhaps a bit too much detail for those who like to take vanity selfies. Take a look at the portrait selfie and compare it to the one without blur. Here's an example of portrait mode not synthesizing edges well. The edges overlap parts of the hair and glasses. Regardless, the portrait still looks worthy of posting up, and you can only see the defective edges if you compare it to the original.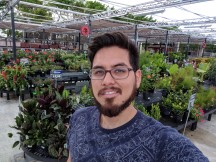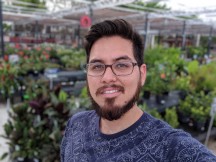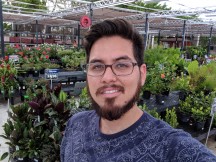 Selfie: Regular • Portrait • Portrait without blur
It's pretty difficult to produce realistic bokeh in software alone and harder still if you only have one camera. So we have to give kudos to Google for the portrait shot, which worked well more often than not. A general rule of thumb is to take portraits of yourself or your friends against a contrasting background.