Display
The Google Pixel 2 XL is equipped with a 6-inch QHD+ P-OLED display with 18:9 aspect ratio. This display is protected by a "3D" layer of Gorilla Glass 5, which is tapered all the way around and protrudes past the phone's frame. This is certainly an attractive design choice by Google.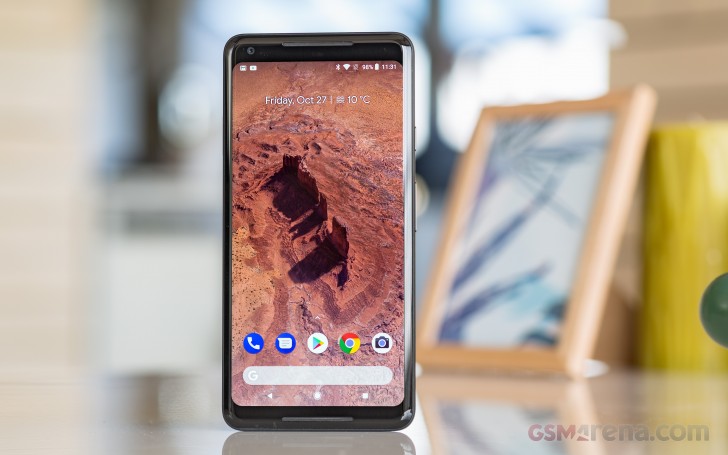 The Pixel 2 XL's P-OLED panel offers a resolution of 1440 x 2880 pixels. These specs work out to 538 ppi - perfectly sharp even when subjected to extreme pixel-peeping scrutiny and offer plenty of details to use with the Daydream VR headset. The phone offers a "Display size" setting that adjusts the UI scaling with a separate setting for font size.
The sub-pixel arrangement of the P-OLED display is unsurprisingly familiar. It's the Diamond Pentile matrix seen on most other phones with AMOLED screens.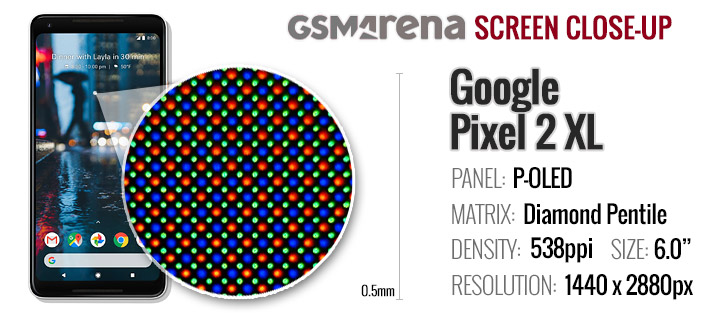 We measured a maximum brightness of 496 nits on our Pixel 2 XL review unit, which is a solid number and about 70 nits brighter than the original Pixel XL. There is no auto brightness overdrive mode in a bright light unlike Samsung phones, which can go way higher than that. Still, combined with the deep blacks of OLED technology, you are guaranteed an infinite contrast ratio just like on Samsung AMOLED phones.
Display test
100% brightness
Black, cd/m2
White, cd/m2
Contrast ratio
Samsung Galaxy Note8 (Max Auto)
0
647
∞
Samsung Galaxy S8+ (Max auto)
0
647
∞
Apple iPhone 8 Plus (Max Auto)
0.471
621
1318
LG V30 (Max Auto)
0.032
616
19250
HTC U11 (Max Auto)
0.373
583
1563
Huawei P10 Plus
0.335
547
1633
Apple iPhone 8 Plus (True Tone)
0.392
530
1352
Apple iPhone 8 Plus (Standard)
0.392
530
1352
Google Pixel 2 XL
0
496
∞
HTC U11
0.308
483
1568
Samsung Galaxy S8+
0
442
∞
OnePlus 5
0
435
∞
LG V30
0.002
414
207000
Samsung Galaxy Note8
0
412
∞
The Pixel 2 XL posted a very respectable score in our sunlight legibility test. It's not quite up there with the Galaxy S8 and S8+, but it still surpasses the Note8 and also the LG V30 (with which it likely shares the screen panel).
Sunlight contrast ratio
Samsung Galaxy S8
4.768
Samsung Galaxy S8+
4.658
Samsung Galaxy S6 edge+
4.615
Motorola Moto Z2 Play
4.459
Oppo R11
4.454
Samsung Galaxy S7 edge
4.439
OnePlus 3
4.424
Samsung Galaxy S7
4.376
HTC One A9
4.274
Samsung Galaxy Note7
4.247
Samsung Galaxy A3
4.241
Nokia 8
4.239
Google Pixel 2 XL
4.234
OnePlus 3T
4.232
Google Pixel XL
4.164
ZTE Axon 7
4.154
Samsung Galaxy Note8
4.148
Meizu Pro 7 Plus
4.147
Samsung Galaxy S6 edge
4.124
Samsung Galaxy A7 (2017)
4.124
Huawei Mate 10 Pro (normal)
4.096
Samsung Galaxy Note5
4.09
LG V30
4.022
Huawei Nexus 6P
4.019
OnePlus X
3.983
Vivo Xplay5 Elite
3.983
Oppo R7s
3.964
Apple iPhone 7
3.964
Apple iPhone 8 (True Tone)
3.957
Huawei P9 Plus
3.956
Meizu Pro 6 Plus
3.935
Lenovo Moto Z
3.931
Samsung Galaxy A7 (2016)
3.918
OnePlus 5
3.914
Samsung Galaxy C5
3.911
Samsung Galaxy C7
3.896
Samsung Galaxy A5
3.895
Samsung Galaxy J7 outdoor
3.879
Samsung Galaxy J2 outdoor
3.873
Samsung Galaxy A8
3.859
Sony Xperia XZs
3.818
Samsung Galaxy A9 (2016)
3.817
Motorola Moto X (2014)
3.816
Samsung Galaxy J7 (2017)
3.812
Samsung Galaxy A5 (2017)
3.804
Samsung Galaxy J7 (2016) outdoor mode
3.802
Xiaomi Redmi Pro
3.798
LG V20 Max auto
3.798
Sony Xperia XZ
3.795
Samsung Galaxy A5 (2016)
3.789
Apple iPhone 6s
3.783
Meizu Pro 5
3.781
Microsoft Lumia 650
3.772
Xiaomi Mi 6
3.767
Sony Xperia XZ1
3.765
Samsung Galaxy J7 (2016)
3.756
Sony Xperia XZ1 Compact
3.729
Apple iPhone 8 Plus (True Tone)
3.725
Oppo F1 Plus
3.709
Vivo X5Pro
3.706
Samsung Galaxy A3 (2017)
3.688
Apple iPhone SE
3.681
Huawei Mate 9
3.68
Samsung Galaxy A7
3.679
Meizu PRO 6
3.659
BlackBerry Priv
3.645
Sony Xperia XA1 Ultra
3.597
Apple iPhone 7 Plus
3.588
LG G6
3.556
Apple iPhone 6s Plus
3.53
Motorola Moto Z Play
3.526
Samsung Galaxy J3 (2016)
3.523
Samsung Galaxy J3 (2016) outdoor mode
3.523
Acer Jade Primo
3.521
Microsoft Lumia 950
3.512
Oppo R7 Plus
3.499
nubia Z11
3.466
Huawei P10 Plus
3.456
HTC U Ultra
3.453
Samsung Galaxy J7
3.422
Meizu MX5
3.416
LG V20
3.402
Huawei P10
3.379
Samsung Galaxy J5 (2016)
3.378
Oppo R9s
3.352
Honor 8 Pro
3.341
Oppo R7
3.32
Lenovo P2
3.316
Honor 9
3.289
Xiaomi Mi 5s
3.276
Nokia 5
3.261
Nokia 6 (Chinese version)
3.244
Nokia 6 (Global version)
3.238
Samsung Galaxy J2
3.235
Sony Xperia X Performance
3.234
Xiaomi Mi Note 2
3.228
Motorola Moto X Play
3.222
Oppo F3 Plus
3.218
Huawei Mate 9 Pro
3.206
Huawei P9
3.195
Xiaomi Mi Mix 2
3.19
ZTE Nubia Z17
3.159
Lenovo Vibe Shot
3.113
Motorola Moto X Force
3.105
LG Nexus 5X
3.092
HTC U11
3.089
Huawei Mate S
3.073
Microsoft Lumia 640 XL
3.065
Sony Xperia XA1
3.012
Sony Xperia L1
2.994
Huawei P10 Lite
2.974
Samsung Galaxy Note
2.97
Sony Xperia Z1
2.95
Huawei Mate 8
2.949
Xiaomi Redmi 4
2.92
Xiaomi Redmi 3S
2.913
Sony Xperia XA Ultra
2.906
LG G5
2.905
HTC One S
2.901
Xiaomi Redmi 3s Prime
2.893
Xiaomi Mi 5s Plus
2.884
Sony Xperia XZ Premium (sRGB)
2.877
Sony Xperia XZ Premium
2.877
Sony Xperia Z5
2.876
Nokia 3
2.871
Microsoft Lumia 550
2.851
Lenovo Moto M
2.813
Xiaomi Redmi 3 Pro
2.803
Sony Xperia Z5 compact
2.784
Meizu MX6
2.751
LG V10
2.744
Huawei Mate 10 (normal)
2.742
Xiaomi Redmi 3
2.735
Xiaomi Redmi Note 4 (S625)
2.714
Meizu M5
2.71
Sony Xperia M5
2.69
Xiaomi Mi A1
2.689
Huawei P9 Lite
2.679
Xiaomi Redmi 4 Prime
2.679
Vivo V3Max
2.659
Xiaomi Mi Mix
2.658
Doogee Mix
2.642
Xiaomi Mi 4i
2.641
Xiaomi Redmi 4a
2.635
Xiaomi Mi 5X (Standard)
2.616
Sony Xperia XA
2.609
Motorola Moto G4 Plus
2.582
Motorola Moto G4 Plus (max auto)
2.582
Meizu M5s
2.58
Xiaomi Mi 4c
2.574
LeEco Le Max 2
2.567
Microsoft Lumia 640
2.563
Asus Zenfone 3 ZE552KL
2.563
Xiaomi Mi Max 2
2.561
Lenovo Moto G4
2.544
Lenovo K6 Note
2.544
Oppo F1
2.528
Sony Xperia Z5 Premium
2.525
Huawei Honor 7 Lite / Honor 5c
2.506
Sony Xperia M4 Aqua
2.503
Oppo F1s
2.481
Motorola Moto G
2.477
Lenovo Vibe K5 Plus
2.473
Huawei G8
2.471
Huawei nova
2.467
Lenovo Vibe K5
2.459
Meizu m3 max
2.447
Xiaomi Mi 5X (Auto)
2.417
HTC 10 evo
2.407
Huawei Honor 7
2.406
Sony Xperia E5
2.386
ZUK Z1 by Lenovo
2.382
HTC 10
2.378
Oppo F3
2.376
vivo V5 Plus
2.371
Meizu m1 note
2.362
Huawei nova plus
2.329
HTC One E9+
2.305
Alcatel One Touch Hero
2.272
Apple iPhone 4S
2.269
Lenovo Vibe K4 Note
2.254
Sony Xperia C5 Ultra
2.253
Xiaomi Redmi Note 3 (MediaTek)
2.249
Sony Xperia C4 Dual
2.235
Xiaomi Mi Note
2.234
Motorola Moto G (2014)
2.233
LG Nexus 5
2.228
Huawei P8
2.196
Meizu M5 Note
2.189
Huawei Honor 6
2.169
Xiaomi Redmi Note 2
2.166
OnePlus Two
2.165
HTC One X
2.158
LG Aka
2.145
Xiaomi Redmi Note 4 (X20)
2.145
Archos 50 Diamond
2.134
Xiaomi Redmi Note
2.119
Xiaomi Mi 4S
2.095
Acer Liquid X2
2.084
Huawei P8lite
2.078
vivo V5
2.059
Moto G 3rd gen max manual
2.026
Xiaomi Mi 3
2.001
Xiaomi Mi Max
1.996
Sony Xperia E4g
1.972
OnePlus One
1.961
Meizu m3 note
1.923
BlackBerry Leap
1.892
Meizu m2 note
1.892
HTC Butterfly
1.873
Sony Xperia Z1 Compact
1.772
ZTE Nubia Z9 mini
1.759
Sony Xperia U
1.758
Asus Zenfone Selfie
1.68
Motorola Moto E (2nd Gen)
1.675
ZTE Nubia Z9
1.659
Jolla Jolla
1.605
Motorola Moto E
1.545
Sony Xperia M
1.473
Sony Xperia L
1.351
HTC Desire C
1.3
Meizu MX
1.221
Sony Xperia E
1.215
The Pixel 2 XL's screen has been the topic of some quite heated discussions since its release in the US (it launches in Europe next month). It's been taking heavy criticism for a number of observed issues.
Some users report a burn-in - where the screen would retain the outline of UI elements which it shows for a long time (like the navigation bar) even when they are not shown on the screen - all in a matter of several days. We didn't experience such issue on our Pixel XL 2 unit, though we probably haven't used the phone long enough for anything to stick on the screen.
Burn-in has always been a concern for OLED panels and manufacturers have been working around that for years now. Google is now promising to fight it by reducing the maximum brightness of the panel by about 50 nits. The company also claims it's an expected limitation by the technology.
Early reports of Android 8.1 reveal that the future update will dim the navigation keys from white to gray to help prevent burn-in. The keys would change from gray, back to white, when a button on the navigation bar is pressed.
However, the other major issue associated with the Pixel 2 XL's panel is not that easy to address.If you angle the Pixel 2 XL even slightly, nasty greenish-blue color shifts start taking over your display. Looking the display head-on seems to work out fine, but we are talking about a very narrow window here. Any angle past 15 degrees or so to the sides and the wave of cold blue creeps in. Top and bottom angles are a bit more forgiving, but not by a lot.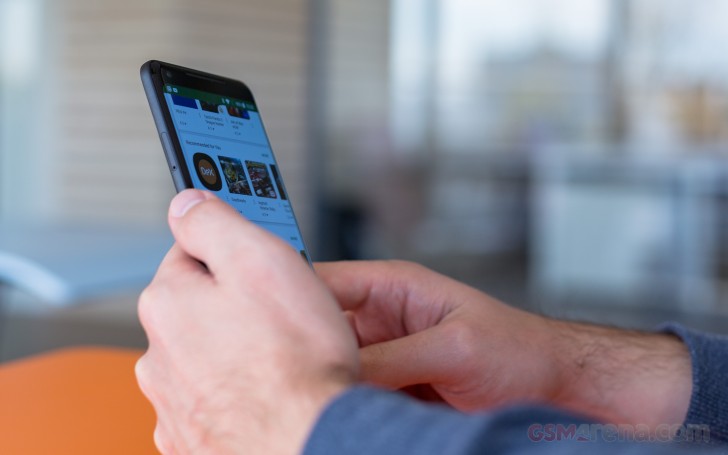 A heavy bluish cast sets in as soon as you look the screen at even a slight angle
Given the Pixel 2 XL's association with LG and the obvious panel similarities with the V30, we took a look at it as well. The V30 also suffers from unpleasant color shifts of nearly the same color and intensity. Just to clarify, the Samsung Galaxy Note8 - which we also roped in for testing, showed no such ailment. So Google can't exactly keep a straight face and blame this on inherent deficiencies of OLED technology.
The Pixel 2 XL's display is not incredibly color accurate either. Out of the box, we measured an average deltaE of 3.8 and a maximum of 5.5. And since Google didn't include any manual color correction options, this is as good of a tuning as you can expect.
It's not the worst reading we've seen but the unusual thing here is that the display is tuned with an unusually low color vibrancy - at least as far as AMOLED phones go. Colors look bland and dull and we still struggle to get used to this.
There is a Vivid color mode in the settings menu (this is the default setting), which brings a bit of extra "pop" to the color palette by about 10%, according to Google. The search giant is promising it will be delivering a software update which will allow users to increase saturation even further. We just wish Google offered more customization for screen tuning like Samsung and LG offer in their custom UIs so we can tune the display to our liking.
Connectivity
The Google Pixel 2 XL offers plenty of connectivity options. For starters, the Google Pixel XL supports up to Cat 15 LTE speeds (800/75 Mbps) [3x DL CA, 4x4 MIMO, 256-QAM DL and 64-QAM UL depending on carrier support]. 3G bands 1/2/4/5/8, and Quad-band 2G networks are also supported.
The Google Pixel 2 XL supports Sprint and Verizon's CDMA networks in the US and all other GSM carriers in the US and ROW. Both Pixel smartphones are also eSIM compatible for use on Google's Project Fi network in the US. For all other carriers, a nanoSIM slot is in order. There is no microSD card slot in the SIM tray.
The Google Pixel 2 also uses Bluetooth 5.0 + LE, Wi-Fi 802.11 a/b/g/n/ac and 2x2 MIMO. NFC connectivity offers mobile payments through your payment app of choice and communication with other NFC devices, tags, etc.
There's a new feature for Wi-Fi as part of Android 8.0. Wi-Fi scanning (usually used when Wi-Fi is switched off to help with location accuracy) is used to detect nearby Wi-Fi networks and will automatically turn on Wi-Fi and connect to a saved network when one is detected nearby. We're not entirely sure how this is much different from leaving Wi-Fi on all the time, but okay.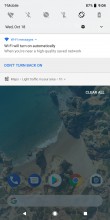 Wi-Fi network automatically turned on/off
Google has removed the headphone jack for this generation of Pixel smartphones in favor of routing audio to the USB-C port - which supports USB v3.1 connectivity. GPS and GLONASS positioning systems are supported.
Instant Tethering is a relatively new feature that works with other Nexus or Pixel devices including the incoming Pixel Book. A Nexus tablet on the same Gmail account as the Pixel 2 XL can prompt you to connect to the phone's cellular connection by automatically turning on its Hotspot and tethering to the network. This requires both devices to have Bluetooth and Wi-Fi switched on.
Battery life test
Battery capacity gets a minor bump over the previous generation (~2% increase). The Pixel 2 XL has a 3,520 mAh non-removable Li-ion power pack, which is a fairly large battery to power the large 6-inch QHD+ display. By contrast, the LG V30 has a slightly smaller 3,300 mAh battery.
Battery endurance was quite good with the Pixel 2 XL. Although the overall score is better, not all aspects of battery life have been improved.
In our endurance tests, the Pixel 2 XL gathered 26:58h of talk time, 10:29h of web browsing, and 11:45h of video playback. Talk time was about 7 hours shorter on the new Pixel 2 XL than the Pixel XL got last year, but web browsing and video playback saw slight improvements in endurance over the Pixel XL, despite the added resolution. The Pixel 2 XL yielded an overall battery endurance score of 88h, 10h longer than the Pixel XL.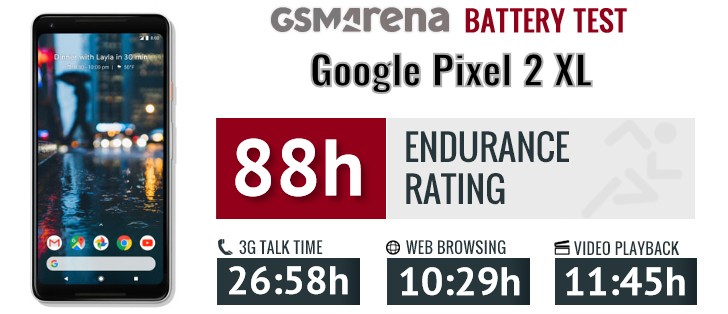 Our endurance rating indicates how long a single battery charge will last you if you use the Google Pixel XL for an hour each of telephony, web browsing and video playback daily. We've established this usage pattern so our battery results are comparable across devices in the most common day-to-day tasks. The battery testing procedure is described in detail in case you're interested in the nitty-gritties. You can also check out our complete battery test table, where you can see how all of the smartphones we've tested will compare under your own typical use.
We can attribute the increase in overall score (despite the drop in call endurance) to the improved standby times that come courtesy of Android 8. While standby times aren't shown in our scores, they are weighed and calculated in our overall scores.
Unlike many of its competitors, which mostly use some version of Qualcomm Quick Charge or a proprietary charging standard, the Pixel 2 XL uses the universal standard for USB-C charging called Power Delivery 2.0. We put it to the test by plugging the Pixel 2 XL to the included 18W (9V @ 2A or 5V @ 3A) charger with a totally depleted battery.
The battery charged from 0 to 35% in 30 minutes. We do admit that this charging rate felt a bit slow, so we gave the test a second go and ended up with the same result. However, we let the phone charge for another 30 minutes longer and found an interesting advantage of Power Delivery 2.0.
Even though the battery only charged to 35% in the first half-hour, it was able to reach 71% in the end of the full hour of charging. This means the rate was consistent in the first hour of charging and did not slow down once it reached half capacity. By contrast, many Quick Charge smartphones tend to switch to a slower wattage once the battery has reached 50%.