Sweet Oreo goodness
The Pixel 2 XL ships with Google's latest version of Android: Oreo 8.0. The original Pixel felt a bit more bare-bones with Android Nougat while the Pixel 2 XL feels like the software has matured with the hardware. Android is more refined with attention to some new animations, general tidying up of the UI, and a more polished look and feel.
There have always been smartphones with near-stock versions of Android, but there's only one version of Android that comes directly from Google, without modifications from third-party manufacturers. The Pixel isn't technically the first smartphone to ship with Android 8.0 Oreo, but it sure is the flavor that we've been eagerly anticipating despite the lack of any proprietary features or enhancements.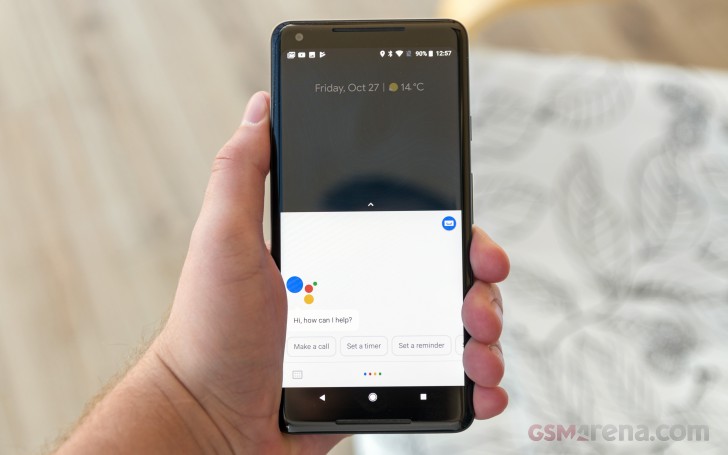 There are a few visual differences between the first Pixel and the new Pixel's launchers. The new Pixel 2 moves the Google Search bar to a more accessible spot: right in between the app dock and navigation buttons. Gone is the "G" tab to pull you into Google Cards. Finally, the weather widget has taken more of a ticker style, now showing the date as well. The widget is dynamic in that it offers a glance at your next calendar event.
First-generation Pixel devices will get the new launcher in a future software release.
Tap and hold on any app's icon to access its app info (to uninstall) or see shortcuts of tasks related to the app.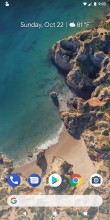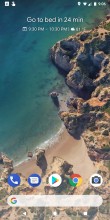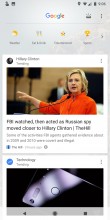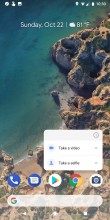 Home screen • Upcoming event • Google Cards • Tap-hold for shortcuts
A swipe up brings you to the rest of your apps. The traditional app drawer button has been a thing of the past since the first Pixel. Even Samsung has taken this approach with its stock launcher with the launch of the Galaxy S8.
The top row of apps is reserved for the most frequently used applications. Otherwise, all remaining apps are arranged in alphabetical order. You can drag the tab on the right to search by letter. New to the Pixel 2's launcher: a Google Search bar also appears in the app drawer, above the row of frequently used apps.
The same tap and hold deal can be done on apps in the drawer as well.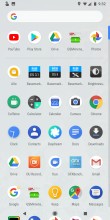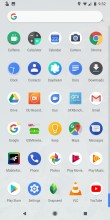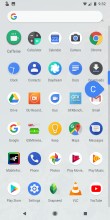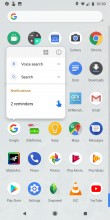 App Drawer • More apps • Search by letter • Tap-hold for shortcuts
Pulling from the top will show you the notification shade, a Settings shortcut, and a row of Quick Toggles. Pull from the top again and your notifications are shifted down, out of the way to reveal more Quick Toggles and a brightness slider. You can edit the Quick Toggles by pressing the "Edit" pen under the Toggles. A swipe to the left shows you more toggles; each page contains nine toggles.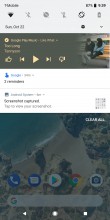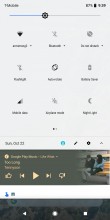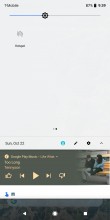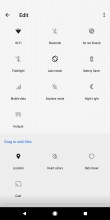 Notifications • Quick Toggles • Second page of Toggles • Edit Toggles
The Settings app has received a much needed tidying up. There used to be a single list of settings, grouped by category on Android Nougat. Now, there is a single directory of settings, which makes the overall list smaller. For example, "Network & Internet" includes the following settings: Wi-Fi, Mobile Network, Data Usage, Hotspot and Tethering, VPN, and Airplane mode.
As before, you can use a keyword to find a particular setting.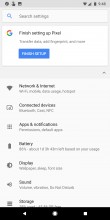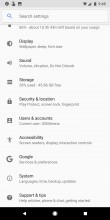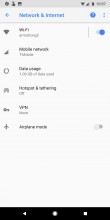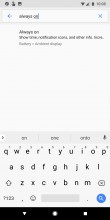 Settings 1 • Settings 2 • Wireless and Internet • Search for a setting
Interestingly, Google still calls the official fingerprint authentication for Android: Nexus Imprint. Anyway, setting up a fingerprint requires a screen lock method and the setup process is surprisingly quick and easy. The same goes for the operation of the fingerprint itself too - it's quick and instantaneous and would wake and unlock your phone all in a single tap.
Speaking of waking, you can also wake the Pixel 2 XL by double tapping the screen, and this would allow you to check out the lockscreen for a detailed list of your notifications.
Here is the lock screen with pending notifications and music that was recently playing. A swipe from the bottom-left corner will summon Google Assistant while swiping up from bottom-right will bring you directly into the camera. Double-tapping on any notification will bring you right to the respective app.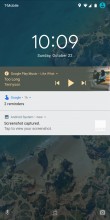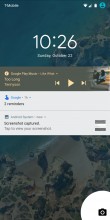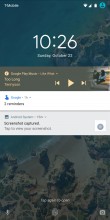 Lock screen • Camera shortcut • Tap again to open notification
From the notification shade, whether you're in the lock screen or otherwise, you can perform certain actions or reply to the notification, directly - without switching apps.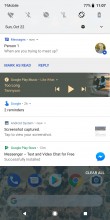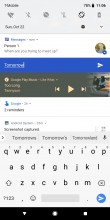 Notification actions • Reply from notification
Always On Display and Notification settings
Google has now included an Always-On option for both Pixel 2 smartphones, which is enabled by default. You can quickly glance at incoming notifications and see the icons of all notifications that are waiting for you. Double-tapping the display wakes the screen up so you can see the notifications in more detail on your lock screen.
If you have it enabled, you can also see what song is actively playing in your environment thanks to Google's new "Now Playing" feature. It works by keeping an offline database of music based on what's popular. This database is region-specific and will periodically update over Wi-Fi.
This feature works offline, so music and conversations are never sent to Google. The database takes up less than 100MB of storage and can identify among tens of thousands of songs. The phone will listen for music once every 60 seconds.
For those who don't wish to use Ambient Display at all, you can opt to use the built-in LED notification, just like old times. You can also enable the fingerprint scanner to pull down the notification shade, both of these options can be found under "Notification settings".
Here, you can customize how notifications behave on a per-app basis. You'll have a lot of control over exactly which kinds of notifications act which way for any app. For example, I can set my Candy Crush notifications to override Do Not Disturb mode. Not that anybody would ever want to, but if you do, you can.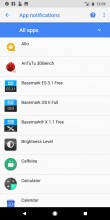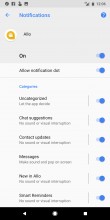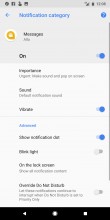 Notifications per-app • Notification options per-alert type
Active Edge and Google Lens
Active Edge lets you give the Pixel or Pixel XL a squeeze of the frame to summon Google Assistant, even when the phone is asleep. Active Edge is not a new concept. In fact, we've already seen it earlier this year with the HTC U11, where it was called Edge Sense. The technology is the same but it's slightly different in practice. The key difference here is the action is not customizable.
Google hopes this will get more folks to start using Google Assistant since the feature can't be programmed for anything else. Active edge can be disabled altogether, though.
We can't escape the feeling how similar that is to the way Samsung is desperately pushing its Bixby assistant in our faces with the Galaxy S8/Note8 where the dedicated Bixby button cannot be used for anything else but invoking Samsung's new-fangled digital assistant. The reality is that no dedicated hardware control can make users use features they have no uses for.
Google Lens is a new feature by Google. If you don't know what it is, think of it as a combination of Google Goggles and Google Now On Tap.
Currently, Google Lens is only available as a preview in Google Photos for Pixel users. We weren't able to get it to recognize much - we tried a few pictures we took of The Great Wall of China but it didn't recognize it as such. We did have success with The Palace Museum in China, which was properly recognized by Lens.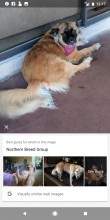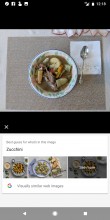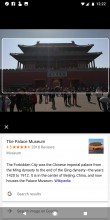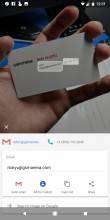 Some things we tried on Google Lens
Like Google Now On Tap, it can also see what's on the screen (currently it only works with Google Photos) and know its context. It can see email addresses and it can help expedite the process of creating a calendar event by pre-filling some of the details. Google says Lens will be available directly through Google Assistant "in the coming weeks".