The dreaded screen issues are not so bad
Ever since the Pixel 2 XL came out, there have been many reports about its LG-made P-OLED touchscreen not being up to par with Samsung's best panels. The internet has been filled with reports of more and more issues with the phone's display, and all of these have definitely contributed to many people either holding off on purchasing a Pixel 2 XL or outright deciding against that - especially when you consider it's not inexpensive by any stretch of the imagination.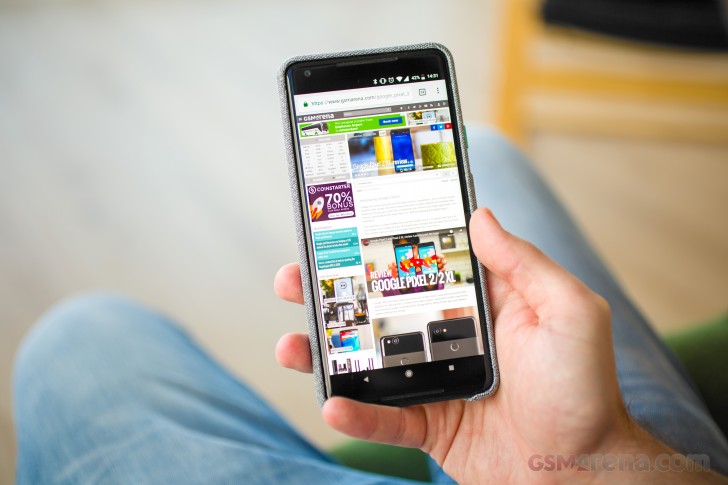 This isn't going to be an objective take on the Pixel 2 XL's display, but we wanted to let you know how its biggest reported issues translate into the day-to-day use of the handset, if they are as big as the internet made them out to be, and how likely you are to notice each one and be annoyed by it. So let's address them one by one.
Blue shift
Perhaps the most pervasive criticism of the screen has been that it will basically turn blue when you look at it from an angle. Most OLEDs suffer the same fate, but the issue here is that the Pixel 2 XL shows that infamous blue tint much sooner than other handsets - at much lower angles. This definitely happens on our unit, and it's definitely noticeable. There's also no denying that it is worse than other OLEDs in this regard - especially Samsung's. The LG V30 is, in fact, quite similar.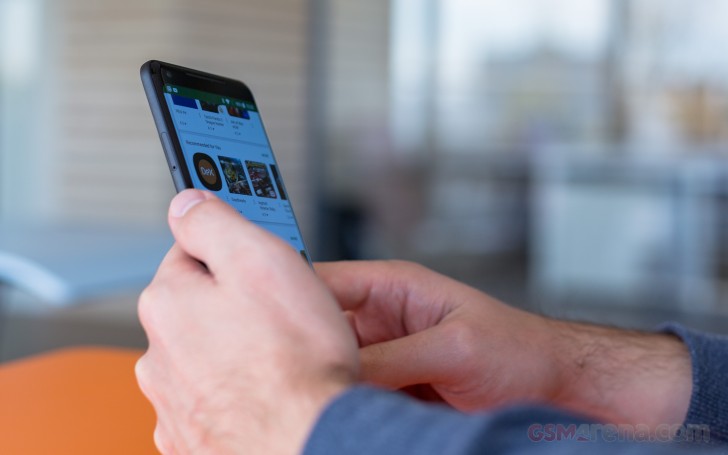 We think that most people are very unlikely to have a problem with this even if they notice it. If your use case involves showing other people lots of videos on your device then they may not be impressed. But for normal activities the blue tint will not make a dent in the overall experience.
Burn-in and/or image persistence/retention
Burn-in is one of those things that all OLED panels suffer from, but it's been reported to be much worse in the Pixel 2 XL, where it supposedly appears much sooner. If it really happens on your screen, you would notice it best where the navigation buttons usually are, when you're watching videos or simply looking at a full-screen grey image.
Burn-in is permanent, while image persistence isn't, but we're not going to be debating which of them the Pixel 2 XL suffers from. What's important to know is that even if it does appear (and it hasn't for us), for most people this will be another of those things that you only really notice it if you go looking for it.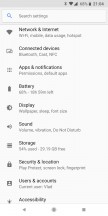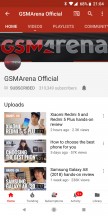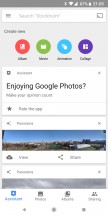 Light navigation bar background in Settings and Google apps
The good news is that Google has recently taken some steps to alleviate this issue by making the navigation bar background light grey in Settings in Android 8.1 and many of the company's apps now employ this trick too.
Black smear or ghosting
This occurs when the pixels need to quickly transition from showing black to color. Since OLEDs display black by switching off those individual pixels, the issue here seems to be about how fast the phone's panel can pull off switching them on again.
This is definitely something which we observed on our unit, but you only notice it when you are using the phone in the dark and the brightness level is all the way down. When you scroll the screen contents in these circumstances, the black areas seem to linger for a while. It's looks like a form of ghosting. You can observe an example of this in the animated gif below.
To put your fears to rest once more, this 'issue' is not exclusive to the Pixel 2 XL. The same thing can be observed on any other recent phone with an AMOLED screen. And it's really not all that bad and most of you will not even notice it.
A quick look with a bunch of test subjects in our lab revealed the issue is more or less visible on all phones with AMOLED screens and the Pixel 2 XL was not the worst offender in any way. Surprisingly, the Galaxy A8 (2018) didn't show any noticeable ghosting while the Galaxy S8+ and the Galaxy Note8 did and to the same extent that the Pixel 2 XL did.
Dull, lifeless colors with default setting
Google chose to go for showing toned down colors on the Pixel 2 XL when it launched (more so than on the Pixel 2) and this quickly backlashed. The color saturation just wasn't at the level we people were used to from using other Android phones. This is no longer an issue because Google has since added an additional option in the Display color settings - it's called Saturated and does exactly what it says on the tin.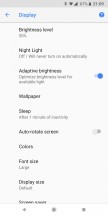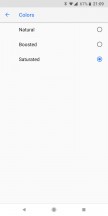 The Color menu in Settings > Display has three options now
Bottom line: it's not really that bad
After a few weeks of using it as the main and only smartphone, we can conclude that the display is definitely not in the same league as those featured inside Samsung's flagships from 2017, or the iPhone X. However, most of the hysteria surrounding the Pixel 2 XL's panel has been just that. The internet blowing things out of proportion? What a surprise.