Google's Pixel 3a and Pixel 3a XL are finally going to be made official at the company's annual developer conference, I/O, on May 7. As we get closer to that date they're leaking even more than before, hard as that may be to believe. We've recently seen the Pixel 3a in press renders in white and purple, and today a prototype has made a visit to the Geekbench online database.
The phone unsurprisingly runs Android 9 Pie, it has 4GB of RAM, and is powered by a Qualcomm chipset, though oddly enough the board for that is missing in the details. Past rumors said the bigger Pixel 3a XL would have the Snapdragon 710 at the helm (even though the 730 has recently been unveiled), but the Pixel 3a managed a lower Geekbench score than the 3a XL, so it might have a lesser SoC under the hood.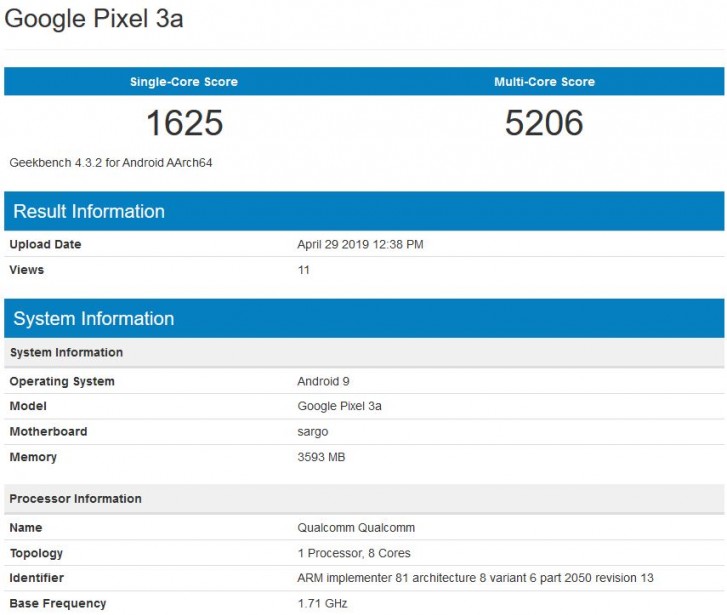 Speculation has it that it might be the Snapdragon 670, but that remains to be seen. According to a past leak originating at Google itself, the Pixel 3a's screen resolution will be 1080x2220, while its size is expected to be around 5.6".
All of these details should be confirmed next Tuesday, unless more leaks keep coming - which, judging by how things have gone so far, seems entirely likely. It's been a long time since a Google hardware event had any surprises left in store for us.
I just got my Pixel 3 earlier this morning and I can't say much other than I love the feeling of this phone and camera is fantastic. And the headphones it came with are actually pretty decent. I can't judge it yet. But I'm liking it so far. I'm famil...
?
Ok, so if there's no dual SIM, it won't sell in India. But my point still stands, most consumers in many other markets don't care about that
A
Having 2 SIMs means that your body gets bombarded with double the SAR radiation levels a normal phone emits. There are websites that list every single phone out there and their SAR levels. The cheap chinese brands are in the top 10. I'd stick to...
ADVERTISEMENTS