Google Pixel 4 and Pixel 4 XL spotted in Geekbench result with just 4GB of RAM
Results from the Google Pixel 4 and Pixel 4 XL have been found in Geekbench. They run Android 10 on Snapdragon 855 chipsets, as expected. What's not expected is the RAM capacity – 4GB.
The Pixel 4 duo was supposed to make the jump to 6GB. For what it's worth, benchmarks are not the most reliable source. There was a Geekbench result from the Pixel 3a with 6GB of RAM, but that didn't pan out. Maybe it was a prototype, maybe Geekbench read the capacity wrong.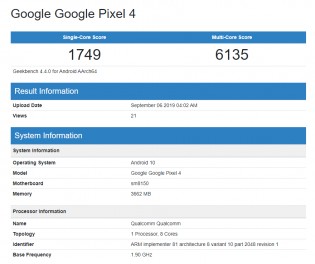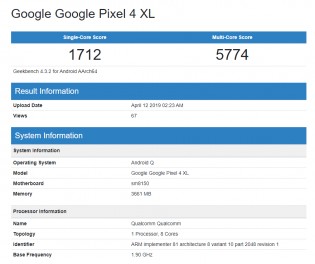 Geekbench results: Pixel 4 • Pixel 4 XL
Anyway, most makers tend to tie RAM and storage capacity together and the Pixel 4 might see a two tier approach – 4GB of RAM with base storage, 6GB with the higher storage options.
The Google Pixel 4 is expected to have a 5.7" screen, the Pixel 4 XL a 6.3" screen (both OLED). And they will likely run at 90Hz. Another new feature is the Project Soli radar for motion gestures – it gives the phones quite a forehead.
F
I think he meant it for pixel phones. Not for all android smartphones.
p
4 GB RAM is not enough to run apps smoothly on android.All google apps are ram hungry and google services and OS also takes large chunk of RAM. Few years back google apps were in 20-50 MB after installing and can run smoothly on 3 GB RAMs but now g...
?
As usual, phones to ignore. Less problems and hardware flaws/defects to suffer due to them.
ADVERTISEMENTS