Alleged Google Pixel 4 live images leak, show punch hole selfie cam and smaller bezels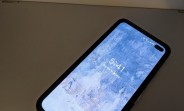 The Google Pixel 4 just keeps on leaking these days, even if its launch is only expected to happen in October. Following some controversial-looking renders that showed it would have a huge camera hump on the back with a similar design to that of the upcoming iPhones', today we bring you three exclusive shots of the Pixel 4, courtesy of Shivam Pandya.
We have to warn you that the prototype captured here seems to be inside one of those bulky cases that are meant to obscure as much of its design as possible. Still, we can see the right-aligned oval punch hole cutout in the display for two camera sensors, as well as a display 'chin' that's significantly smaller than what we had in past Pixels.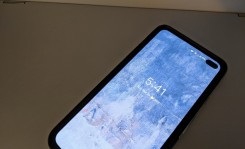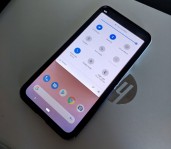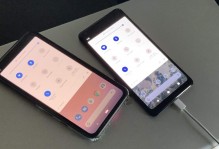 Google Pixel 4 exclusive leaked images
That means there's no more front-facing speaker inside that bezel, instead there's a down-firing one nearby. Overall all four bezels seem to be pretty much the same size, and symmetry from this point of view isn't something Google's ever done before.
Note that these shots contradict the previously outed renders somewhat, because those had a visible earpiece lower than the rim of the top side, whereas these don't. The last picture to the right has the new Pixel next to what seems to be a Pixel 2 XL, so it is very likely that what we're looking at here is the Pixel 4 XL, not its smaller sibling.
Keep in mind that Google has been rumored to have three separate design teams working independently on the Pixel 4 and 4 XL, without any coordination between them. In the end the company's management will pick one design and go with that. This is apparently Google's way of ensuring that it doesn't end up with any more design flops in its smartphone lineup, following the incredibly divisive looks of the Pixel 3 XL with its gigantic notch and the Pixel 3 with its gigantic bezels in a world that's almost entirely gone bezel-less now.
It's very possible that the renders we saw yesterday were based on a different team's prototype than the one you're looking at here - which is actually similar to one we saw in the wild recently.
?
why have a punch hole if youre gonna have like half an inch of a bezel...
?
Its not the s10... the s10 speaker grill would be clearly visible top center
The only thing they've copied from Apple is gesture navigation. (And Apple copied that from Palm)
ADVERTISEMENTS