Android's finest vanilla
The Pixel 5 comes with Android 11 right out of the box. Since the software comes directly from Google, OTA updates don't need carrier or OEM approval before reaching the device. Google promises at least three years of major OS updates and security patches during the Pixel 5's product cycle.
We've already thoroughly reviewed the final release of Android 11 running on the Pixel 4, so here, we'll be focusing more on the Pixel-specific features, as well some of the major additions that come with Android 11.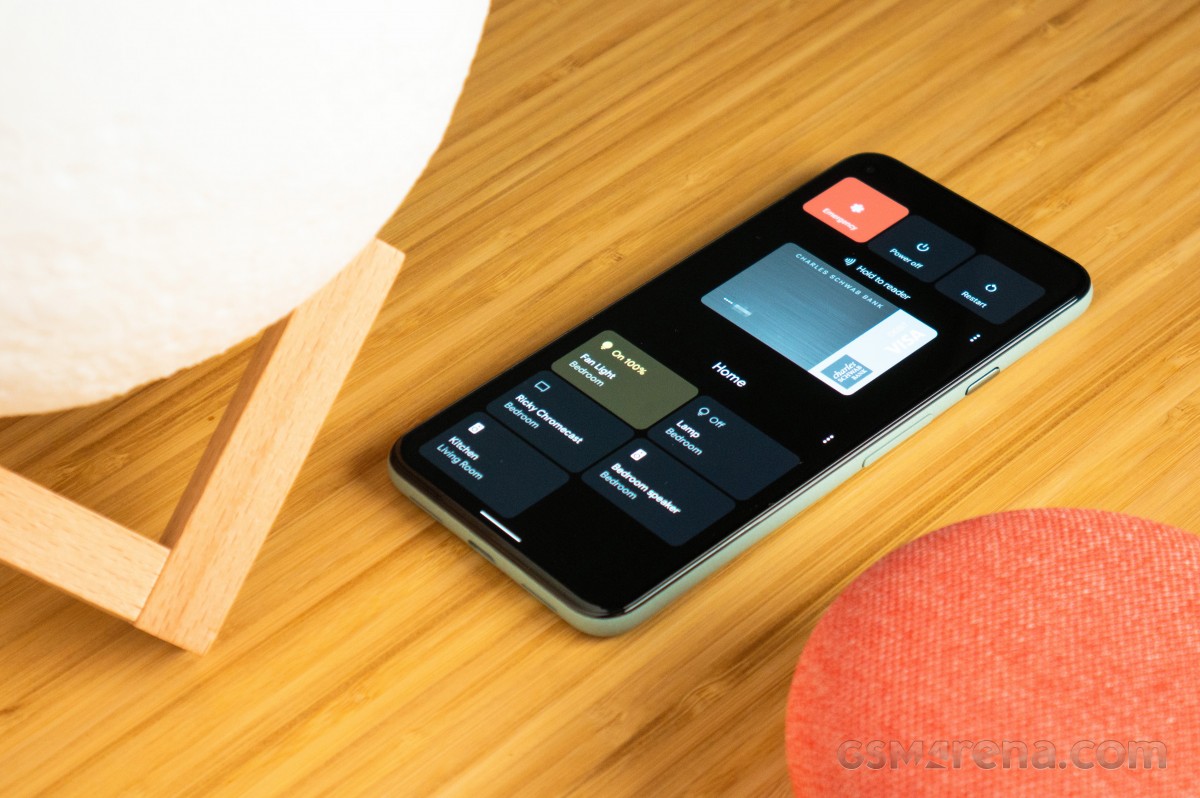 Pixel imprint is back on the Pixel 5, so setting up the fingerprint is just as it was before: touch the sensor a few times to register a fingerprint. In a world where regular use of protective masks makes facial recognition cumbersome for smartphones, we're glad to see it back.
Starting with the home screens, you still have your Google feed on the left-most page, and you still must swipe up to access the app drawer. If you recall, the top row of apps within the drawer is part of the launcher's "App Suggestions," which now appear in the dock row of apps at the bottom of your home screens.
If you remove one or more of the fixed app shortcuts from the dock, they will be replaced by a suggested app based on various contextual factors like time of the day, location, or frequency of use. It's worth noting that if you already have an app on your primary home screen, it may appear redundantly as a suggested app.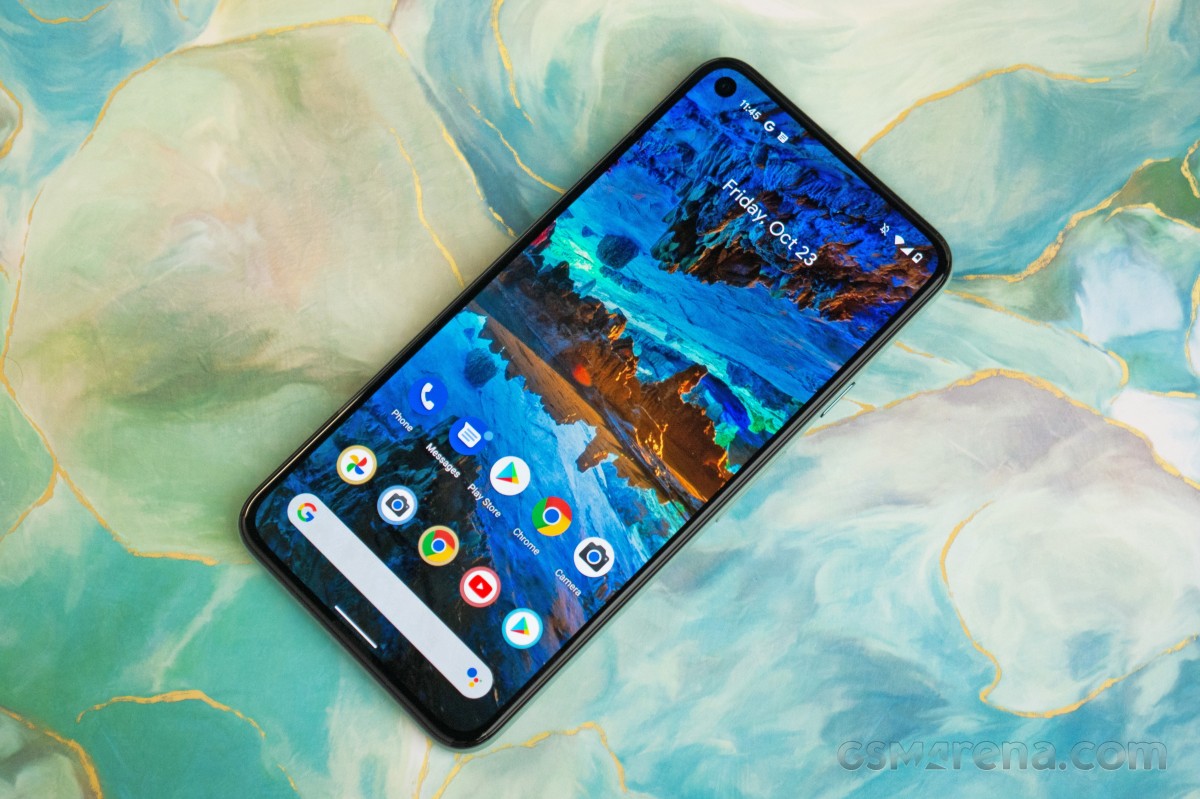 The search bar lives at the bottom of the home screen, even as you flip through the pages so that it's easy to strike up a Google Search. Tapping the Assistant logo on the right side of the bar will immediately prompt a voice command. The search bar is either white or gray, depending on whether Dark Theme is enabled.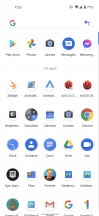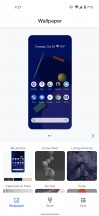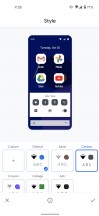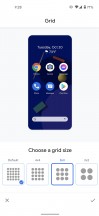 App drawer • Home screen customizations
The multi-tasking view is a little different now. App suggestions are no longer shown here, but there is a convenient screenshot shortcut and a "Select" option - convenient for quickly selecting and copying text off web pages. It will even recognize images that you can quickly run through Google Lens for further investigation.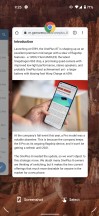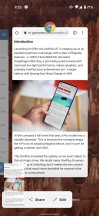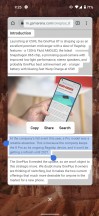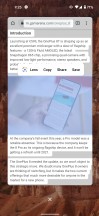 Recent apps • Screenshot • Selecting text • Select image for Lens search
The Device Control menu is accessible by press-holding the power key. Aside from the power menu, it's also a shortcut for Google Pay, has an Emergency/SOS shortcut, and lets you customize a Home panel with shortcuts to your favorite smart lights or speakers.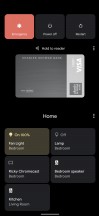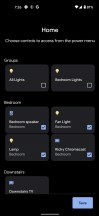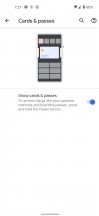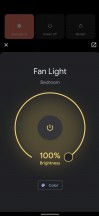 Device Control Menu • Adding home devices • Cards and passes • Light control
Notifications have been updated in a couple of ways. For one, Conversation alerts are prioritized and moved further up in the notification shade. In its current implementation, not all notifications are properly recognized as "Conversations" unless the app's developer explicitly does so. We expect this feature to become more useful with time.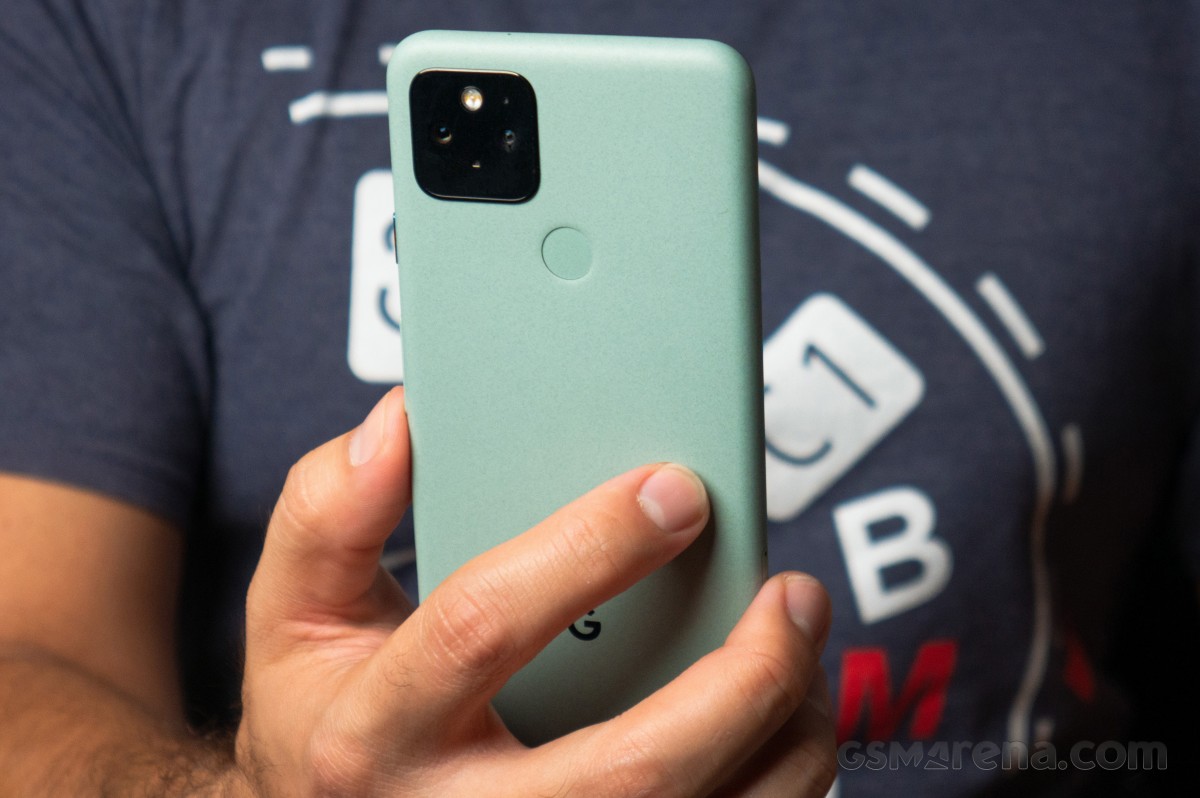 Next up is the new Bubbles feature that mimics Facebook Messenger's Chat Heads and keeps floating shortcuts of conversations on top of your screen. While this makes it easy to quickly respond to an ongoing conversation without leaving another app, its implementation is still a little buggy. Plus, it's up to developers to enable the feature for their apps.
The priority of notifications is Conversations > Notifications (everything else) > Silent (weather, running app notifications).
The "Now Playing" notification card has been revamped for Android 11. Now, any app's Now Playing card will remain at the very top of the notification shade. If more than one app was recently playing music or a video, these apps would form horizontal pages, so they don't take up space in the notification shade.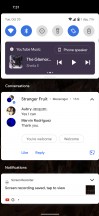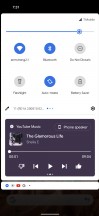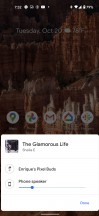 Now playing: Compact • Full view • Select audio output
There's also now a Notification History menu that lets you see any notifications you may have swiped away. The option, however, is disabled by default.
Android 11 brings more privacy permission controls. The most significant change is that permissions will expire if the app is not actively used for extended periods. As well, you can set permissions on an "Ask every time" basis.
Android's finally got a built-in screen recorder. It doesn't have any frame rate or resolution setting, but you can select whether to show screen touches, and you can choose whether to include microphone audio, on-device audio, or both.
With Pixel 4, Google introduced a new voice recording app that would be able to transcribe text without an internet connection and can even take make out some of the topics being discussed, whether it's an interview or a lecture.
Recently, Google updated its Recorder app to let you crop out chunks of audio by simply selecting and deleting blocks of text. This is a useful app for students and interviewers who would rather not sit there and skim through hours-long audio recordings. As of this writing, the Recorder app with transcription feature is a Pixel-exclusive feature, though there are some workarounds.
Performance
With the Pixel 5, Google has retreated to using an upper-midrange processor instead of Qualcomm's top-of-the-line 800 series. Google is no longer in the spec race but would rather offer a well-polished package powered by the well-rounded Snapdragon 765G chipset. Along with both mmWave and sub-6Ghz 5G network support from the integrated X52 modem, this chipset is built on the 7nm process, which yields solid, power-efficient performance.
The Snapdragon 765G consists of a performance cluster with two ARM Cortex-A76 cores at 2.4GHz and 2.2 GHz. Meanwhile, the power-efficient cluster contains six small ARM Cortex-A55 cores clocked at up to 1.8GHz. All cores may run at different speeds depending on the CPU load.
For graphics, the Adreno 620 is 20% faster than the Adreno 618, which is found with the Pixel 4a's Snapdragon 730G chipset.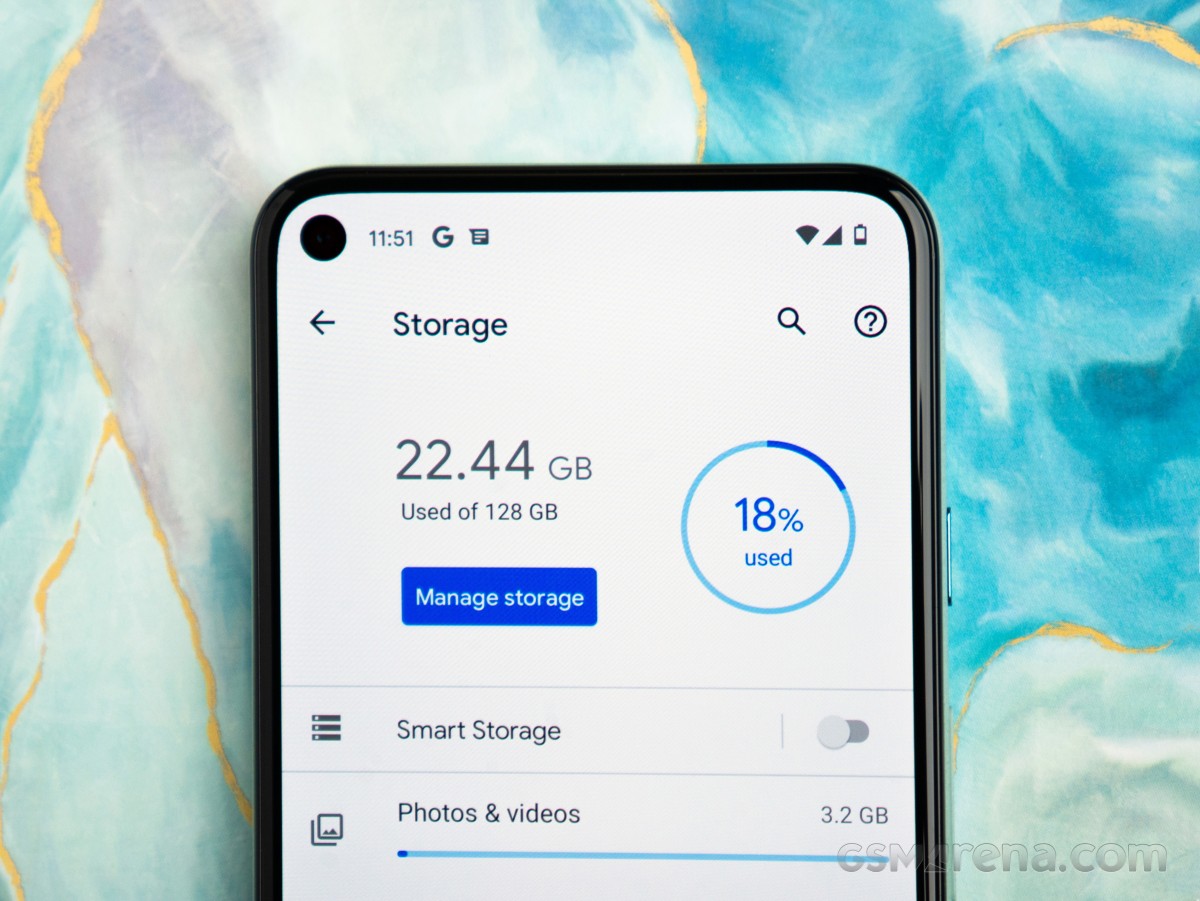 With the Pixel 5, there's 128GB of UFS 2.1 storage, which is the only memory configuration. There's no way of expanding the storage, either.
RAM is up from the previous generation. After the long overdue bump up to 6GB of RAM on the Pixel 4 duo, the Pixel 5 comes with 8GB of LPDDR4x RAM, which is a welcome addition.
Although Google hasn't specified (we've requested, but have yet to receive confirmation on this), we've preliminarily concluded that the Pixel 5 might be using UFS 3.0 or 3.1 storage. When tested with Androbench, the Pixel 5 is seeing significantly faster storage speeds over the Pixel 4 XL. It returned 930 MB/s in sequential read, 408 MB/s in sequential write, 189 MB/s in random read, and 204 MB/s in random write speeds.
Update Oct 31, 2020: Testing the first Pixel 5 unit, which we received, turned in lower benchmark scores than expected from the Snapdragon 765G. We decided that our particular device was to blame, so we requested a second review device to compare. However, the second unit scored just as low, so we now feel confident publishing our Pixel 5 performance charts.
For comparison's sake, the charts below include only Snapdragon 765G devices, except the Pixel 4a, which has a Snapdragon 730G and is just used for context.
Starting with the CPU-intensive Geekbench test, you will see that the Pixel 5 performs as well as you'd expect.
GeekBench 5 (single-core)
Higher is better
vivo X50 Pro
636
Xiaomi Mi 10 Lite 5G
616
OnePlus Nord
610
Oppo Reno3 Pro 5G
609
Google Pixel 5 (unit 2)
594
Google Pixel 5 (unit 1)
592
LG Velvet 5G
586
Motorola Edge
586
Google Pixel 4a
553
However, the CPU's multi-core performance is far behind the rest of the SD765G phones - scoring as low as the Pixel 4a.
GeekBench 5 (multi-core)
Higher is better
OnePlus Nord
1953
vivo X50 Pro
1937
Xiaomi Mi 10 Lite 5G
1927
LG Velvet 5G
1905
Motorola Edge
1862
Oppo Reno3 Pro 5G
1815
Google Pixel 5 (unit 1)
1647
Google Pixel 5 (unit 2)
1647
Google Pixel 4a
1626
Antutu is a compound benchmark, which measures all aspects of the device performance - both the CPU and GPU, as well as RAM and even the storage speed.
We don't usually publish the Antuti subscores, but here, it's important to note that the Pixel 5 scored relatively low in the graphics department - about as much as the Pixel 4a.
The overall Antutu score puts the Pixel 5 somewhere between the Pixel 4a and the rest of the Snapdragon 765G devices.
AnTuTu 8
Higher is better
vivo X50 Pro
323736
Xiaomi Mi 10 Lite 5G
318117
OnePlus Nord
312794
Oppo Reno3 Pro 5G
308231
Motorola Edge
305989
LG Velvet 5G
297372
Google Pixel 5 (unit 2)
289261
Google Pixel 5 (unit 1)
288556
Google Pixel 4a
268714
On to the graphics-intensive tests, and we started to see a pattern. The Pixel 5 and the Pixel 4a have the same screen resolution, so typically, you'd expect the device with the higher-grade chipset to score consistently higher in both on-screen and off-screen graphics tests.
This is not the case here, though. In all of our benchmarks tests, the Pixel 5 scored significantly lower than even the Pixel 4a. The only exception was the 1440p off-screen Vulkan test in the 3DMark Slingshot Extreme benchmark, where the two scored on par with each other.
GFX Car Chase ES 3.1 (offscreen 1080p)
Higher is better
OnePlus Nord
21
Xiaomi Mi 10 Lite 5G
21
Oppo Reno3 Pro 5G
21
vivo X50 Pro
20
LG Velvet 5G
19
Motorola Edge
19
Google Pixel 4a
17
Google Pixel 5 (unit 1)
13
Google Pixel 5 (unit 2)
12
GFX Car Chase ES 3.1 (onscreen)
Higher is better
OnePlus Nord
19
Motorola Edge
18
Oppo Reno3 Pro 5G
18
Xiaomi Mi 10 Lite 5G
17
vivo X50 Pro
17
Google Pixel 4a
16
LG Velvet 5G
16
Google Pixel 5 (unit 1)
12
Google Pixel 5 (unit 2)
11
Aztek Vulkan High (onscreen)
Higher is better
Oppo Reno3 Pro 5G
19
OnePlus Nord
13
Xiaomi Mi 10 Lite 5G
12
Motorola Edge
12
LG Velvet 5G
11
Google Pixel 4a
9.6
Google Pixel 5 (unit 1)
7.9
Google Pixel 5 (unit 2)
7.5
GFX Aztek ES 3.1 High (onscreen)
Higher is better
OnePlus Nord
13
Xiaomi Mi 10 Lite 5G
12
Motorola Edge
12
Oppo Reno3 Pro 5G
12
Google Pixel 4a
11
LG Velvet 5G
11
Google Pixel 5 (unit 1)
9.1
Google Pixel 5 (unit 2)
8.3
3DMark SSE ES 3.1 (offscreen 1440p)
Higher is better
Xiaomi Mi 10 Lite 5G
3294
OnePlus Nord
3285
vivo X50 Pro
3214
Oppo Reno3 Pro 5G
3214
Motorola Edge
3004
LG Velvet 5G
2987
Google Pixel 4a
2487
Google Pixel 5 (unit 1)
2352
Google Pixel 5 (unit 2)
2318
3DMark SSE Vulkan 1.0 (offscreen 1440p)
Higher is better
Xiaomi Mi 10 Lite 5G
3080
OnePlus Nord
3067
Oppo Reno3 Pro 5G
2995
vivo X50 Pro
2983
Motorola Edge
2801
LG Velvet 5G
2758
Google Pixel 5 (unit 1)
2358
Google Pixel 4a
2275
Google Pixel 5 (unit 2)
2267
It was surprising to see such a handicapped performance from a recent phone. Pixel devices have never topped benchmark leaderboards, and we were okay with that as long as they performed about as expected.
It's an entirely different story, though, with the Pixel 5. For some reason, its processor is so severely de-tuned that it performs equal to or even lower than the company's cheaper Pixel 4a.
We really hope there is a good reason for this handicapped performance. If we had to guess, it's as if Google only wanted in on the 5G train, so they've picked the SD 765G, but they didn't need its performance or the battery penalty that comes with it, so they quietly tuned it down to Snapdragon 720 levels.