Pixel and Pixel XL hands-on
Even though HTC built them, Google takes pride in the fact that it has designed them from scratch and hasn't used any HTC device as a base. That's why you won't see the Taiwanese company's name anywhere - these are all Google down to the striking of distribution deals.
The Pixels have a characteristic "window" on the back - a plane of glass that spans from the camera to just below the fingerprint reader. It's glossier than the surrounding metal and definitely one of a kind, but also an acquired taste.
Google even managed to keep the weight in check - the 5" Pixel weighs 143g and the 5.5" Pixel XL is 168g. Both are 8.6mm thick, but no compromises were made in regards to battery capacity - 2,770mAh and 3,450mAh respectively - or a protruding camera.
We have great expectations of the camera - the 12MP camera on the outgoing Nexus phones was perfectly tuned and an amazing low-light performer. This one adds new-gen Digital Image Stabilization, which will further help the matter.
We're not quite sure what the glass is on the back, but on the front the two Pixel phones have Gorilla Glass 4.
On the Pixel, below the glass is a 5" AMOLED screen with 1080p resolution (441ppi). On the Pixel XL, it's a 5.5" AMOLED with QHD resolution (534ppi).
AMOLEDs have overtaken LCDs in color accuracy, which combined with their inherent contrast advantage and sunlight legibility makes them a great choice.
AMOLED also has a faster pixel switching time than LCD, vital for virtual reality where any ghosting is very detrimental to the experience.
The Pixels are the first 'Daydream-ready' smartphones providing low latency and really accurate head tracking so they will surely be the benchmark for performance in the area.
Speaking of performance, the duo is powered by the Snapdragon 821 chipset, a refined version of the 820. It delivers some serious GPU performance and Android Nougat has "sustained performance mode," which ensures demanding workloads (VR and others) can get the most of the hardware.
Both the Pixel and Pixel XL have 4GB of RAM. Conservative, but still an upgrade over the 2GB and 3GB of the Nexus 5X and 6P. The storage is two-tiered - base 32GB and a roomy 128GB. It's non-expandable, naturally, but you get unlimited storage for your photos and videos over at Google Photo at full resolution.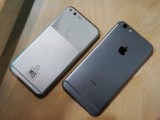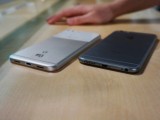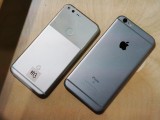 Google Pixel XL vs Apple iPhone 6s Plus
The phones feel amazingly light in hand. The aluminum and glass are nice to the touch. That doesn't change the fact that the bezels are quite big - especially the parts above and below the screen.
The comparison to the iPhone 6s Plus - a device known for having a mammoth footprint for its screen size - really helps bring home the fact that the Pixel XL is not a compact device by any measure.