Google Pixel XL 2 gets caught in benchmark with bigger screen, Snapdragon 835
The latest prototype smartphone to be put through the paces of GFXBench is Google's upcoming Pixel XL 2, the successor for the original Pixel XL from 2016. This device should launch alongside the Pixel 2 at some point this fall, perhaps with a third model joining them. They've all been rumored to be powered by Qualcomm's Snapdragon 835 chipset, and the aforementioned benchmark run confirms that.
GFXBench's info listing also tells us that the next Pixel XL will feature a slightly bigger screen than its predecessor. For some reason, the benchmark's only taken into account the size and resolution of the display excluding the software Android navigation buttons - that's why the listed resolution is the odd 2,560x1,312. Add in the navigation bar and you arrive at 2,560x1,440 or QHD, the same resolution used in last year's Pixel XL. If we factor the navigation bar into the size calculation too, we think the Pixel XL 2 tested in this benchmark actually has a 5.7" panel.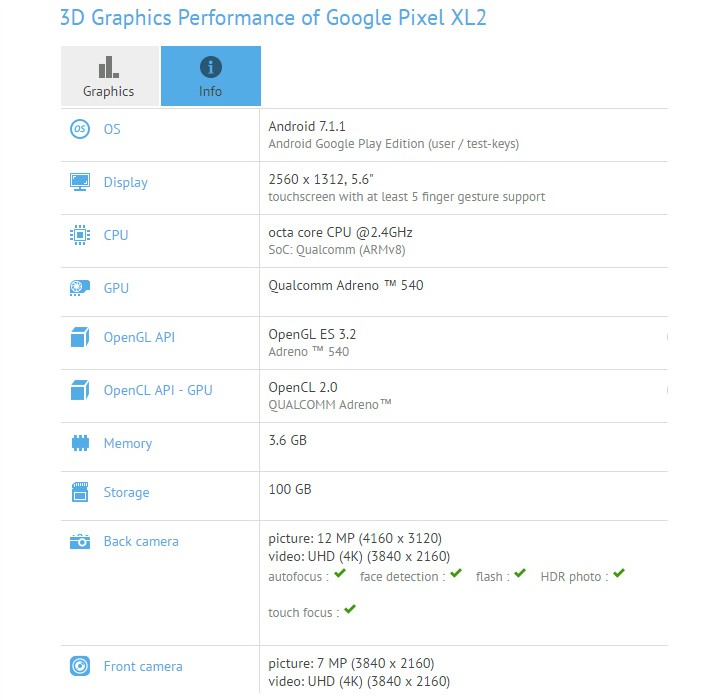 That would make it even more of a phablet than its predecessor. Let's hope that Google and HTC have managed to trim those huge bezels somewhat and will deliver this bigger screen while keeping the handset's overall footprint the same as the first Pixel XL.
Otherwise, the Pixel XL 2 seems to be pretty much identical to that model, with 4GB of RAM, 128GB of storage, a 12 MP main camera, and an 8 MP selfie snapper. The prototype ran Android 7.1.1 Nougat but the final device should launch with Android 8.0.0 on board.
Via (in German)
?
I think that this is a fake. The specs are exactly the same as the Essential Phone's specs (same resolution/same aspect ratio, same processor, same 4GB Ram, same storage (>100GB), camera with 13 megapixels). Only 5.6" (instead of 5.7") is differen...
X
I meant that the Xperia XZ Premium runs at 1080p most of the time anyway despite having a 4k display.
.
Close to no improvement and innovation.
ADVERTISEMENTS