Google Pixel XL undergoes the teardown treatment, its repairability score is 6 out of 10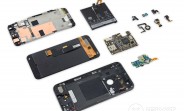 Yesterday the Google Pixel and Pixel XL officially went on sale in the handful of markets the company deemed worthy of receiving its first own-brand smartphones. As such, you might have been eagerly anticipating to see a teardown for at least one of the two handsets, and today the folks over at iFixit have delivered.
They've just published their full teardown of the Pixel XL. Taking the phone apart has revealed many interesting (if not particularly surprising) things, such as the fact that its AMOLED display is made by Samsung (part number AMS546KD09). The touch controller is a Synaptics unit, while the battery seems to be the only component that has an HTC logo on it. Remember, HTC is the company assembling the Pixels. The RAM is supplied by Samsung, as is the UFS 2.0 internal flash storage.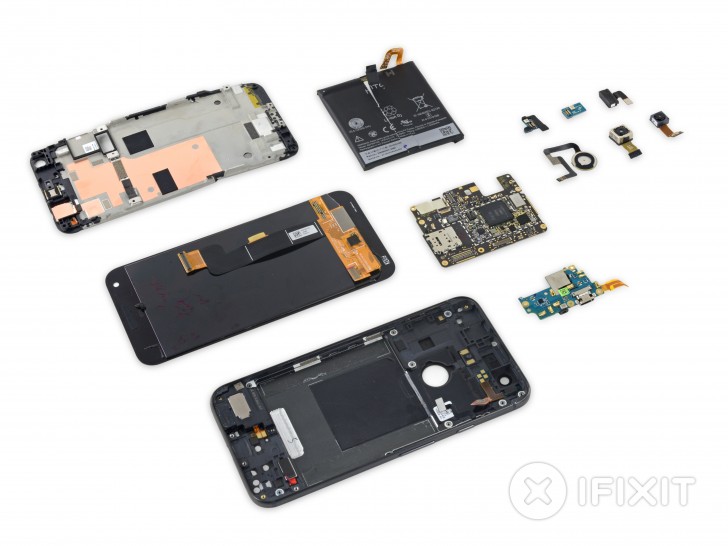 In the end, the Pixel XL received a 6 out of 10 repairability score (10 is easiest to repair). For comparison, keep in mind that the iPhone 7 Plus got 7 out of 10. The Pixel's strengths include the fact that many internal components are modular and can be easily replaced once the display assembly is removed. The battery is also painless to swap, as it has a removal tab and is held in place only with a small amount of adhesive. Finally, all of the screws used are T5 Torx.
On the flip side, to get to the phone's internals you need to pry open a thin display assembly, which makes repairs difficult to achieve without any damage. The mid-frame is secured by screws but also snug, press-fit notches, making its removal quite a laborious process, hindering otherwise easy repairs. If you're interested in more details about the Pixel XL's insides, make sure you go to the Source link below to get the nitty-gritty.
Same goes to iPhone. Camera by Sony, display by LG, flash storage by Samsung/Sandisk, RAM by Samsung, processor by Samsung/TSMC
?
Folks, work on your sarcasmeter. I made a few claims which were ridiculous (but which I've heard from other people) and easily proven to be wrong. I also used hyperbolic language laden with emotional pleas.
D
A phone is a phone. Pity the ignorant who can't make the difference between two vacuum cleaners.