The Pixelbook Go was unveiled in October last year and launched in the US and Canada a few weeks later. Today, the premium Chrome OS laptop has reached the UK.
Yes, despite having "Go" in its name, this is a top of the line model. It has a 13.3" touchscreen with 1080p or 4K resolution. The laptop's body is made of magnesium and the whole thing weighs just over 1kg. Google claims the battery will last 12 hours of usage.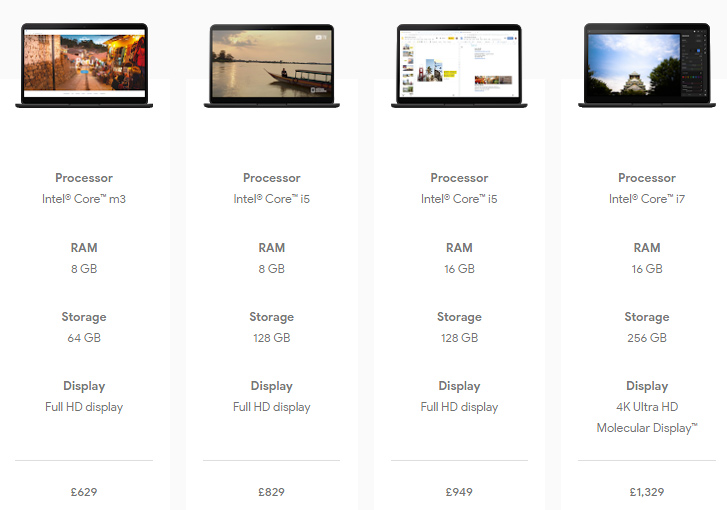 The base configuration features an Intel Core m3 processor, 8GB of RAM and 64GB storage and costs £630. The 4K "Molecular Display" is only available on the top configuration with an Intel Core i7, 16GB of RAM, 256GB storage – this one has a hefty price tag of £1,330.
The middle options manage to stay under £1,000 and have a Core i5 and 128GB storage, plus 8GB or 16GB of RAM. You can buy the laptop straight from Google or various UK retailers. All CPUs are 8th gen Intels.







Google Pixelbook Go in Just Black and Not Pink
Do note that the Pixelbook Go has only two USB-C ports and no card slot to expand the memory. On the plus side, both USB ports can be used to fast charge the laptop (0-35% in 30 minutes).
a
I currently use Chrome OS & Linux (i7 3rd Gen) on 2 different devices. Total cost ~ $600. However, I would prefer to have both OSes on 1 device. If I can get a Chrome OS device (i7 8th gen & 16GB RAM) for ~$650 ... then I will buy it.
Hope ot can play doom eternal 2020 on full details othervise i am not interested.
?
2020 and people still wonder why Chromebook can be Expensive. Let see about 2021.