Android took a major step today as Google unified it's Google Music, Google Videos, Google Books and Android Market services into one. The new one-stop store goes by Google Play.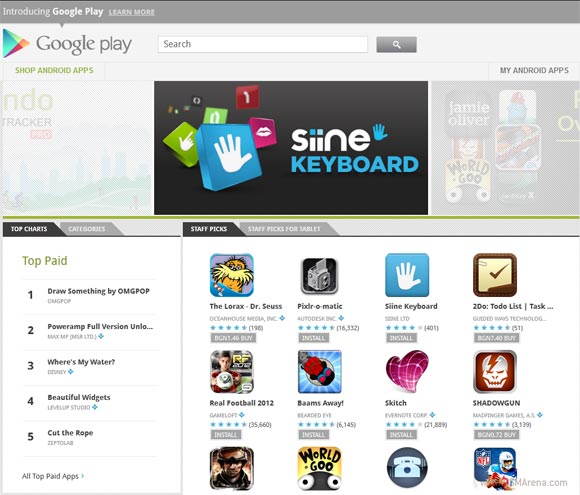 Google Play is Google's effort to put all of its downloadable content, be it apps, movies, music or eBooks and make it easily accessible using Cloud syncing. This would allow you to easily get any music tracks, videos and eBooks you purchase to all of your Android devices, just like with the apps from the Android Market so far.
To make the switch from Android Market to Google Play, the search giant will release an update for the Android Market app on devices running Android 2.2 or later over the coming days. So, from now on, it's officially Google Play, Google Play Music, Google Play Books and Google Play Movies.
How much music and videos, you ask? The company says that you can store up to 20,000 of your own songs plus any of the millions available for purchase in the Google Play itself. And with the app and video count growing literally by the minute, you can be sure that Google will certainly target global market dominance.
And to make sure it attracts more and more users, Google Play will be celebrating its launch by slashing prices on a ton of applications, books, music and movies. Sadly, the full power of Google Play will only be available in the United States at launch, while the rest of the world will have to have to sit on the sideline, looking enviously.
Finally, here's Google's introductory video to Google Play.
R
only icon change on HTC Explorer... no book,music or videos.
?
Google Market, Google Shop, Google Zone, Google Whatever... but Google Play??? So stupid...
K
What the hell is wrong with google? I upgraded market and music on my N1 to play and I see only the icons being changed and nothing fency in the UI or anywhere else yet the apps are now almost 3 times the size of previous version(2.xx - 6.xx) an...
ADVERTISEMENTS