Google pushing Android 7.0 downgrade OTA to 7.1.1-powered Nexus 6 units
Recently, after there was enough noise that the March security update for the Motorola Nexus 6 broke Android Pay, Google acknowledged the issue, and said that the problem is being investigated.
Apparently, the company wasn't able to find an easy solution, as it has now started pushing a downgrade OTA to Android 7.1.1-powered units that forces them back on to version 7.0.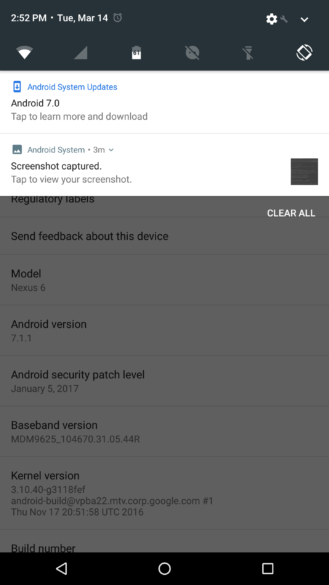 Users have no option but go for the update as Google says that's the only way to "guarantee future OTA updates." Following is the reply a Google community manager posted on Reddit thread discussing the new 7.0 update:
"Hey All, There was a recent OTA update for Android 7.0 that is causing confusion for some Nexus 6 users. For those of you that want to guarantee future OTA updates, you will need to get back on the 7.0 supported track. If you are experiencing issues after accepting the 7.0 update, please factory reset your device to help resolve any problems. For any Nexus 6 users that want to continue flashing/sideloading future builds, you can stay on 7.1.1 and continue to do so. Hope this clarifies! Nexus Community Manager."
It's worth mentioning that the Nexus 6 won't be officially getting any further OS upgrades.
g
My phone can't be update why
D
People who flashed 7.1.1 installing the OTA screwed up all their apps.
b
Too bad that the Samsung S7 Edge does not have the Edge lighting feature available with Nougat 7.0; at least on the Verizon network. Seem to recall that was a large sales feature??
ADVERTISEMENTS