Google, the golden child of the Internet, got some disappointing grades on its report card. The revenues for Q2 of this year are up 19% year on year to $14.1 billion, but come short of analysts' expectations of $14.4 billion.
Income was $3.123 billion overall (down from Q1 this year and Q2 last year) with an operating margin of 22% (also down). Google's income for the quarter was just about the same as last year (but with a lower operating margin) and it's Motorola that weighs it down with a loss of $342 million.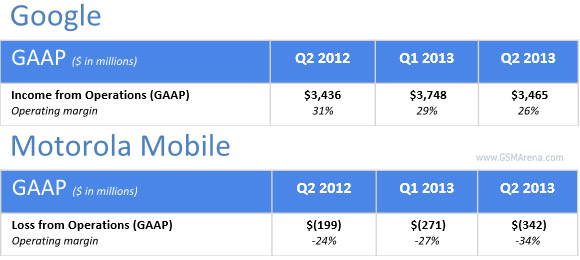 As for Google's platforms, Larry Page, CEO and co-founder, calls Android and Chrome "no-brainers". There are 900 million Androids with 1.5 million joining them each day. They have downloaded 50+ billion apps and counting.
Chrome (the browser, not the OS) is doing great too – 750 million users. Chrome OS and Chromebooks are on the rise, despite the declining PC market, but Page didn't provide any specific numbers here. No numbers on Google+ either.
Page once again teased that Motorola has something great in store (he's been testing the products, like Eric Schmidt), but once again said nothing of what we can expect. Hopefully, we'll learn more next week.
Google's core money maker – ads – is getting a revamp called Enhanced Campaigns, aimed at fixing the mobile ads market, which is ailing (ad prices were already cheap, but they've fallen further). The effect of Enhanced Campaigns should be felt next quarter.
You can read Larry Page's speech from the conference call here and listen to the call itself below:
Here are the earnings slides too (PDF).
D
so you want them to be like the vEgetable company...great..just great
?
Sailfish OS is better than any OS
A
Moto is a burden on google's shoulders( unless it launches some REALLY innovative) WP is a burden on Microsoft also. The sales are not promising here. But both Google and Microsoft have other sources of revenue. Let's wait for next week and see ...
ADVERTISEMENTS