With Google confirming Play Store's arrival on Chromebooks, we're sure most of you will be waiting to know exactly which Chromebooks will support Android apps. Well, the wait is over as the Mountain View, California-based company has released the list.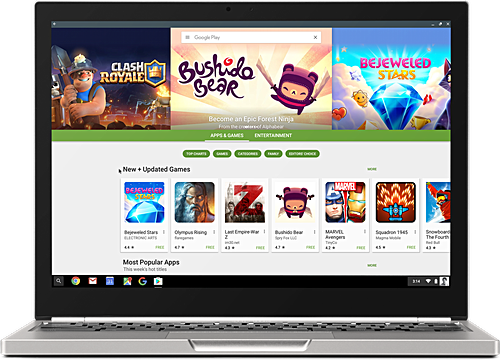 The list of Chromebooks that Google says will work with Android apps starting next month currently includes Acer Chromebook R11, Asus Chromebook Flip, and of course Google Chromebook Pixel (2015).
The search giant also released a long list of Chromebooks that will get the Play Store later this year (head to the Source 2 link below). However, notably missing from the list is the original Pixel from 2013, and a closer look reveals that devices more than two years old aren't there in the list.
Google told ArsTechnica that this is intentional. "Android apps should be supported on all new Chromebooks going forward and older hardware going back to 2015 or late 2014, but hardware older than that isn't likely to run them," the report says
D
If you try to run chrome or firefox on them, they suffer. But if you use MS edge browser, it can playback even 4K youtube videos(scaled down to screen size) smoothly. While chrome/firefox feel like 5fps video. The new atom chips are optimized for ave...
D
My Acer Chromebook came out late 2014, good to know that it'll get the Play store soon.
x
i think this merge of chrome and android is a good way to fight against the windows and macbooks becuz the android on mobile is the first and biggest empire so with merging them , google can bit them again
ADVERTISEMENTS