Google says device makers must support Nougat's new notification features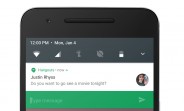 Earlier this week, Google released a new version of its Compatibility Definition Document (CDD) for Android. The CDD outlines things that device makers must do, and others that are merely optional, in order to pass Google certification and be allowed to ship phones and tablets with Google services built-in. So basically if you're a smartphone maker and want the Play Store on your handsets, this is your (constantly updated) rulebook to go by.
And speaking of updates, Google has changed the section regarding notifications for the Android 7.1 CDD, which is now saying the following:
Handheld device implementations MUST support the behaviors of updating, removing, replying to, and bundling notifications as described in this section.

Also, handheld device implementations MUST provide:

•The ability to control notifications directly in the notification shade.

•The visual affordance to trigger the control panel in the notification shade.

•The ability to BLOCK, MUTE and RESET notification preference from a package, both in the inline control panel as well as in the settings app.
So it looks like at least one of the big features introduced by Android 7.0 Nougat - the new notification system - will be available to you regardless of how custom your device maker's skin otherwise is. Companies who want to ship products running Nougat will have to adhere to the above rules, so they won't be able to obstruct or remove Android's native notification actions, direct replies, settings access, and bundling.
On the other hand, the new seamless updates introduced in the latest iteration of the OS are optional, so presumably not every single device running Nougat from the get-go will implement this mechanism, unfortunately.
L
Does it mean the ZUK Z2/Pro will finally have expandable notifications ?
D
When we will receive moto z play nouget update...