A couple of years ago, Google added the Neural Machine Translation (NMT) technology to its Translation app, a step that was aimed at increasing the accuracy of translations. Well, NMT has now been made available in the app's offline version as well.
The neural system translates whole sentences at a time, rather than piece by piece. It uses broader context to help determine the most relevant translation, which it then rearranges and adjusts to sound more like a real person speaking with proper grammar

To access the NMT offline translations feature, open the Translate app and follow the banner on your home screen to update your offline files.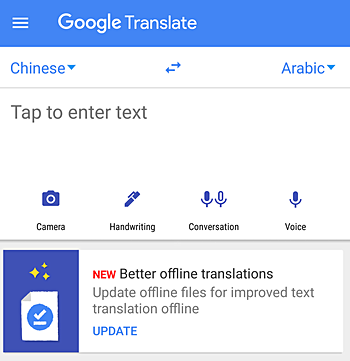 That's assuming you've used offline translations before. If not, head to your offline translation settings and tap the arrow next to the language name to download the package for that language.
The update is being rolled out in a total of 59 languages, and is available on both Android and iOS platforms.
L
I don't really use the offline version as it doesn't show which translations are verified by native speaker community.
?
I agree, AI is the big one this year, stop calling it artificial intelligence, our worlds most powerful super computer is equivalent to a rodent in terms of intelligence, so our tiny little toy phones are not even on the scale yet