Google has announced that it's introducing a couple of new security warnings in its email service Gmail. Starting this week, an email that canít be authenticated with either Sender Policy Framework (SPF) or DKIM will contain a red-colored question mark in place of the senderís avatar.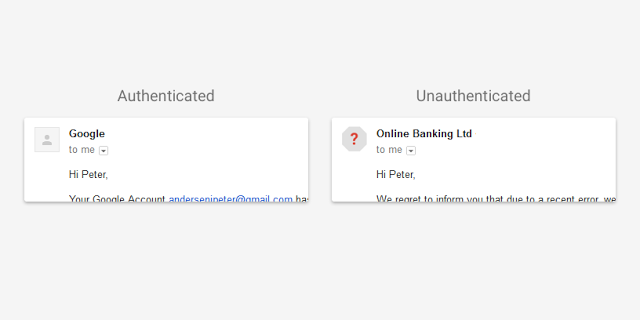 Moving on, if the email contains link to a malicious site known for phishing, malware, and Unwanted Software, Google will show you a full-page warning when you click on the link.

While the first change will be available on both the Web and Android, the second warning will only show up on Gmail's Web client. Another thing worth mentioning here is that the search giant makes it clear that a warning should not be taken as an absolute confirmation that the email in question is malicious or dangerous.
"But we encourage you to be extra careful about replying to, or clicking on links in messages that youíre not sure about," the company said in a blog post. "And with these updates, youíll have the tools to make these kinds of decisions."
D
I wouldn't say the worst, not even close, but Outlook is growing on me.
D
I seriously hope you have forgotten to put a sarcasm tag in there somewhere, or are just trolling, since outlook is the biggest steaming pile of shit I had the misfortune to use, stuff including - randomly reloading the whole page while I am writin...
?
Gmail. Who is still mad enough to use this service? It became the worst email service since 2012 onwards... Long live Outlook!