Google will soon stop considering sites with full-page app install ads as mobile friendly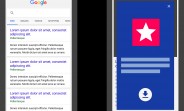 Clicking through a search result and being greeted by an app install ad covering the whole web page can surely be frustrating. Looks like Google has taken note of this, and is taking steps to ensure that web-masters adopt user-friendly ways to promote apps.

"Starting today, we'll be updating the Mobile-Friendly Test to indicate that sites should avoid showing app install interstitials that hide a significant amount of content on the transition from the search result page," the search giant said in a blog post.
The Mountain View, California-based company also said that starting November 1, mobile web pages that greet users arriving from its search result page with an app install ad that hides a significant amount of content won't be considered mobile-friendly, which effectively means that those pages will be demoted.
However, Google also made it clear that the change does not affect other types of interstitials.
H
This is why google own the world wide web league. Google see it through user's eyes and experience hence they improve it. In the end google wins user's mind and heart.
A
Anyone who has an issue with Google's choice to make the mobile web more user friendly may simply switch to Bing or Yahoo as their search provider. Enjoy!!!