Those of you who use any Google Pixel (2) or Google Nexus smartphone on T-Mobile will be happy to learn that Google's Phone (Dialer) app has been updated to support voicemail transcriptions for T-Mobile subscribers.
There have been reports of some Pixel users seeing transcriptions on their voicemails within the stock Dialer app with the note that they were "Transcribed by Google" as Android Police reported late last month. It had been quietly rolling out over the past few weeks.
As per Google' Phone app's Play Store listing, the feature is now officially available with the latest version (17.0.186697879). Other changes with the update include support for Cyrillic alphabets in smart search dialing, and the usual "bug fixes and performance improvements". This update brings the total number of supported carriers to three: Project Fi (US) and Orange France support Google's transcriptions as well.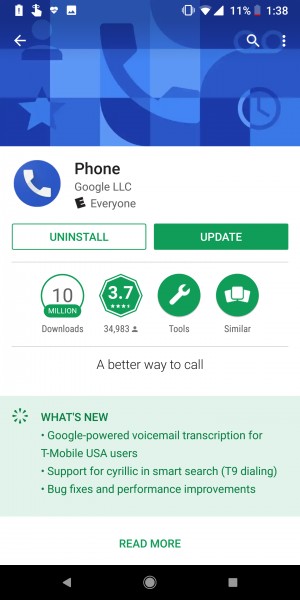 It's a bit surprising that Verizon was not the first carrier to support Google's transcriptions natively seeing as it is the only carrier in the United States that actually sells the Pixel. Nevertheless, T-Mobile also offers its own visual voicemail app that with a paid-tier for voicemail transcriptions, a service which Google has just made free.
Transcriptions aren't 100% accurate, but they do offer a general idea of what the voicemail is about and makes it easier to weed out the important calls from the trash calls offering you a suspiciously free home security system.