Hangouts on Air was introduced to the internet in 2012 when it introduced a new suite of features for Hangouts. Remember, at this time, where was less than a handful of platforms or apps that offered a live streaming video platform.
There are now more popular streaming services like Periscope and Facebook Live that left Hangouts on Air with declining participation because Hangouts on Air was missing a mobile app to accompany its web-based interface.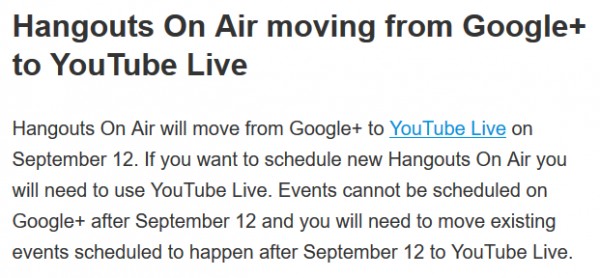 Google has outlined exactly how the service will continue to exist by becoming absorbed into YouTube Live. The Q&A feature will unfortunately be discontinued and replaced by Google' Slides feature of the same name. Alternatively, Google says you can "use various social media platforms to gather questions ahead of the event".
With that tone, it sounds like Google has completely given up on Hangouts on Air without so much as a mobile app . But at the same time, perhaps Google is now focusing its energy on re-branding its messaging platform with its new incoming Allo and Duo messaging platforms which were both announced at Google I/O this year and said to come later this year.
Hangouts was great in the beginning, but the experience over time became stale and inconsistent. Also, strangely, Hangouts brought some new features like video-messaging to the iOS version of the app much earlier than the Android counterpart.
Are you excited about Google's new Allo and Duo messaging platforms? Let us know in the comments!
n
they wont be able to win against facebook live feature unfortunately seems like google is either entering the party late or their products are becoming stale compared to competition i have also started getting bored of youtube where you need to t...
M
Let's see how long this would last!!
?
so does this mean we can chat while on YouTube? :D