Google's Senior VP says he isn't asking for iMessage on Android, but for RCS to work on iPhone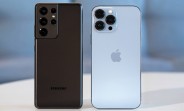 Last week, a report from WSJ highlighted the mental health effects of teenagers who feel outcast by their friends who use an Android phone. The report gathered lots of attention over the weekend and Google's Senior VP Hiroshi Lockheimer Tweeted against peer pressure and bullying as a way for Apple to sell products.
Following the weekend that the topic was discussed at length under the SVP's Tweet, Lockheimer tweeted again with some thoughts and clarifications about the ordeal.
Samsung Galaxy S21 Ultra and Apple iPhone 13 Pro Max
To start, Lockheimer makes clear that Google isn't asking for Apple to make iMessage available on Android (which Apple has made clear it has no intention of doing), but rather for Apple to support the "industry standard for modern messaging (RCS) within iMessage, just as they support the older SMS/MMS standards."
The Senior VP explains that the phone-number based messaging platform is the fallback that everyone knows will work.
By not incorporating RCS, Apple is holding back the industry and holding back the user experience for not only Android users but also their own customers.

— Hiroshi Lockheimer (@lockheimer) January 10, 2022
We're happy to work with Apple to make RCS interop a reality.

— Hiroshi Lockheimer (@lockheimer) January 10, 2022
SMS is an antiquated standard whose successor is RCS which supports read receipts, typing notifications, larger file transfers, and end-to-end encryption. Apple knows that iMessage keeps users locked to its ecosystem so giving its users a more pleasant experience when testing Android users might not be as effective to keep users on iPhone. The ball is now in Apple's court.
All this boils down to the whole "green bubble" versus "blue bubbles" on iMessage and that's been the way it is since iMessage launched on iOS 5.
Surely, this isn't such a topic of conversation in regions outside of the US, where folks are less likely to have Apple phones and more likely to use app-based message services like WhatsApp, Viber, or WeChat.
Jff lol
C
Oh, sorry! I didn't know that the comment section for the article has been closed. Why did you reply the pointless sh!t you did, though? Lol
Girl, u're late for more than a week to the convo. Get over it
ADVERTISEMENTS