Gorilla Glass with DX and DX+ will protect the camera lenses of your next flagship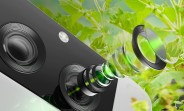 Corning announced a couple of new lens protective glass composites dubbed Gorilla Glass DX and DX+. These are technically not new as they have been covering smartwatch displays since 2018 but the transition to camera lenses required plenty of tweaking to durability and light transmittance. Corning states that its Gorilla Glass with DX and DX+ offers advanced optical performance, superior scratch resistance and durability compared to regular smartphone lens covers.
The enhanced optical clarity is said to let in more light (up to 98% of ambient light according to Corning) pass through lenses to reach the camera sensor. DX and DX+ also offer less reflection and glare which combined with improved clarity should result in better-looking photos. Corning has not disclosed which smartphones will use its new Gorilla Glass substrates but did reveal that Samsung will be the first company to use the new tech in its devices.
S
The phone is designed in such a way that it SHOULD break its glass, but the phone's working should not stop/ be affected. Now, why should the glass break? So that service centers get a reason to earn income from users, and a profitable busi...
D
Well thats your way. I always had expensive devices but i was worrying for any scratches so i always used boojk case and a screen protector. Book case i also used as a wallet because i use many cards and need some space to store my ID and other...
?
For the past 14yrs I have never used a mobile device with any sort of screen protector or phone case, I can't buy a device Worth hundreds of dollars and I will opt to be hiding it in 100cent phone case. The beauty of every phone is using it the ...
ADVERTISEMENTS