Sygic
Another offering we look at is the Sygic Drive application. Although produced by a relatively unknown company, this application is fully capable of standing up to the big guns.
Combining the Teleatlas maps with a nice user interface and a large number of route planning options, the Sygic drive sure is a great offer for those looking for mobile navigation software. Its performance is quite pleasing, with smooth map handling and quick route calculation.
The Sygic Drive application has optimized versions for Symbian smartphones and Windows mobile devices, and features left and right-handed modes along with a few quick guides. There is also a GPS log, which is quite a rare feature in this application range.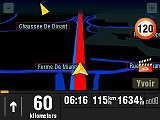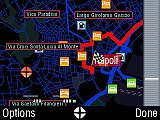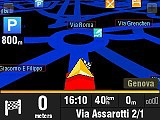 Night colors are also available
Mobile GMaps
The last but one piece of software in our GPS navigation roundup is the Mobile Gmaps. This is a free Java application that runs on any mobile supporting CLDC 1.0 and MIDP 1.0 or later. This basically means that you will have a hard time finding incompatible devices on the market nowadays.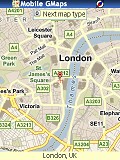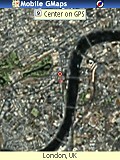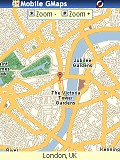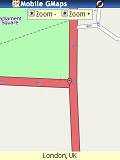 Some of the different available map views in the Mobile GMaps application
The best thing about Mobile Gmaps (next to costing zip, of course) is that it has multiple map sources - Yahoo! Maps, Windows Live Local and Open Street Map, just to name a few. You can opt for any of these sources depending on the current scenario. The phone can either download the maps on the go or have them saved on the memory card in advance, to use later.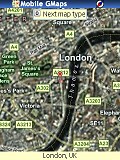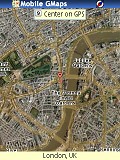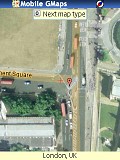 Hybrid maps allow satellite images and road maps to be displayed simultaneously
Some of the obvious flaws of this software solution are the not so user-friendly interface and the lack of actual navigation. All it can do when paired with a GPS receiver is show your exact location, as well as your near surroundings. Yet, if you are looking for something that can work on almost any phone for no money, this might just be your stuff. Of course, bear in mind that data traffic charges may apply, as the software downloads the maps live and online.
Google Maps
Another free application compatible with tons of different devices is Google Maps. Until its launch, the map database of Google Maps was available in the Mobile Gmaps application, but not any more. It seems that's Google's way of saying what's mine is mine.
The application itself has quite extensive functionality, including real-time traffic information, detailed directions and very nice place search. The interface is not the best we've seen in terms of user-friendliness but the presence of satellite images makes up for that to some extent.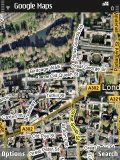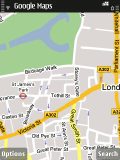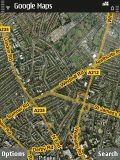 Some Google Maps - satellite images and road maps are displayed simultaneously
In addition, the recently announced 2.0 version offers the promising "My location" feature. It allows the phone to pinpoint your location even if a GPS receiver is not paired with the phone. The promised accuracy of around 1000 m raises doubts - to say the least - but there are cases when it can go down to 200 m. Not bad, having in mind that all that the program uses is cell tower triangulation.
The streets on the map also serve as an indicator of the traffic speed. Supposedly, you can drive at over 50mph on green streets, yellow allows speeds from 26 to 50 mps, while red crawls at under 25 mph.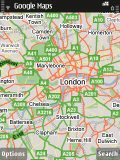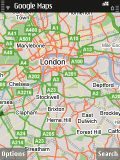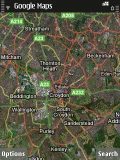 Different street colors stand for different traffic speed
There are available versions of Google Maps application for Java, Blackberry and Symbian S60 platforms, while native Windows Mobile compatibility was recently added.
Final words
This was our attempt at showing you how the two major competing GPS receiver chipsets perform in real life situations. We also wanted to shed some light on some of the available products by the major navigation software providers. The prices quoted in this article are strictly indicative only, in case you are interested in any of them you should check your local prices and most importantly - maps availability. We can't pick a clear winner among the available software, since a choice like this is a matter of personal taste and budget. The free alternatives are also excellent and it won't hurt trying them out before you step in with a paid solution.