We've been following the Gresso luxurious collection of mobile phone last year and now they have come up with a two new more affordable handsets for those that want something more than a mobile phone. If you are tired of the unimaginative Vertu designs, you might want to check out the new Gresso Avantgarde Steel lineup.
The Avantgarde Steel collection comes as a more affordable variant of the original Avantgarde collection and consists of Sol Steel and Luna Steel mobile phones.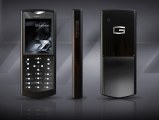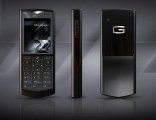 Gresso Avantgarde Sol Steel and Luna steel luxurious mobile phones
Both Avantgarde Steel handsets are made of the signature Gresso material - African Blackwood, which is more than 200 years old. Now with the Steel collection a new material has also been used - aircraft stainless steel.
Also 42K sapphire crystal glass covers their displays, while the back of the handsets has patented hand-polished titanium covering. This has enabled the use of a magnetic lock for the battery cover. The keypads are made of a single-piece titanium plate that has been laser-etched with Roman numerals.
Instead of gold, the keys of the Gresso Sol Steel are made of aircraft steel. All other signature elements are also manufactured by steel leading to a lower price of 3500 euro instead of the 7000 euro the original Gresso Sol would have set you back.
The Gresso Luna Steel has a completely flat laser-cut keypad, again with no gold elements whatsoever. Again it costs 3500 euro instead of the original 5000.
Both handsets have a 65K color TFT display with QVGA resolution, tri-band GSM/GPRS support, Bluetooth and a 2 megapixel camera.
Yes, we know that when it comes to that kind of money, it's rarely the hardware specifications that matter. But it's also good to know that both handsets run on Windows Mobile 6.0 Standard for that extra flexibility.
You can see our previous articles on Gresso Avantgarde and Gresso Black Diamonds or you can visit the Gresso website.
P
Yea, Nokia fanboys really are quite over the top. they just dont know where to give in! In fact, most fanboys are the same. By being fanboys, you are only limiting your own happiness by limiting your range of choices to one brand! Stupid... dear dear...
D
hhahahahaaha LMAO Nokia fans have gone mad in here aswell !
M
I honestly love luxury phones. Phones just try to do simply to much these days, and rather than have a phone that does it all, I'd rather have something that was well-designed, and built to a high quality standard, than something like a Nokia N95. No...
ADVERTISEMENTS