Race cars are exciting, no one's questioning that. But what about race car branded phones? The luxurious cellphone manufacturer Gresso already have their own - the Grand Monaco limited edition collection and they bet on getting you revved up with associations with Formula 1 and, of course, the Monaco Grand Prix.
As is often the case with luxury phones, exquisite materials and craftsmanship is the name of the game. The Grand Monaco collection is no exception to this rule. The case is made out of a titanium super alloy covered with several layers of high-tech ceramic in 750C degrees temperature. This coating prevents tarnishing and won't loose its color.
The design of the Grand Monaco phones is Formula 1 inspired and as such, there's the obligatory carbon fiber - the front and back case panels. Another favorite for high-end phones - sapphire, all 42 carats of it, protects the display.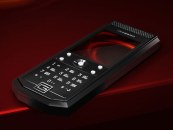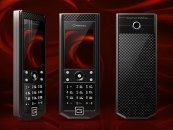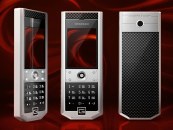 Gresso Grand Monaco collection: Black Ceramic Black Carbon and Metallic Ceramic Black Carbon
The keypad is absolutely flat and made out of 100 micron thick steel, covered with titanium Black PVD - no, we're not quite sure what it is (Wikipedia suggests "physical vapor deposition"), but what you need to know is that it makes the surface black and mirror-like and also protects it from scratches. The keys themselves are manufactured out of surgical steel and the numbers and letters are laser cut.
A Magnetic Smart lock takes care of fastening the back cover of the phones of the Grand Monaco collection.
By now, you've probably guessed that these phones are not meant to stand up against Nokia N97 or the Samsung Pixon12. Come on, asking whether your titanium and high-tech ceramic phone has Twitter integration is like asking whether a 20-carat gold ring can double as a beer bottle opener.
Just for the sake of thoroughness though, here are the phone specs: the phone in the series have tri-band GSM connectivity (900/1800/1900) with GPRS/EDGE as well as Bluetooth and Java support. Internal memory is supplemented by microSD cards up to 2GB. The Grand Monaco phones are powered by Li-ion batteries, 1100mAh each, providing up to five and half hours of talk time and 300 hours of standby.
The Grand Monaco collection features two models - Black Ceramic Black Carbon and Metallic Ceramic Black Carbon. They cost 2100 US dollars (1475 euro), which is quite cheap, we guess, in luxury phones terms, and will be available on 25 August 2009.
M
It's So cool Phone. How mach is this .
?
People are posting that this is good looking, doesn't it just look like a slightly less attractive version of the Nokia 6500 classic? (which is admittedly a good looking phone)
S
I would like to see a cheaper alternative to these kinds of mobiles, where the focus is on both style and good craftsmanship. Obviously it wouldnt be in the same league as these handsets, but it doesnt take much to make a phone out of metal that will...
ADVERTISEMENTS